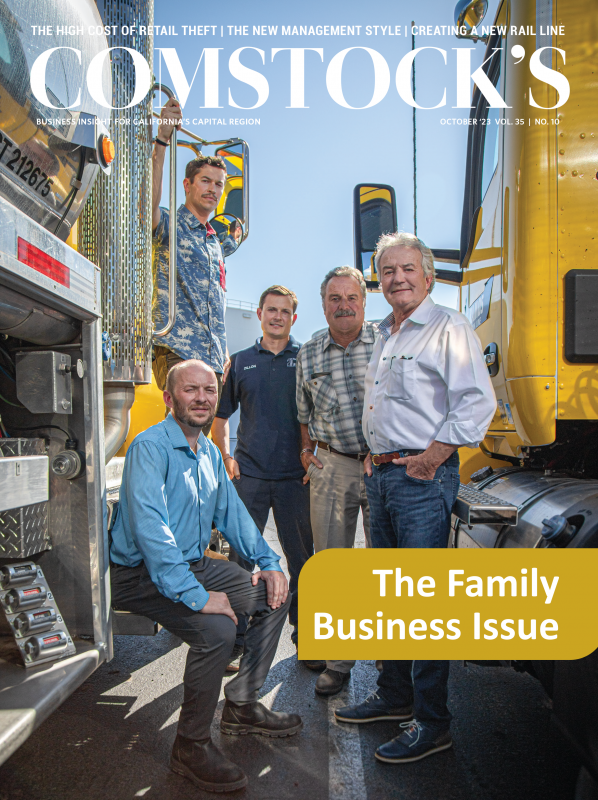 This story is part of our October 2023 print issue. To subscribe, click here.
The Mayfield siblings grew up in the charmed nautical world of their father's imagination. At the Sub Sea Systems workshop in Diamond Springs, power tools whir as two generations work side by side to build custom submersibles that resemble something out of a Jules Verne novel. The whimsy of childhood lives on in this space, exhibited by the "artwork" on office walls left alone for posterity's sake. "A year ago or so, two of them, the grandchildren, were left up here for a few minutes too long, and each said the other made them do it," says CFO and "Office Mom" Melissa Mayfield.
While quaint in its day-to-day operations, Sub Sea is no paltry enterprise. For nearly 40 years, the business has been on the cutting edge of the marine tourism industry. Clients are primarily foreign and include high-end resorts in destinations like the United Arab Emirates, Mexico, China and the Bahamas. Competitors are few to nonexistent.
The Sub Sea story begins with its president and CEO, but most often "Dad," Jim Mayfield. Born in Sacramento and raised in El Dorado County, Jim spent his childhood diving for abalone in the rough waters off the North Coast and working for his father Johnny's power plant maintenance business. "I was around a dad who was an innovator," Jim says. "He wasn't educated, but he had an amazing mechanical mind, and he developed these really unique products." He adds, "I wish he would have been alive to see what we've created here."
Jim attended Sacramento State, where he met his wife Melissa. She went on to graduate, but Jim left school to continue working for his father before deciding to build submarines in 1985 with Sub Sea cofounders Michael and Patrick Stafford. It was a passionate pursuit that launched their company into almost immediate success. Simultaneously, Jim and Michael designed and patented the SNUBA, a system that bridges the gap between scuba diving and snorkeling. From there, they pushed forward into uncharted waters with multitech designs focused on the average tourist. "We've created these products to make the oceans accessible, and that's really what we're all about," Jim says.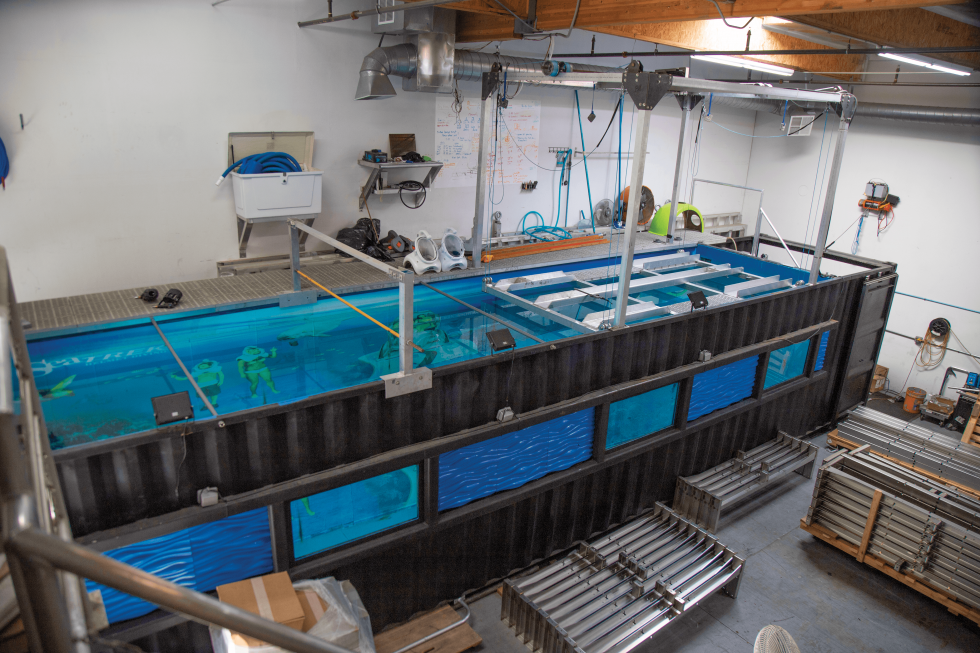 "We've created these products to make the oceans accessible, and that's really what we're all about." Jim Mayfield, president and CEO, Sub Sea Systems
Some of their most lauded products include "first-evers" like a winged submersible, called Aviator, designed for deep sea exploration; VR-Snorkeling, a device that allows pool-goers to experience the thrills of open-water snorkeling; Clear Lounge, an underwater oxygen bar which has been incorporated into Carnival Cruises' largest port of call; and a solar-electric powered catamaran, called SolarCat. Next is the imminent installation of Sub Sea's first Aquaticar attraction, a 17-car underwater storyline experience that will grace the water theme park at Qiddiya — a megaproject near Riyadh that is being built on a site 2 ½ times the size of Disney World.
Jim and Melissa's three children spent their childhoods rollerblading (and working) around the shop and learning to dive in Mexico, where Sub Sea has a field office. Middle child Hannah de Bie, 36, always knew she wanted to work for the business. She is now vice president of marketing and will one day take over as CEO.
The Mayfields' two sons, Kyle, 38, and Keenan, 31, took a bit longer in their decision to work for the family company. "I think I wanted to be different and wanted to maybe do something else with my life, but all things tend to draw you back to home, especially when home is as great as it is for us," Keenan says. Now Kyle is vice president of production, and Keenan is director of Sea TREK Operations and SolarCat Sales. Everyone gets involved when it comes to testing out products in the on-site water tank. And everyone jumps in to help with child care, as all three siblings now have kids of their own.
Their secret to smooth sailing? "We talk a lot. A lot," says Jim. "And we hang out on the weekends, too."
Stay up to date on business in the Capital Region: Subscribe to the Comstock's newsletter today.