Jason Maggio has big ideas for his locally-designed clothing line, All Good, and his plans often have more to do with outdoor excursions than fabric or design. One look at the All Good Instagram account reveals just how closely the creative director associates his brand with adventure. The images depict places ripe for exploration in the region, like Donner Lake and Mount Shasta, along with Maggio's All Good clothes in action.
Creating an association makes sense. Maggio's successful headwear brand, Official, found its footing among skaters. He wanted All Good to appeal to those who are just as comfortable going to a gallery opening as they are hiking a local trail. So Maggio asked his design team to experiment with blending the technical outdoor-worthy elements found in retro mountaineering clothing, with the design sensibilities found in skate and streetwear clothing — creating a brand that has a distinctly Northern Californian aesthetic.
All Good flagship store

Hours: 11 a.m. to 7 p.m. Tuesday to Saturday, noon to 6 p.m. Sunday
Location: 808 R St. # 102, Sacramento
Info: To sign up for excrusions, call (916) 376-7641 or visit allgxxd.com/
Sacramento, he says, has been the perfect location for the brand to call home. "I couldn't think of a better place for it. I think Sacramento is crossroads for California," he says. "I also think there's a lot of opportunity here for the brand to function well with whatever you're doing, whether you're going out at night here in the city or actually going for a bike ride or a hike."
Clothing is just part of the story, however. Connecting with the community through outdoor adventures has been one of the more rewarding aspects of having a storefront in Sacramento because of the cross section of people in the region who enjoy spending time in nature, Maggio says. Since opening the All Good flagship store on R Street in December of last year, Maggio and his team have hosted educational clinics, including a recent workshop to teach hikers about the "leave no trace" value system, and free weekend hiking meetups. Soon, they'll launch the next notable round of participatory events: multi-day expeditions.
These expeditions are a progression of the brand's popular monthly hiking trips, which began not long after the flagship store opened. The store serves as the meet-up point for the informal hikes, with participants caravanning to destinations like Mount Tamalpais State Park in Marin County and Independence Trail in Nevada County.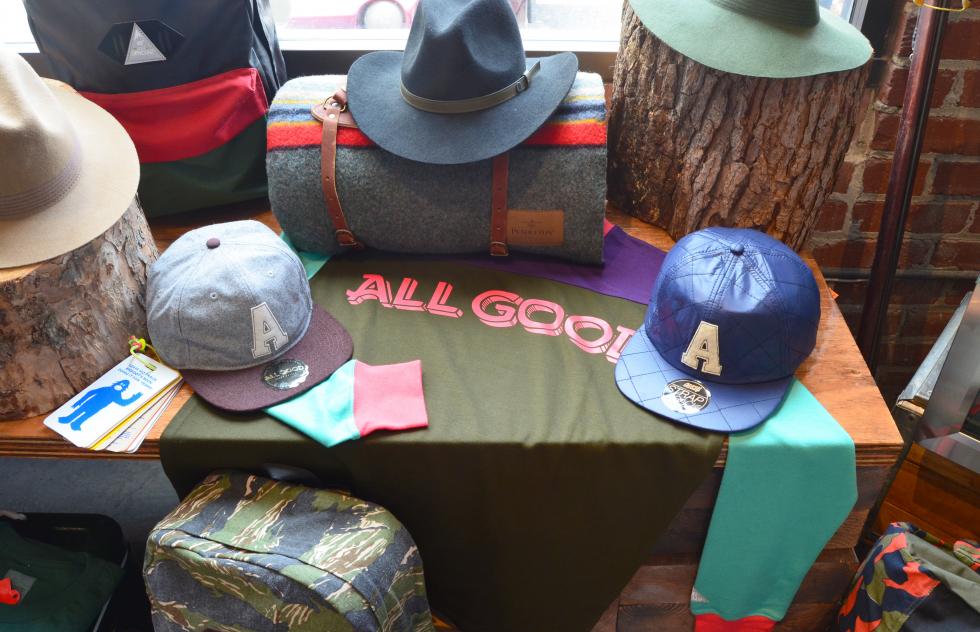 Antelope resident Carlos Espinosa says he wasn't familiar with All Good before he was tagged in one of the brand's Instagram photos and found out about the weekend hikes. Since then, he has been a regular participant. "I've always loved hiking," he says. "It's one of my favorite things." Espinosa went on a hike to Mount Tamalpais in April: "We were there until sunset. We hiked up and down Mount Tamalpais and foraged along the way. It was just a good time. The best part about the hikes is that there's no agenda. There's no pressure. It's all about a love for the outdoors."
According to Maggio, the weekend hikes happened naturally as the All Good team brainstormed ways to attract more foot traffic to the storefront — spending time in nature became a way to not only put the values learned in their various educational clinics into practice, but to also meet people in the community who connect with the brand in some way. "Really for me — and I never expected this — [the best part] is that you're on the trail and you get a lot of time to talk to people," Maggio says. "I'm a pretty introverted person and I've enjoyed every experience. It's a different group of people every time and they might be people you wouldn't normally hang out with."
The newly launched expeditions are a bigger commitment than the weekend hikes and range from a two-night campout and 10-mile canoe trip on the Russian River in late-July to a weeklong surfing adventure in Nicaragua in early-December. Trips vary in price — the Russian River trip costs $360 — and include all food, lodging and equipment rentals.
The trips will also include educational elements, with local guides, instructors or experts on hand, and the activities are accessible for beginners to experts. Maggio hopes expedition participants will learn from one another, and adventurers who are just starting to rock climb, surf or row will feel comfortable learning by doing. The protection and preservation of natural environments is also a large part of the experience. "We're including a conservation effort in every trip," Maggio says. "For the Russian River trip we're looking at tying in beach restoration and that element is really important to us."
When it comes to the business side of community engagement, Maggio is hesitant to call the expeditions a strategy, but he understands the value of tying the All Good brand to positive outdoor experiences. "The expeditions are definitely another opportunity to tell the brand story," he says. "It becomes pretty involved in thinking through liability and organizing everything, but we really want to take it step by step and enjoy the process. So far it's been fun and the initial response [to the expeditions] has been awesome."