The winding down for California's baby boomers may end up boosting their home cities.
Home sales are likely to increase, and at higher values, as aging residents who've held onto their houses for decades downsize or die, according to a report by the state's nonpartisan Legislative Analyst's Office. The share of homeowners aged 55 to 75 years old has risen by 10 percentage points to 41 percent in 2015 over the past decade, and and they are more likely to sell when over 75.
"An increase in home sales by older homeowners therefore could mean a significant uptick in property tax revenues for local governments in coming years," the report said.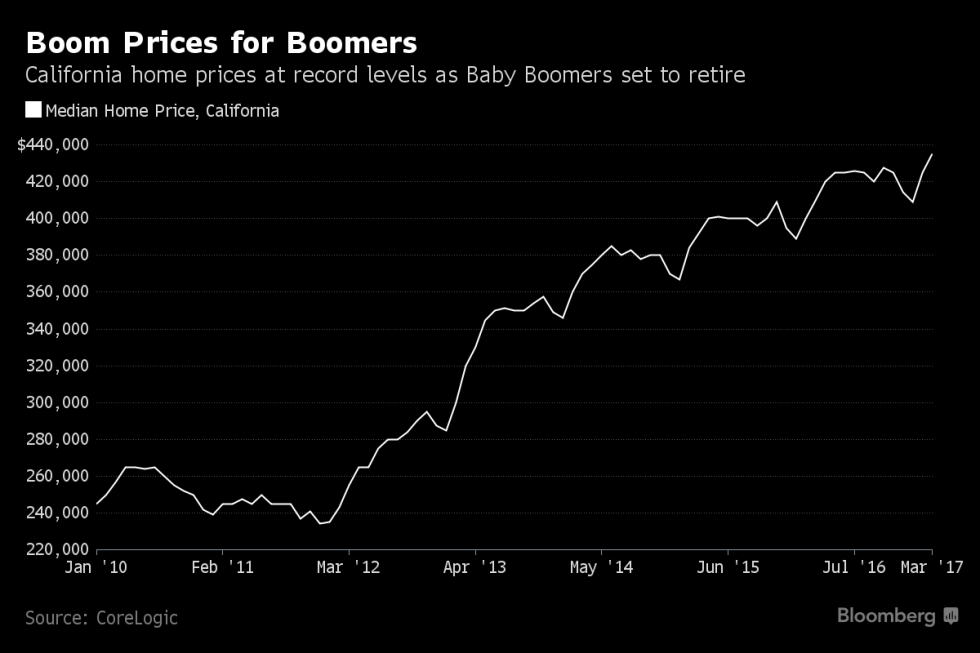 Cities such as Palo Alto, Santa Barbara and Walnut Creek that are home to a high number of older homeowners and appreciating property prices have the greatest potential for more revenue in the future. Those such as Fontana, Palmdale and Perris that host younger homeowners and see more muted price increases have the least potential, the analysts said.
One caveat: Cities may see less of a boost in revenue if the homes pass from parents to children, which keep the property at lower taxable values instead of levies based on purchase prices when sold to new buyers.
California's Proposition 13 has curbed the growth of property taxes in the state, despite the big increase in home values, because the residents' bills can't go up more than inflation or 2 percent, whichever is lower. When resold, properties are taxed at purchase prices.