As the cost of daily life tests the bounds of gravity in San Francisco, a beneficiary has emerged 90 miles away.
Sacramento is seeing its property-tax base and revenue surge. Drawn by its lower cost of living, people priced out of the San Francisco area by the flood of cash from the tech boom are heading inland, helping to make it the state's fastest-growing big city.
Rents and home prices are climbing higher as a result — by some measures at rates faster than the nation's — though they're still affordable compared with San Francisco, where the average home sells for more than $1 million. While Sacramento suburbs were hit hard by the collapse of last decade's housing bubble, the building boom this time is centered downtown, capitalizing on a national trend as millennials and empty nesters move to urban cores.
"For a long time, we were just a way station between San Francisco and Lake Tahoe," says Leyne Milstein, the City's finance director. "There is a new view of the city of Sacramento as a place to go, as a place of opportunity."
Sheri Atwood, the founder of a Silicon Valley startup called SupportPay, was considering moving to Raleigh, North Carolina, to cut her business costs when one of her investors suggested Sacramento. In September, after overcoming her initial reaction of "hell no" with a tour, she relocated her company, which provides online child-support payment services. Her five employees agreed to about a one-third reduction in pay because their expenses are about half what they were, and she's been able to hire 19 more.
The lack of affordability in San Francisco and other communities along California's coast worries politicians and fiscal analysts, who say it could eventually curb economic growth. But it presents an opportunity for cities like Sacramento to lay the groundwork for a stable revenue base to withstand inevitable downturns.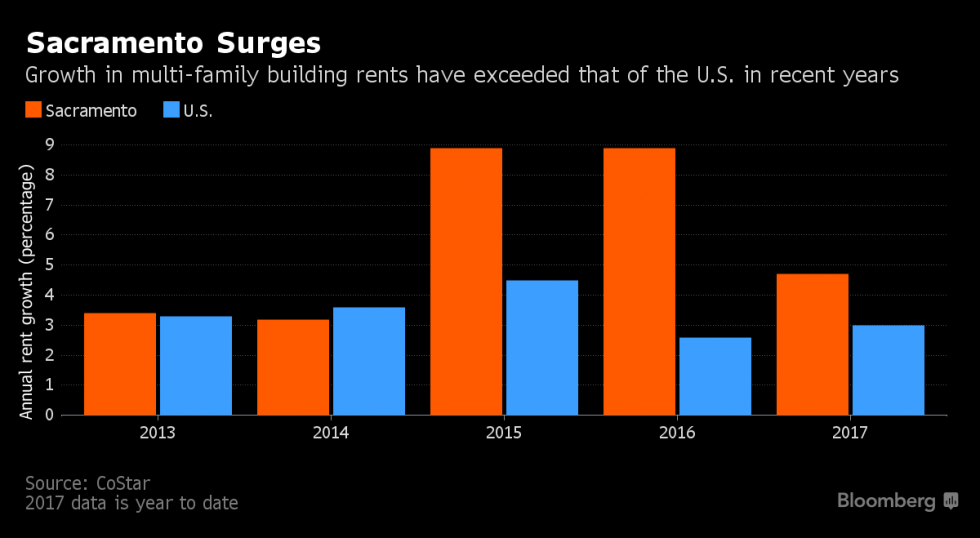 Sacramento's median home price was $299,000 in May, about one-fourth what it was in San Francisco, according to Redfin. The capital city was the most popular search destination for San Francisco residents looking to leave in the first quarter this year, according to the online real estate brokerage. Its population rose 1.4 percent last year to 493,025, the fastest among California's biggest cities and higher than the state average, according to California data.
A hub amidst agricultural lands spreading from the banks of the American and its namesake rivers, Sacramento had long been considered a sleepy government town. The Golden 1 Center, an arena for concerts and the NBA's Kings, that opened last fall has given locals a reason to stay after work hours, as well as the development of nearby restaurants, shops and homes. Rents for the most luxurious downtown apartments are hitting record highs, while the most recent figures show those for comparable residences in San Francisco are declining, according to Yardi Matrix data compiled by Cushman & Wakefield.
When it comes to home prices, the Sacramento area is also booming as San Francisco is showing signs of cooling. While single-family home prices in the Bay Area dropped 2.5 percent from a year earlier, the worst performance among the 100 largest U.S. metropolitan areas, the capital region posted a 10 percent increase over the same period, according to Federal Housing Finance Agency data.
The surge has helped facilitate the economic recovery of Sacramento, which in the aftermath of the recession drew attention for its sprawling homeless camp. Buttressed by the real estate market turnaround, the city expects to take in about $464 million in general-fund revenue in the year beginning in July, a 25 percent increase since 2013.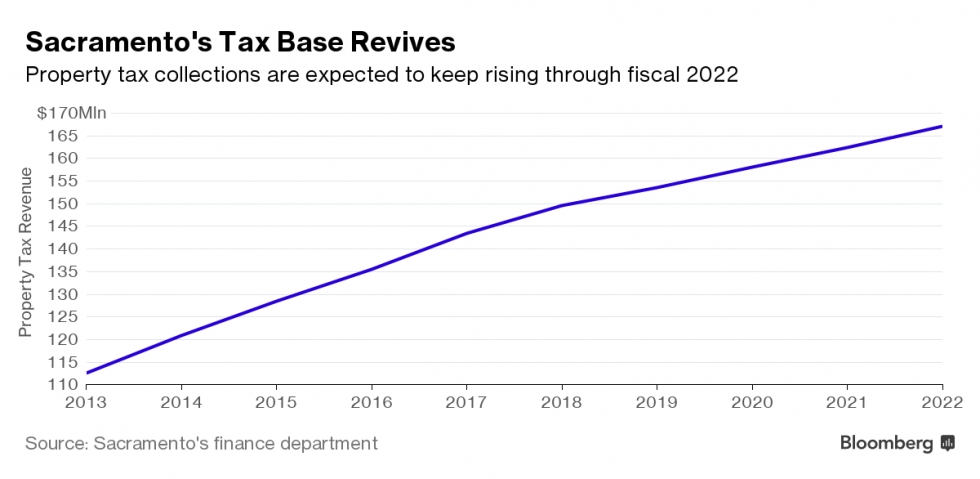 "If you look at the fundamentals, it clearly looks like a city where the momentum is all to the positive side," says Tom Schuette, co-head of investment research and strategy at Gurtin Municipal Bond Management, which bought some of the water debt Sacramento sold last week and is looking to add more. The yields of some of the shorter maturity securities were lower than those on AAA rated debt, despite the issue's AA ranking from S&P Global Ratings, according to data compiled by Bloomberg.
To be sure, Sacramento faces headwinds. The expiration of a sales tax increase in 2019 and rising public pension costs could challenge the city's finances, says Lori Trevino, a Moody's Investors Service analyst, in an interview. And its economy is still heavily weighted toward government agencies, which make up seven of the 11 biggest employers.
But Atwood, the entrepreneur who moved with the assistance of the Greater Sacramento Economic Council, says she can envision a corridor of tech firms there, drawn by the weather, arts community, and relatively short driving distance to San Francisco.
"There's no reason why somebody wouldn't want to come here," Atwood says.