The officials gathered at the front of the room, arranging themselves on a dais, last fall at the United Nations Climate Change Conference in Bonn, Germany.
Hugging the back wall was a slender figure, clutching a sheaf of papers and folders, attentive and quiet. As functionaries streamed in, many paused to speak to the man, shaking his hand and wagging raised thumb and baby finger in a "call me" semaphore.
At the podium, California Gov. Jerry Brown delivered remarks about a new multinational agreement on climate change. Brown's near-evangelical leadership on climate issues was unsurpassed among the dignitaries, many of whom would sign under the force of his persuasion.
But the document itself was made possible by the quiet man at the back of the room: Ken Alex, always in the background but hardly on the sidelines.
During 36 years in state service, Alex has operated outside the warmth of the spotlight, and he is far from a household name. But insiders say he may be the most consequential environmental authority California has ever known.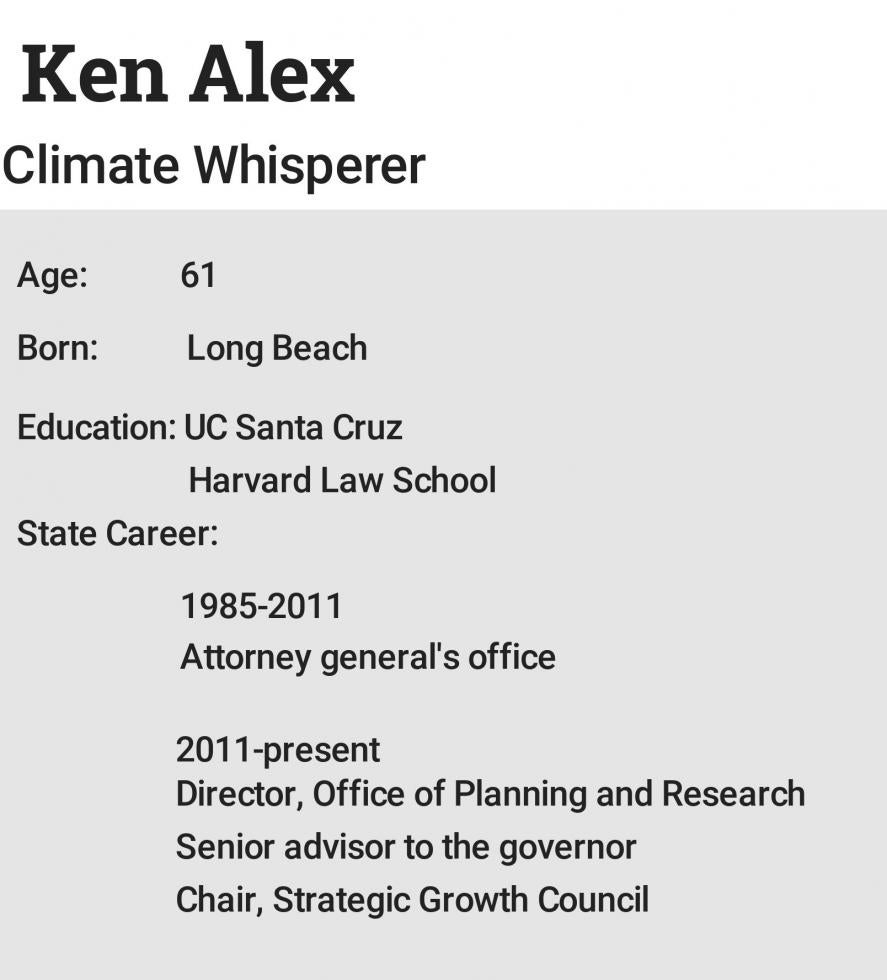 Alex has left a discrete but indelible mark on state government. After the energy crisis of 2000-2001, the Harvard-trained lawyer pursued energy companies whose market manipulations disrupted California's electric power and defrauded the state of billions of dollars.
He devised a novel legal strategy that successfully clawed back nearly $10 billion from the companies, payback that other attorneys had written off as impossible. That effort to recoup money continues today.
"I would say he has been, without question, the most influential environmental lawyer in California in the last 20 years," said Cliff Rechtschaffen, who served with Alex in the attorney general's office and is now on the Public Utilities Commission. "He's certainly been the most creative."
Alex grew up in Long Beach and for decades has taken a keen interest in environmental matters, although while clerking at the U.S. 9th Circuit Court of Appeals he considered attending UCLA's film school. His choice of environmental law gave him a natural compatibility with the governor, whom Alex worked for when Brown was attorney general. Brown picked him to join the executive branch as a senior adviser, shaping intricate public policy.
Often, he's brought in to move the intractable. For example, Alex resolved long-stagnant negotiations over plans to restore the polluted Salton Sea and mediated rancorous haggling about siting of large-scale solar projects. He pressed for regulations to reduce harmful flame retardants in furniture and other products and helped refine the California Environmental Quality Act.
Alex chairs the state's Strategic Growth Council, which crafts a vision for economic expansion through a lens of climate change and sustainability. He conceived a grant program for projects that reduce harmful emissions in poor communities and directed an overhaul of the state's General Plan Guidelines, which now direct cities and towns to consider environmental impact in their decisions.
And he directs the powerhouse Governor's Office of Planning and Research, an agency as broad and deep as its title suggests. Brown might turn to him at any time with such questions as, "What can California do to speed the adoption of renewable energy in India?"
As Brown's climate concierge, Alex researches and digests the required information for delivery to the governor quickly, day or night.
Brown is "uniquely curious and engaged on issues of importance," Alex said. "It's flattering, in a way, to have the governor of California to ask what you know about something. He very much wants facts, and he wants you to be concise.
"It's always disappointing to say, 'I don't know,' Alex continued. "Hopefully I've learned to work with that, to acknowledge what I don't know. Which is hard, by the way."
They have been a formidable pair. Brown's brainy aide-de-camp has been dispatched around the world to help build alliances and make environmental deals on behalf of the state, participating in high-level talks on greenhouse-gas reduction with officials from China, Europe and much of the developing world.
By training and temperament, Alex is composed and measured, a palate cleanser between courses of Brown's dire warnings about the rapidly warming planet. He's equal parts sage counsel, policy wonk and gentle persuader.
Tall, with a halo of closely cropped hair and a salt-and pepper beard, Alex projects an air of diffidence. But underestimate him at your peril. He has taught negotiating skills to other lawyers and is "comfortable with chaos."
At last year's Bonn conference, Sandy Pitcher, then chief executive of the Department of Environment, Water and Natural Resources for the state of South Australia, said she knew Alex well.
"Every governor or head of state needs a Ken Alex," Pitcher said. "I imagine that most of the top-level negotiators here know Ken."
Mackenzie Wieser, who works for Alex on climate-change projects in the Office of Planning and Research, calls Alex "a visionary who sees the bigger picture and sees that bringing government and private industry together can actually be extremely beneficial for all when it comes to climate and the environment."
A hallmark of a successful behind-the-scenes player is to know when to step behind the main actor, which Alex seems to have mastered. "He is very comfortable floating under the radar while empowering others to help get his vision out there," Wieser said.
Alex will leave his job in January, exiting along with Brown, who will have served his final term.
"Ken Alex has a sharp legal mind and a remarkable command of climate science and policy," Brown said in a statement to CALmatters. "He's been a valued and creative adviser for more than a decade."
Alex will take his first extended vacation in years, reading, hiking, running and traveling—on his own itinerary. He'll also happily put to rest a killer commute from Berkeley to Sacramento—two hours each way, biking at either end to catch the train.
Later next year, he'll head Project Climate at UC Berkeley's Center for Law, Energy and the Environment, a new think tank dedicated to moving promising environmental research "more quickly into the policy realm," he said.
In the meantime, he's still the state's climate fixer, having helped organize much of last month's Global Climate Action Summit in San Francisco, the coda to Brown's career as California's official environmental scold. Alex was at Brown's side during days of private meetings there and was instrumental in making the event's gee-whiz moment possible: Brown's announcement of a state satellite to track carbon emissions.
At the end of one long day at the summit, Alex stole some time for himself to attend a deep-in-the-weeds environmental workshop. He rose up an escalator, turned and quietly opened a set of doors before taking his place at the back of the room.
CALmatters.org is a nonprofit, nonpartisan media venture explaining California policies and politics.