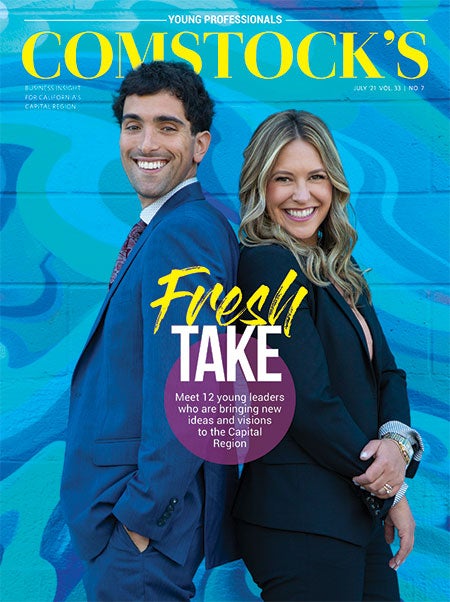 This story is part of our July 2021 Young Professionals issue. To subscribe, click here.
If you have lived in Sacramento as long as I have, you might have vivid memories of tomato trucks. During harvest season, they rushed down the city's freeways to get their freshly picked cargo to processing plants as quickly as possible. Even if you didn't see the trucks, you couldn't miss the trails of red spillage on the pavement.
Besides marking the harvest season each summer, that pilgrimage of tomato trucks was a very visible reminder that agriculture is as much a staple of our region's economy as is the Capitol dome. But as homes replaced tomatoes in the fields now called Natomas and processing facilities moved farther north in the Sacramento Valley, there are fewer tomato trucks on city freeways to remind us that agriculture is still a large part of our economy.
In fact, the tomato business is as big as ever, especially in the southern part of the Central Valley. California is still the nation's No. 1 tomato producer, harvesting 12 million tons a year. But the more startling fact is that the number of tomatoes grown per acre has doubled in recent decades, even though the acreage planted has not increased. Even if your only connection to tomatoes is the ketchup in your refrigerator, that increased efficiency is important for all of us to recognize. It's a sign that critical aspects of the region's economy are advancing and continuing to redefine the region.
When Sacramento and the surrounding cities were smaller and farming seemed simple, "ag tech" could have meant a new tractor. Today, UC Davis is one of the nation's top universities for agriculture science and invests $140 million a year in research to develop pest-resistant crops. Its strategic partnership with Bayer Crop Science allows university researchers to develop better seeds, which results in more crops per acre. CoLaborator, the 3,000-square-foot wet lab located within Bayer's West Sacramento Innovation Hub for Crop Science, offers startups a place to study new ways of growing crops. Additionally, Lab@AgStart, a 4,800-square-foot, $1.5 million incubator lab for food and ag tech recently opened in Woodland, which will also spur innovation.
Other aspects of our economy are defining the region. Health care, a major source of local jobs, is growing and consolidating. And we have many biotech companies in the region working to diagnose, treat and cure diseases. The tech industry, usually associated with the Bay Area, has a strong foundation in the Capital Region's new economy with foundational companies like Intel, Hewlett Packard, Apple and Oracle sharing space with newer companies like software manufacturer Sibros, smart parking app Japa and tech startup Hank, which uses artificial intelligence to manage a building's heating, ventilating and air conditioning system.
Sacramento's investment of $350 million to rebuild the newly branded SAFE Credit Union Convention Center and expand other facilities in the central city, and Placer County's investment in the Roebbelen Center located @the Grounds in Roseville, underscore the value of attracting people to the region for entertainment or tourism, a $50 million shot for the local economy.
Parts of our economy are still struggling to find solutions to nearly two years of chaos and change. The onslaught of online shopping has retailers looking for ways to rebound or react to fewer people inside their stores. Some businesses are still figuring out whether their employees will come back to the office or if they need to find ways to work efficiently and profitably with a new post-pandemic model.
Thankfully, we have a new generation of leaders eager to take on these challenges and help create solutions and big new ideas. This is our annual Young Professionals issue of Comstock's, where we introduce you to a group of people already making change. They come from a variety of industries, such as construction, law, health care, government, banking, music, trucking and manufacturing. They are a generation accustomed to rapid change and trust in technology. The group is diverse, which always brings a variety of perspectives to problem solving and creativity.

These professionals represent not just new faces, but the future of a regional economy that is more diverse and growing far beyond its traditional retail, government and agriculture foundation. Just like we wanted to do things differently than the generation before us, these future leaders will bring new ideas and ways of getting things done. The challenges are as broad as our economy. That might mean finding new medical cures, creating innovative ways to attract customers or designing new products.

And who knows, maybe one of them will find a way to grow even more tomatoes on an acre of farmland.

Winnie Comstock-Carlson
President and Publisher
–
Stay up to date on business in the Capital Region: Subscribe to the Comstock's newsletter today.