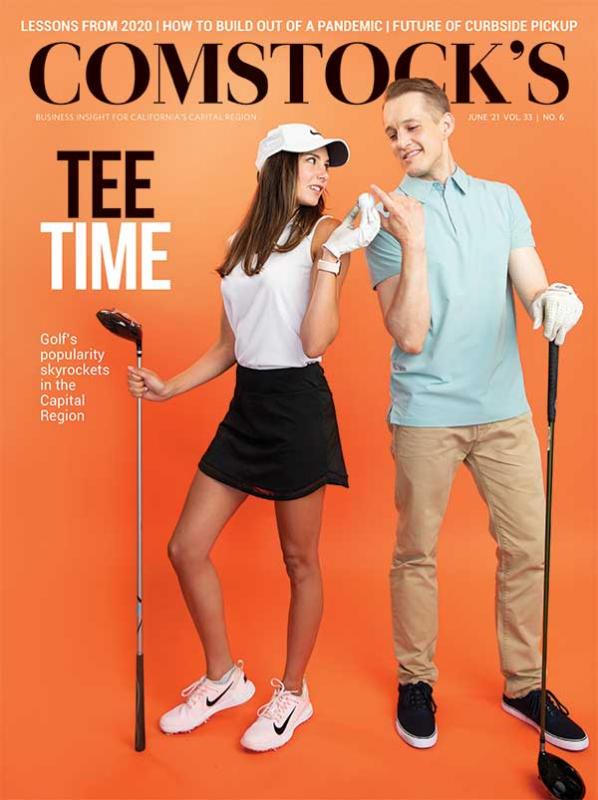 This story is part of our June 2021 issue. To subscribe, click here.
You can't reopen an envelope or a can of soup. But you can reopen a state and an entire country.
As we learned in May, the number of new COVID-19 cases has finally flattened, which has led governors throughout the United States to drop or seriously modify emergency restrictions that had the dual (and warring) impact of saving lives and, in some cases, severely harming business. And now, each day we read about postponed events being rescheduled, venues being reopened, and the job, real estate and stock markets reinvigorating themselves. In California, Gov. Gavin Newsom has announced a full reopening June 15.
As this issue of Comstock's magazine looks at the likely resurrection of such vitally essential industries as health care and real estate, we pause to enjoy a collective sigh of relief. Our cover story on the strength of the Capital Region's golf industry to survive and flourish over the past year offers a comprehensive glimpse into that most American of pastimes, one which we appropriated from the Scots and made our own. We also take a look at jobs in the regional health care sector, discover who's being hired and learn about those who walked away from the daily dangers of disease and uncertainty. We examine how the pandemic caused those working in commercial real estate — architects, contractors, engineers and others — to drastically alter the way they do business, and what has been learned through that process.
A field that thrived during this crisis is the news media. In times of turmoil, people turn to television, podcasts, radio, newspapers, social media and, of course, magazines like ours, which focus on leadership, to offer perspective. The facts were rarely reassuring until recently — but, at our best, we Americans are resilient and rational. It's almost as though our national mantra is: We can face anything if we're trusted with the truth.
Riding out this tidal wave of tragedy and hope has proved challenging for all of us, but it has also motivated many companies, nonprofits and individuals to step up and meet the challenge. As a businessperson, I've been quite proud of the way the private sector has upped its game as circumstances kept upping the ante. We have found ways to innovate and evolve to meet the changing needs of customers and the ever-changing public health restrictions placed upon us. It's been a whirlwind, really.
We certainly know that reopening our economy isn't a done deal. I received an email from Thomas E. Jones, executive director of the Aerospace Museum of California, in McClellan, that perhaps best illustrates the caution and optimism guiding our region's leaders.
Tom writes that he and his board are "hopeful for a full reopening with no restrictions this year. In 2020, we were open as an outside airpark for much of (the) year and served thousands of guests through the pandemic in a safely distanced, masked, engaging outdoor space. In addition, we remodeled the spaces and freshened the entire museum. It looks great! Due to current (Sacramento) County health restrictions, and several other factors," he continues, "we are closely evaluating each requested in-person group event as the opportunity arises. Some have been approved. In addition, we have lots of kids registered across our 10 weeks of summer camp plus several tours and field trips are scheduled over the coming months. The public is hungry for engaging content and we're providing it in every way possible!"
This sense of adaptability, which has both safety and optimism as equal components, is what this region has always been about, and why I love its truly indomitable spirit. The overarching point is that if you ever become mired in quicksand, it simply won't help you to spend time wondering how you got trapped there. All that really matters is finding a way to get out of it.
The wonderful author Janet Fitch, who's visited our region on book tours and for speaking engagements numerous times, wrote in "White Oleander," one of her most celebrated and popular novels, "The phoenix must burn to emerge." Can we interpret this to mean that this horrifying pandemic presented us with the opportunity to arise from the ashes of uncertainty, fear and much worse, as stronger and more committed to excellence in our work and lives?
I'm always extremely grateful for the support we've received from our readers, our advertising clients, our sponsors and our talented team of writers, designers, photographers and illustrators, and each and every individual who has a hand in being part of creating our magazine monthly. Next month, in July, we start our 33rd year of publishing. I couldn't be happier that we're still at it and loving it, even in spite of all the challenges we so often face. Together, we've rediscovered the meaning of the battle cry, "Onward!" Now, please sit back and enjoy this issue. We feel privileged to bring it to you.

Winnie Comstock-Carlson
President and Publisher
–
Stay up to date on business in the Capital Region: Subscribe to the Comstock's newsletter today.