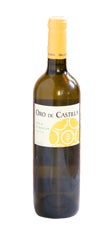 Oro de Castilla Verdejo Rueda 2010:
This Spanish wine is often compared to Sauvignon Blanc, though it actually has very little in common with its better-known countervarietal. Both have a citrus flavor, but the Castilla is a much richer, fuller wine. The finish is almost oak-like, although it doesn't have any oak aging. It has a light, crisp, mineral-driven flavor with notes of light headcheese balanced with earthiness and floral hints at the finish.
Where to find it:
Aioli Bodega Española (aiolibodega.com) in midtown Sacramento, or online at snooth.com.
What to eat with this wine:
Salpicon de pulpo — octopus with potatoes, onions, roasted pepper and a light sprinkle of red chili flakes.