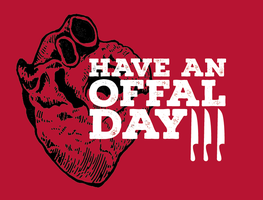 Calling all food adventurers! There is more to animals than ribs and steaks. In other cultures, it is customary to use the complete animal – nose to tail. Offal is the term for all those "other" parts: organs, feet, tongues, ears, skin, etc. Join us as some of the best chefs in Sacramento prepare offal dishes which will surprise and delight you.
Last year's dishes included lamb brain samosas, pickled gizzards, deep fried duck tongues and testicles, sweetbreads, and more. Will you be daring enough to try them all?
An early line-up of chefs includes:
Carina Lampkin (Blackbird Kitchen & Beer Gallery)
Danny Origel (Roxy)
Tyler Bond (Dirty Feet Dining, Kru)
Keith Breedlove (Culinerdy Cruzer)
Hank Shaw (well known blogger, Hunter Angler Gardener Cook)
Patrick Mulvaney (Mulvaney's B&L)
Brian Mizner (Hook & Ladder)
Brenda Ruiz (Biba's)
Brock MacDonald (Block Butcher Bar)
Wes Nilssen (de Vere's Pubs)
Don Dickonson (Yang's Noodles and instructor at IOT Culinary School)
Andrea Reiter (Capital Dime, soon The Patriot)
Please help create food adventurers like you! A portion of the proceeds benefits Food Literacy Center! Help create new food adventurers like you by purchasing a ticket to Have an Offal Day!
To purchase tickets, click here
For questions contact: sacpchef@gmail.com
Special thanks to our suppliers: Lucky Dog Ranch, Passmore Ranch, Superior Lamb, Llano Seco, Nicky Farms USA