Sacramento developer Federico Cohan plans to use cargo containers as part of a growing national trend to build retail, office and housing construction projects — the most recent of which is a 3-story, mixed-use complex in West Sacramento. Plans for similar projects are materializing around the country. But as they grow in popularity, architects, designers and city governments must iron out the kinks of using industrial materials never intended to be lived or worked in.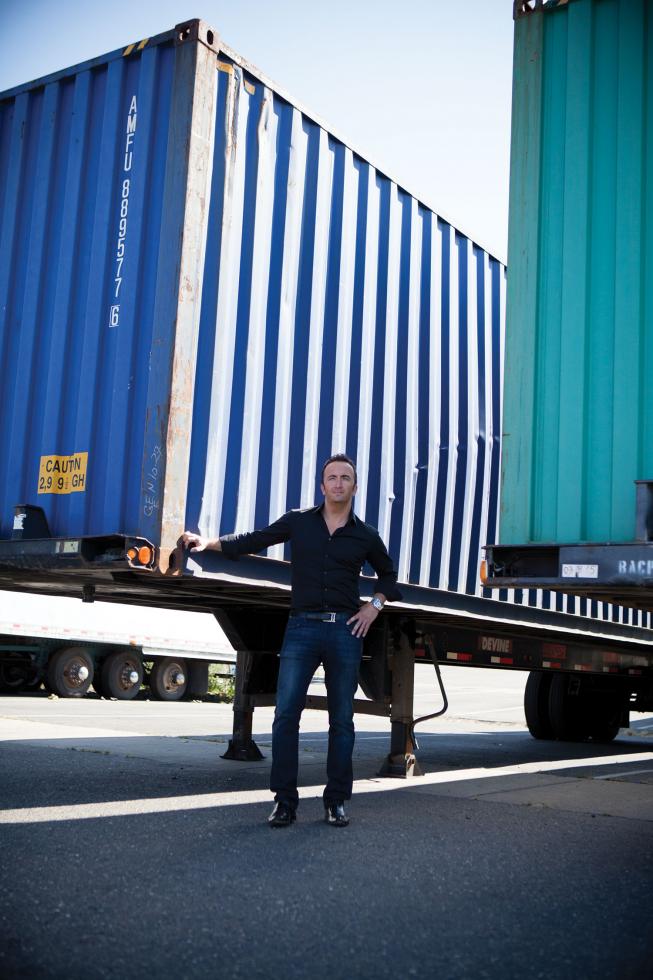 Cohan proposes to build a 15,000-square-foot West Sacramento project that would use dozens of shipping containers for retail and office use next to Broderick's Roadhouse on 5th Street — the first of many similar projects he wants to bring to the region. He says containers could potentially address a number of needs, including: affordable homes, low-rent spaces for small businesses and even shelters for the homeless.
"Hopefully with what we're doing here, we're going to be able to keep a lot of our youngsters in this community because they're going to have the opportunity to stay here and own a house," says Cohan, a native Sacramentan and graduate of Sacramento State. "I think that what I've put together is going to resolve a lot of issues that we haven't been able to resolve in Sacramento."
Steel City
Every day, thousands of shipping containers — Cohan estimates around 21,000 — come into the United States aboard cargo ships and sit idly on docks. Some are illegally dumped into the ocean once they are empty.
Rather than let them go to waste, Cohan says repurposing shipping containers as framing for construction meets a need while decreasing waste and harmful environmental impacts.
"You could take these and literally use them like you were building a house," Cohan says. "You're taking an empty shell, and you're turning it into something. It's the exact same thing as building a home with your conventional wood, but again we're saving thousands of dollars by using these containers."
Architects across the country are buying the 40-by-18-foot steel boxes for around $5,500, stripping them down and using them as framing for everything from single-unit studio homes to malls and high-rise condominiums.
Cohan wants to build low-rent condominiums in midtown, high-end lofts downtown and has even grander ideas about developing an entire mall out of containers at the downtown Sacramento railyards, though talks are preliminary and sites remain undecided.
Around the country, major projects offer a preview of what Sacramento could soon look like, including a container mall planned around the upcoming San Francisco basketball arena; a 32-story residential tower in Brooklyn, N.Y., next to the Barclays Center; and downtown Las Vegas' The Container Park, a massive retail, dining and recreation center with nearly 40 stores and restaurants.
The Container Park is the centerpiece of Las Vegas' Downtown Project, a $350-million, 60-acre land development initiative funded by Zappos CEO Tony Hsieh. Each week, 30 to 40 thousand people visit the park, which takes up half a city block. Cohan sees the potential for a similar type of unique draw in Sacramento.
Retail operations director Doug McPhail says the idea for the project stemmed from a desire to create something different and exciting while offering low rents to retailers and attracting startup businesses.
Retail spaces rent for $2,000 to $2,200 per month, on average, and can be configured to accommodate a variety of floor plans and sizes. The Container Park includes an LGBT greeting card store, an eyeglass boutique and a radio broadcasting site.
"The Container Park definitely was a catalyst to expand growth a little quicker than had been going on," McPhail says. "It sparked innovation, and it sparked life into what was a pretty dead place in many ways."
Development projects like Cohan's West Sacramento venture and The Container Park are viable for two big reasons: Materials costs are low and the containers can be mass-produced by pre-fabrication manufacturers.
"In some way, shape or form, this sort of modular construction of mid-to-high-rise building really has the potential to be a market-changer." Justin Reginato, associate professor of construction, Sacramento State
Cohan estimates a 4,000-square-foot custom house using conventional materials would cost a builder around $130 per square foot to build, including about $50,000 worth of lumber. He says he can build that same house using cargo boxes for half of the cost and in half the time.
A New Construction Frontier
Justin Reginato is an associate professor of construction management at Sacramento State. He says the cost and labor benefits, in addition to the novelty of the design, make container projects more appealing to builders, but they require significantly more planning on the front end to prevent costly, on-site modifications.
"A lot of owners are reluctant to say, 'Wait a minute, I have to spend 20 percent of my construction budget up front before I even get anything built?'" Reginato says. "It really requires owners to take a leap of faith that the upfront planning costs, that ounce of prevention, is going to be worth more than the pound of cure."
Reginato says that for projects like the tower in Brooklyn, which is being built by development company Forest City Ratner, prefabricating the hundreds of individual container units in a manufacturing facility speeds up construction immensely. Electricians, plumbers, welders, designers and engineers can all work together to complete much of the work before the containers are even taken to the site.
Still, these projects face many snags: If the container pieces don't fit together just right — like building an Ikea table only to find that the legs are uneven — modifications on site can drive costs through the roof. Older containers often contain lead-based paint and other toxic materials that must be stripped before use. The Brooklyn project was put on hold for five months because of a dispute between the developer and the construction company over prefabricated designs.
"Because this is not a process of construction for which there's a lot of industry practice behind it, owners and constructors and architects are still ironing out the wrinkles," Reginato says.
Off the Ground
But the biggest issue by far is just getting the container projects approved by cities.
Even The Container Park, which was privately funded and today is a major attraction to tourists, had trouble getting off the ground.
"The city of Las Vegas has been a very good partner, but they've never done anything like this before," McPhail says. "So obviously when nothing's been done before, the safety of the public is first and foremost, and so approving building with these types of products … was time-consuming. The next one probably not, but the first one is always a little more challenging."
In Sacramento, Der Biergarten owner Sean Derfield knows better than anyone the struggles involved in building with cargo boxes. He was the first in the city to use containers when building his outdoor, German-style bar on 24th and K streets.
Derfield originally wanted to use containers to build a temporary beer garden on a then-vacant lot, stay for a year or two, then pack up and move to another lot. The city, however, wanted a more permanent structure and was wary of the industrial aesthetic.
Derfield and his crew had to go through renovation after renovation to get the containers up to the city's standards and incurred a number of additional expenses and fees in the process.
"It was more expensive for us because there were a lot of things we didn't plan on, like sidewalk improvements, and a lot of fees that we wouldn't have had to pay if we had just taken over a small building or some place that had a large patio," Derfield says. "But the uniqueness was why we really liked using the cargo containers."
Derfield ended up signing a 5-year lease, and today Der Biergarten is a destination spot for midtowners, though one can hardly tell it is made out of steel boxes.
"In the long run, would we do it again? We would," Derfield says. "Hopefully now that it's been done, the city is starting to be more lax on all the added things you need, so it won't be so expensive."
Inside the Box
Sacramento may be seeing a lot more of these types of projects, if Cohan has anything to say about it.
In addition to the West Sacramento complex, the lofts and homes in midtown and the container mall, Cohan plans to build permanent housing and office structures with cargo boxes for the city's homeless and nonprofits — a veritable "tent city" made of steel.
He wants to build small studio homes with a kitchen and a bathroom with offices for nonprofits on site and sell them to the city for a lower price — around $15,000, he estimates.
"Now we're building [homeless] communities, giving them a feeling that they're worth something," Cohan says. "I don't see any reason why the city would say, 'We don't want this.'" So far, planning is still in the conceptual phase.
But the question remains: Is this just a temporary trend, or are Sacramentans and people across the country going to more often find themselves living, working and playing in steel boxes?
The answer really depends on two things. First, the availability of shipping containers is by no means a guarantee given the ever-growing world economy, and "if the demand for global trade outstrips the demand for condos and apartments made out of container boxes, then the shipping industry is likely going to win that," Reginato says.
The second consideration is how this model of modular construction involving any uniform, mass-produced pieces evolves and if developers can further refine the process.
The Container Park provides a peek into what different modular construction would look like: In addition to cargo boxes, the mall is made up of 12-by-24-by-9-foot Xtreme Cubes, boxy structures made by a division of Ahern Rentals that are generally used for field offices at disaster relief or construction sites. The Container Park uses them to make up its rental business spaces, and this type of construction could soon be the future.
If local developers and officials can refine the construction approval processes for using this model and are able to identify a solid market — young professionals or students looking for affordable housing, start-ups in need of cheap rent, for example — then Sacramento could be at the forefront of the container movement.
"In some way, shape or form, this sort of modular construction of mid-to-high-rise building really has theT potential to be a market changer," Reginato says. Cohan's West Sacramento project is just the beginning: Sacramentans may soon be doing a lot more thinking inside the box.