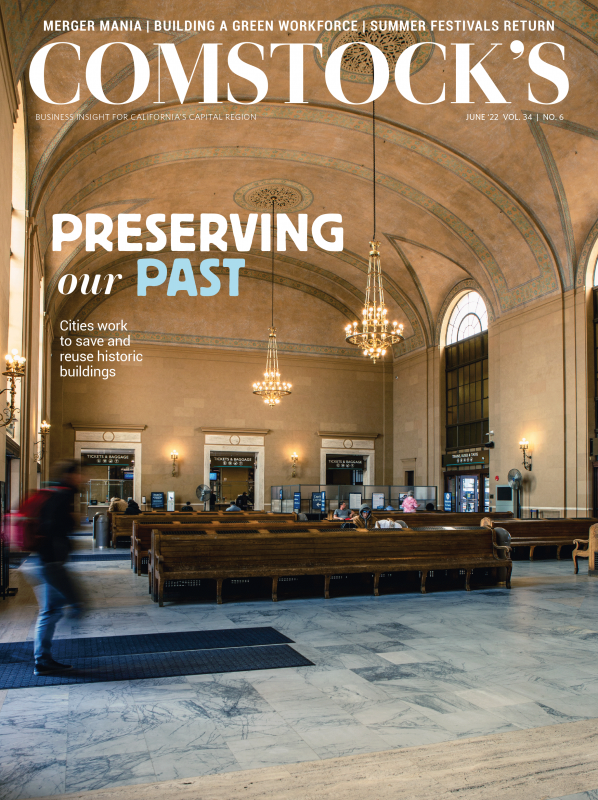 This story is part of our June 2022 print issue. To subscribe, click here.
Heidi Hill Drum describes herself as "generally not a very emotional person." But when the Caldor Fire tore through the Tahoe Basin last year, she felt deeply for her tight-knit community of South Lake Tahoe. She's married to a firefighter and was used to him going out to big fires; this time everything felt too close to home.
"There were so many sleepless nights and my heart is broken. I have, unfortunately, a couple of friends who lost their cabins on Highway 50," says Hill Drum, whose family was evacuated during the fire. "I have another friend who lost her home in Grizzly Flats."
When Hill Drum and her neighbors returned to their houses on that first night, they cracked open a bottle of champagne and celebrated. "Behind my house where I take my dogs for a walk every day, it just looks so different with the bulldozer lines and the trees down and the burned trees," she says. "But we're so incredibly thankful that our neighborhood and our homes were protected."
The fire was a wake-up call, and one that informs Hill Drum's day-to-day work as the CEO of Tahoe Prosperity Center, a nonprofit community and economic development organization. Among her duties, she is part of a collaborative to develop a stable workforce for forestry jobs, which California's record-breaking wildfires show to be an urgent need, especially for residents throughout the Sierra Nevada where climate change is making forests hotter and drier.
This regional collaborative's efforts fit into a much bigger goal — a global goal — to employ people in jobs that help society deal with the effects of climate change, including megafires, prolonged droughts, extreme heat waves, sea-level rise and flooding, through mitigation and adaptation.
Two major scientific reports released by the United Nations ​​Intergovernmental Panel on Climate Change in February and April show the urgent requirement to dramatically reduce greenhouse gas emissions with no time to spare.
Mitigation aims to reduce greenhouse gas emissions to prevent more global warming by measures such as transitioning away from fossil fuels to renewable energy, stopping deforestation, implementing soil practices to sequester carbon and pursuing advanced technologies. Adaptation requires altering behaviors, infrastructure and systems so people and animals can still have good lives in compromised scenarios. But there is also concern over maladaptation, as in actions with unintended consequences that will make some people more vulnerable to climate change, create less equitable outcomes, cause more emissions or end up harming ecosystems.
Efforts are underway throughout the Capital Region to develop a green workforce that can help on both the mitigation and adaptation fronts at the local level.
Leaving dirty energy behind
The IPCC reports are bleak. Global warming is already killing people, and more people are going to die each year from extreme weather, air pollution, heat waves, diseases and hunger. Already at least 3.3 billion people are "highly vulnerable" to climate change, the authors of the first report say. During the news conference for the release of the IPCC report in February, Antonio Guterres, the UN secretary-general, said fossil fuels are a "dead end." Decarbonization is the future.
A January 2022 report from the Deloitte Economics Institute shows that the U.S. economy could gain $3 trillion by decarbonizing over the next 50 years and add 1 million more jobs. Inaction, on the other hand, could cost the economy $14.5 trillion by 2070. Jonathan Foley, a renowned climate and environmental scientist, tweeted in response to the Deloitte report: "Stopping climate change? A bargain. In fact, it's the best business opportunity in human history."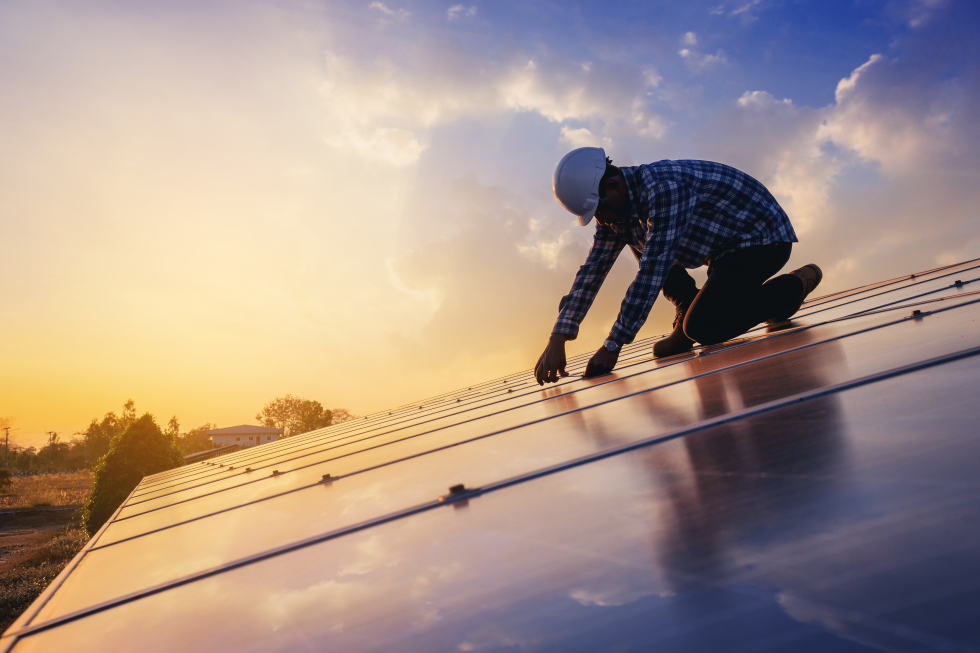 This decade, clean energy jobs in the U.S. are expected to grow the most among climate careers, according to the Bureau of Labor Statistics, which projects a 68 percent increase in wind turbine service technicians and a 52 percent jump for solar photovoltaic installers by 2030.
California's environmental mandates are also propelling this energy workforce. The state has targeted 100 percent clean energy by 2045. And in 2018, the state mandated that new single-family homes and multifamily units up to three stories high and new commercial buildings include solar panels. California needs an estimated 180,000 new housing units each year through 2025 to meet demand.
Amanda Reynaud, executive director of the North State Building Industry Foundation, says her organization helps promote local community colleges and independent programs that train a solar workforce. "Our focus is workforce in the residential construction industry, making sure that the industry has the talent that it needs to accomplish the work that it needs to do," Reynaud says.
In the Los Rios Community College District, American River College offers a certificate for solar energy systems design, estimation and sales, and Cosumnes River College has a solar installers certificate program. The nonprofit GRID Alternatives, based in Oakland, provides job training in solar energy and installs solar power systems in underserved communities. "They don't have any problem getting their graduates placed" in jobs, Reynaud says. "(For) companies, their solar work has been growing exponentially over the past year and they don't see that that is going to slow down."
Not everyone who trains to work in clean energy does so because of their eco-consciousness. These are, simply put, decent careers. "A green job, per se, isn't the driver," Reynaud says. "It's really: Is it a good job? Does it pay well? Does it have career advancement opportunities?"
The Sacramento Municipal Utility District is generating a solar workforce through its Energy Career Pathways program. For this program, SMUD and GRID Alternatives North Valley (with a location in Sacramento) offer a free solar certificate program, particularly for people from underserved communities. Trainees earn a stipend and get a hands-on education about solar, battery and electric vehicle charger installations.
In the program's first year in 2020, 25 students completed the training and 12 were placed in jobs as a result, according to a SMUD spokesperson. By then partnering with GRID Alternatives, the program expanded last year to include 93 participants; 28 job placements resulted. This year, 70 people are enrolled, again expected to result in at least 28 jobs.
Local talent is easy to find
Beyond the obvious clean energy jobs, plenty of other careers are critical in climate mitigation and adaptation. The Bureau of Labor Statistics anticipates a growing need this decade for environmental scientists, soil and plant scientists, atmospheric and space scientists, and hydrologists, among other eco-friendly professions.
Many of these future professionals are being trained at UC Davis. For instance, the university educates soil scientists who help farmers understand how to store more carbon in soil, including through cover crops, compost or low tillage. Additionally, healthy soil helps protect plants against extreme weather events being brought on by climate change. University-
trained plant scientists contribute to adaptation by developing plant breeds that better withstand drought and disease and produce higher yields. These students are surrounded by ag tech companies eager to hire employees to help create more sustainable agriculture worldwide.
The UC Davis School of Veterinary Medicine's One Health Institute leads the Rx One Health Field Institute, an experiential summer course for graduate students and early-career professionals working across disciplines, such as ecosystem dynamics, food security, infectious disease, and social and cultural determinants of health, according to Dr. Jennie Lane, a veterinarian and program manager of the field institute. One Health recognizes the interconnectedness of the health of people, animals, plants and their environment.
"The course itself helps them learn how to apply their own professional skill sets … to work together and across sectors to address some of society's larger issues," Lane says. "Larger issues are not just from one root cause. They're from a lot of different multifactorial reasons, and to be able to come up with solutions for that it's very helpful to have individuals that know how to work across sectors and with one another and communicate with a common language."
Program participants might visit a river that no longer has continuous flows due to climate change and explore how that affects local people, livestock and the ecosystem. They look at how racism affects health outcomes — and how a changing climate exacerbates those outcomes for marginalized communities. Take, for instance, how extreme heat waves impact farmworkers, or how malaria and vectors for the disease are altered by changing weather conditions and extreme weather events, especially heavy rainfall.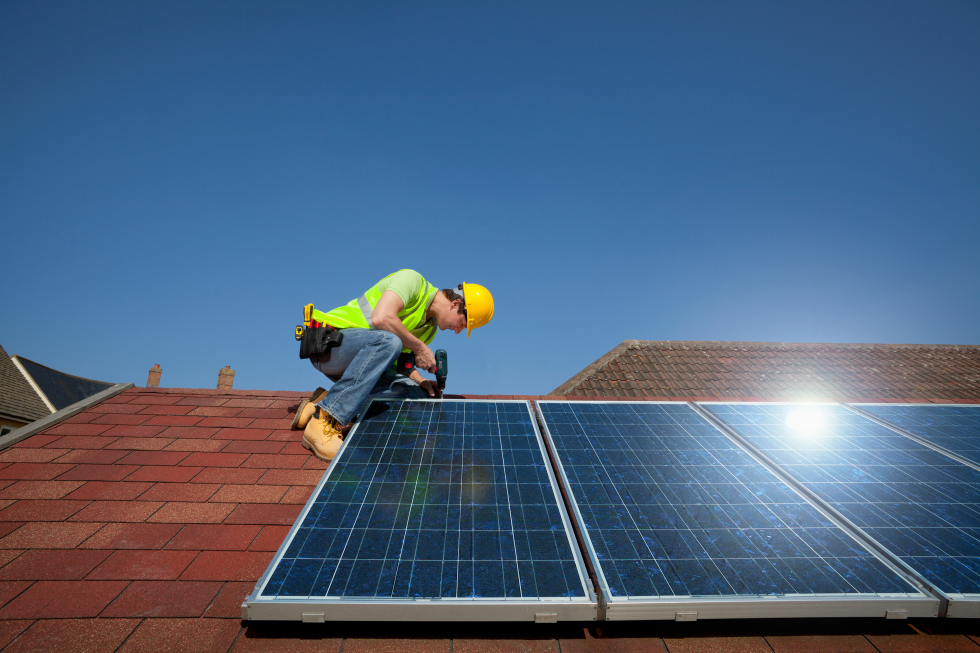 "We've seen the impacts of what happens when we have spillover of infectious diseases from wildlife to humans, and it's only predicted that's going to increase," Lane says, speaking of COVID-19. The broader professional community and general society are recognizing the One Health philosophy "intuitively," she adds. "Of course, human health and environmental health and animal health and the ecosystems that we all share are interrelated."
The program has hosted 85 participants from 15 countries since its launch in 2017 (2020's program was canceled). Locations for the program have included Tanzania, Rwanda and California. "For society, it's important that we have motivated individuals who know how to work together and across sectors to be able to solve some of our really global challenges," Lane says.
When it comes to other climate-related jobs, the list is long: urban planners to help communities rethink their physical facilities and built environment; hydrologists to find solutions for water availability and quality; engineers to handle waste disposal and air pollution control. And, in rural communities, there are those much-needed forestry jobs.
Jobs to support a year-round economy
In the tourist haven of Tahoe, restaurant employees lost hours of work and tips due to evacuation orders and hazardous smoke from the Caldor Fire in the summer of 2021. "Suddenly you lose two weeks of wages because the road closes or there's a fire or there's a pandemic, and I'm trying to figure out ways to promote and recruit some of those tourism workers into more stable, year-round forestry jobs," says Hill Drum of the nonprofit Tahoe Prosperity Center.
The TPC is partnering with the North State Forestry Collaborative to help catalyze more forestry jobs, Hill Drum says. One collaborative member, Josh Metz, thinks emerging technologies offer a big opportunity. Metz, co-founder of the Drone Automation & Robotics Technologies program at Cal State Monterey Bay, said in a webinar that drones have unique capabilities for wildfires and forest management, including for mapping or air operations in poor visibility. The global drone market, he said, is projected to grow from $15 billion to $90 billion by 2030 and create about 104,000 new jobs, including for cartographers, photogrammetrists, and surveying and mapping technicians. But this workforce needs to be trained, and only 10 of California's roughly 630 colleges have drone programs, Metz says.
In September 2021, Gov. Gavin Newsom signed a $15 billion climate package, which includes $1.5 billion for forest and wildfire resilience such as fuel reduction projects among other strategies. This means more jobs. "We need folks to go out and do forest management work — do prescribed burns, do targeted forest thinning, work on shaded fuel breaks around communities, and do that type of work," says Staci Heaton, senior policy advocate for Rural County Representatives of California. "It serves the dual purpose of creating jobs and also doing community fire protection."
Another program in the Sierra Nevada that aims to develop a workforce — in this case focused on skilled project managers for conservation efforts — is the Sierra Corps Forestry Fellowship Program of the Sierra Nevada Alliance, a nonprofit network of conservation groups. Launched in 2019, Sierra Corps identifies and places early-to-mid career professionals with environmental nonprofits. Fellows get professional training and real-life experience with project management — the host partners get a mid-level employee at 30-50 percent of the cost (the project is funded by the Sierra Nevada Conservancy, a state agency).
Sierra Corps has hired about 10 forestry fellows, says Taylor Parker, Sierra Nevada Alliance's forestry program director. While working on conservation and climate change issues can be "wildly depressing," Parker says, he also sees beauty in programs like Sierra Corps with young professionals eager to dedicate their careers to fixing environmental woes.
"I am not an optimistic person by personality," Parker says. "I'm a pretty melancholy individual. But I am not pessimistic about our environmental issues. I do actually think that we can fix them and it's programs like this forestry program that are reminders to me that we have an incredible group of humans working very hard, very diligently."
Mobilizing for a cause
When it comes to climate jobs, Generation Z might be the perfect candidates just waiting for the opportunity. Gen Zers, those born roughly between 1997 and 2012, seem especially purpose-driven — even more so than millennials. "They mobilize themselves for a variety of causes," according to the management consulting firm McKinsey & Company.
A chief cause is climate change. Younger activists show significant engagement with this issue, according to a Pew Research Center survey in 2021: "Compared with older adults, Gen Zers and Millennials are talking more about the need for action on climate change; among social media users, they are seeing more climate change content online; and they are doing more to get involved with the issue through activities such as volunteering and attending rallies and protests."
One big idea to attract youth is the Civilian Climate Corps, which is modeled after the Civilian Conservation Corps established by President Franklin D. Roosevelt in 1933 to give young men jobs working on roads and bridges and in public lands, forests and parks. The program ended with World War II. Funding for the Civilian Climate Corps has been stymied as the Build Back Better Act continues to stall in Congress, but California has had its own Roosevelt-inspired program, the California Conservation Corps, since Gov. Jerry Brown launched it in 1976. This CCC gives young adults job training for the benefit of the environment.
The CCC has 24 centers throughout California — including five Capital Region locations in Greenwood (El Dorado County), Sacramento, Stockton, Auburn and Fairfield — and about 3,000 members enroll annually. They are paid to build trails, develop parks, do stormwater work, unclog streams to enhance salmon runs, plant trees and provide emergency response to natural disasters. The CCC also trains and employs firefighters.
"What better thing can be motivating for a young person than, say, plant trees or reduce greenhouse gas effects or develop parks or spend a summer building trails in Yosemite National Park?"

Bruce Saito, Director, California Conservation Corps
"What better thing can be motivating for a young person than, say, plant trees or reduce greenhouse gas effects or develop parks or spend a summer building trails in Yosemite National Park?" says Director Bruce Saito. "That's the appeal and that's the message: Do something good for yourself, build skills and experiences, but at the same time, do it while you're doing something good for the environment."
Saito says his organization is always trying to get the word out and attract more members who can benefit from both job training and an exciting experience. "I've said more than one time that the CCC, after 45 years, is still one of the state's best kept secrets."
Reporting for this article was made possible by an award from the Institute for Journalism and Natural Resources.
–
Stay up to date on business in the Capital Region: Subscribe to the Comstock's newsletter today.