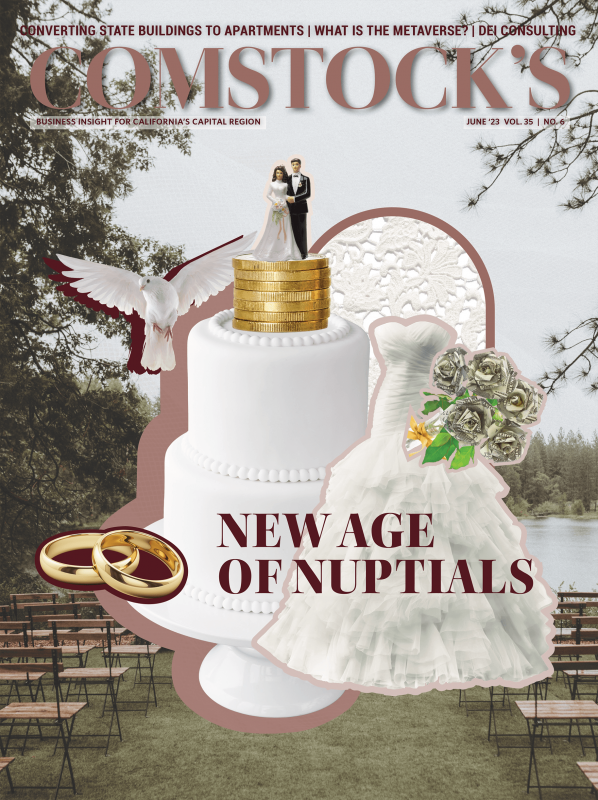 This story is part of our June 2023 print issue. To subscribe, click here.
Wedding season is in full swing again. "We're excited to see them ramping up," says John Martin, co-owner of Park Winters in Yolo County. Seeing all the love between couples and their families is Martin's favorite part of being in what he calls "the happiness business," one that is bouncing back despite the challenges of the past few years.
After more than a year of canceled or postponed nuptials in 2020 and 2021, last year saw a wedding boom as many of those couples finally took their vows. Venues and service vendors are responding to the surge by finding new and innovative ways to create special experiences for couples, spurring opportunities for growth and renewed hope for wedding venue owners across the Capital Region.
"The event world was hit very hard," says Martin. "It'll go down in history as one of the scariest times in our business and personal lives." In response, Martin and his partner Rafael Galiano, who took over as owners in 2011, worked with their team and took steps to improve communication with clients during the contract process so everyone could be on the same page if disaster struck. "Wildfires, earthquakes and now pandemics — this made it clear that you just never know what can happen," he says. Despite the difficult time, the boom period in 2022 resulted in their highest volume year ever.
Built in 1865, the 10-acre property has a magical, secret-garden atmosphere, secluded among the surrounding farmlands. Whimsical touches throughout the property give it a storybook romance feel that clients love. The inn is a white Victorian farmhouse that stands surrounded by centuries-old olive and pecan trees, a koi fountain, and a shimmering blue swimming pool.
A fig forest serves as a spot for a couple's "first look." Guests can stroll the grounds and admire a Monet-esque sunken garden with rose, tuberin and four types of lavender, and an outdoor fireplace overlooking a wide expanse of fields where wedding parties can watch the sunset. "We try to be a blank slate for the client's vision of their perfect day," says Martin.
These days, that special day could be any day. One trend Martin is seeing is an increase in weekday weddings. "So many more people are working from home, so having that strict Monday through Friday schedule isn't as much of a concern. There's a little more flexibility, so Monday and Thursday weddings are becoming very popular. For us, that's amazing — it keeps our staff busier and gives them full-time hours," he explains.
Boasting a staff of 45, including seven full-time chefs, Martin and Galiano are excited to expand their services. On the other side of the property lies a piece of land they call The Farm at Park Winters. There, visitors can enjoy a lazy afternoon tea in a tea room that looks like it came straight out of "Alice in Wonderland," with a chandelier and interior constructed from repurposed cabinet doors.
The farm offers agritourism experiences through creative classes, garden tours, farm tours and flower-picking experiences. There are plans to open a farm stand this summer with smoothies made from whatever they're currently growing.
"We've heard from people who say, 'I really want to visit Park Winters, but I haven't been invited to a wedding there yet,'" says Martin. "This is our answer to that."
Trending Toward Authenticity
Sacramento has some historic venues for weddings, such as Viscaya, a colonial revival built in 1889, and the Sterling Hotel, a Victorian mansion built in 1894. Kathleen Kahrl, event coordinator for the Tsakopoulos Library Galleria in Sacramento, has been in the event industry for over two decades. The Galleria holds events to help raise funds for downtown's Sacramento Library.
Since 1997 she's helped facilitate proms, lectures, hearings, corporate and holiday parties, swearing-ins and other major events in the life of the city. Laid off when the venue shut down in 2020, Kahrl returned to work last spring and has seen some changes with weddings in today's post-pandemic era.
Kahlr notes the economy is causing many couples to opt for smaller weddings. "It's inflation," she says. According to The Knot's 2022 Real Wedding Study, the average cost of a wedding in the U.S. is around $30,000 — and $37,000 in California. Catering and labor costs have risen significantly, says Kahrl, so couples are facing substantial increases compared to before the pandemic.
The largest wedding gown retailer in America, David's Bridal, went bankrupt in April of this year, a signal of changing times as many brides opt to save costs by buying dresses and other wedding accessories from independent artists and websites like Etsy. And as couples become more environmentally conscious, they are incorporating eco-friendly elements into their wedding plans while finding creative ways to stay within budget.
Today's brides have more awareness about sustainability, says Kahrl. "So when they give any little gifts, it'll be flowers, seeds or herbs, something like that," she says. "Some purchase tableware and linens they want to use for future events."
Not that some couples don't want to go bigger. "I always say your event is one part imagination and one part budget, and one often impinges on the other," laughs Kahrl.
For those couples who don't have to keep their spending in check, many vendors are stepping it up these days with new advances in technology. "Cold sparks," for example, are indoor fireworks that don't give off heat, so there's no risk of fire damage. If you really want those perfect wedding photos, you can try a technique done with dry ice that makes it look like you're dancing on a cloud.
Many DJs today also offer additional services like onsite photo booths and lighting packages, which could mean anything from party lights to "uplights" placed around the base of the dance floor that change color to the beat of the music.
No matter where they fall on the budget spectrum, Kahrl sees a renewed emphasis on having ceremonies that reflect the values and personalities of the couple. Kahrl has seen a goth wedding, a Star Trek wedding, even a Willy Wonka-themed wedding. At the same time, after being isolated many couples want to experience those classic traditions. "I always encourage people," she says. "A wedding can be a real expression of yourself and what you love."
Coming Out Stronger
Wedding planner Courtney Lawhon agrees many weddings today are more personalized than ever. She's seen everything from a 1970s-themed wedding to miniature donkeys carrying beer during cocktail hour. "These days, it's not just about playing the same playlist, creating the same menu or bouquet," she says. "We love it!"
Her team at Courtney Lawhon Events manages and coordinates weddings at The Lake at Apple Hill in Placerville. Owned by local real estate developer Walker Land Company, the venue typically holds 24 events each year. It boasts a stunning backdrop for a wedding ceremony, overlooking a private 50-acre lake and framed by massive pines, madrones, and redwoods. You can often catch the smell of apple donuts from nearby Apple Hill bakers wafting in the air.
Lawhon launched CLE in 2019. "2020 taught me so many lessons," she says. The experience brought her tight-knit team even closer, she shares, and after working with devastated couples going through re-planning again and again, she feels stronger for it. "If you survived 2020 in this industry, I say you can do anything!" laughs Lawhon.
Co-owner of Walker Land Company, Jen Baldivid, agrees. "From a business perspective, we learned that people are still going to get married, pandemic or not," she says. "We just helped them do that and still obey the local laws. The people who chose to get married during the pandemic — those marriages will have grit. They had to fight for their wedding," she says.
"Yes, we had to update our contracts and FAQ with pandemic language, so we did not go out of business," she continues. "But our big takeaway is that we have very real conversations with our clients. None of us know what tomorrow will bring, but we will show up and live today."
In Baldivid's opinion, there is no more "normal" in the wedding business. "But we're finding that people mostly just want to have their loved ones around, and they're leaving a lot of hype and pomp out of the planning," she says.
Beyond the Pandemic Pivot
That seems to be the case for Matt and Jessica Mermod at Newcastle Gardens. The rustic Placer County wedding venue tends to attract a no-frills clientele who want an uncomplicated, stress-free experience. The Mermods call themselves a "one-stop shop" with a relaxed vibe, where clients can make things easy on themselves by choosing from a list of preferred vendors.
In the six years they've owned Newcastle Gardens, the Mermods have hosted around 300 weddings. The 100-year-old property includes oak trees, winding green paths, and a barn called the Red Horse where receptions are held. They host about 60 weddings per year, and the space holds 120 to 130 people.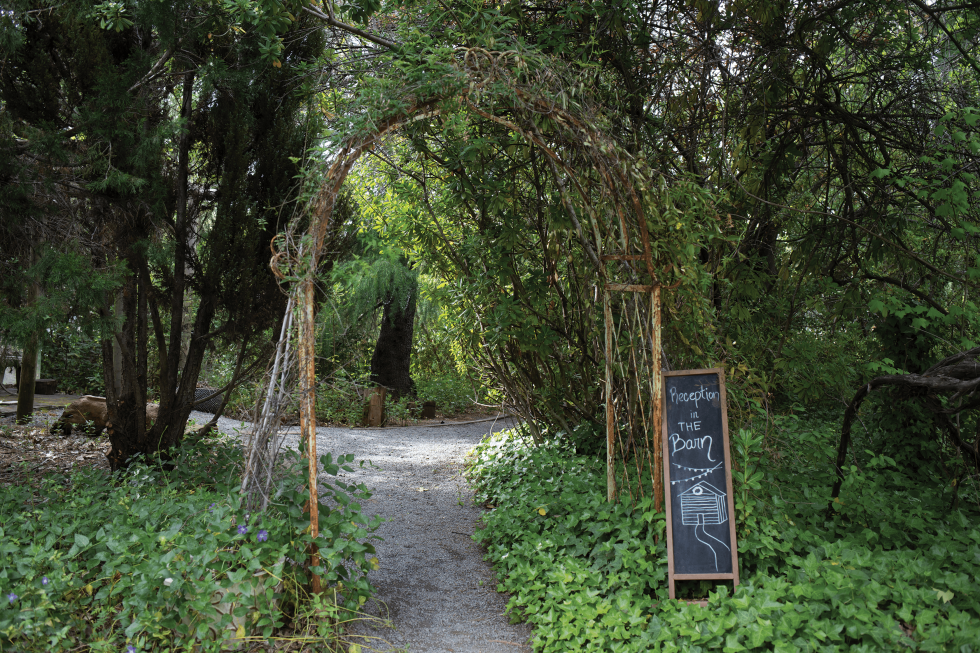 A chef by trade with 30 years in restaurants and large-scale catering, Matt handles the tours, event booking and, of course, all the food. Jessica is in charge of payroll, landscaping, and even serves as the in-house florist. "It took us a while to both figure out our roles," Matt says. "But now we have a pretty good balance."
The Mermods went through their own learning experiences during that chaotic and uncertain period when COVID guidelines meant they had to postpone about half the weddings they had scheduled in 2020. Later they were able to open for small events like tastings and anniversary dinners. As those changing guidelines saw many businesses opening then closing again, finalizing guest counts often proved difficult. "Guest counts fluctuated like 20 to 30 people at a time," says Matt. Their solution was to do the final count and take final payments the week prior to the event rather than the typical industry standard of two weeks. "We knew that was the right thing to do," he says.
Now, they're excited to focus on the planning process with the couples and families that come through the venue. "It's very addicting to create great experiences for people," says Matt. "So after a 16-hour day when your feet are on fire, getting the hugs from the brides and grooms and their families makes those long days go away, and you're ready to do the next one tomorrow," he smiles. "That's what keeps me going."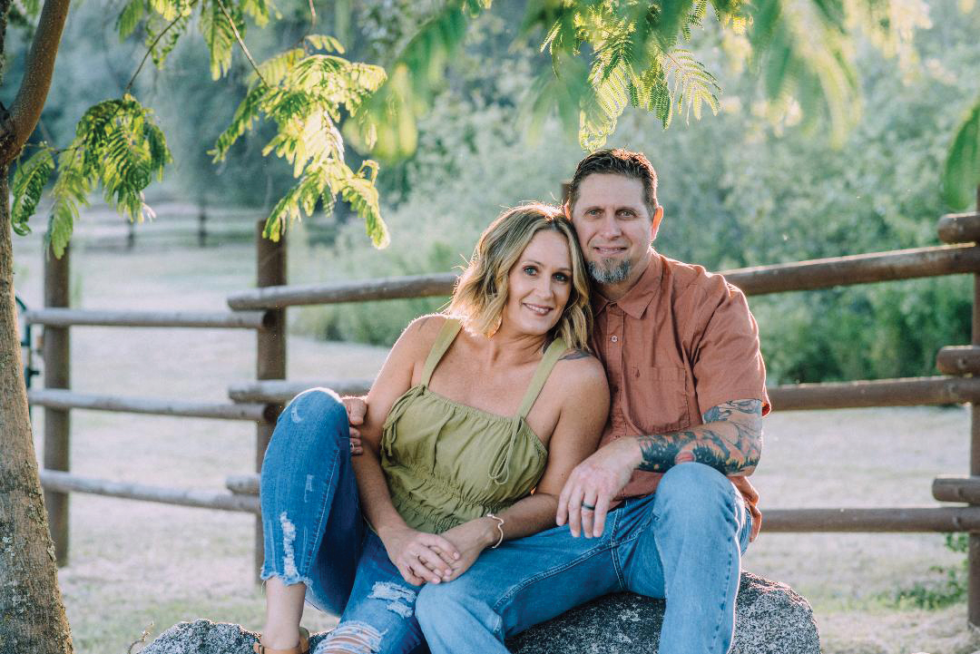 Jessica is just happy to see people's faces again. "I bartended so many events here where everyone had a mask on," she says. "It made you realize how important it is to see those smiles on a joyful day like a wedding day."
Stay up to date on business in the Capital Region: Subscribe to the Comstock's newsletter today.
Even when the tulips aren't blooming during the April-May window, Crystal Hermitage is a destination experience that has received accolades by AAA Magazine as a top garden to visit in the West.
COVID-19 exposed the stark realities of the precarious economic state of the theater industry, but even regular theatergoers may not look past the glamour and drama of live theater to the grit, sweat and dollars that go into it.
We invited the managers of some of the most successful shopping centers in our region for insight on how they managed during the pandemic, but more importantly how they stay relevant in a digital world.