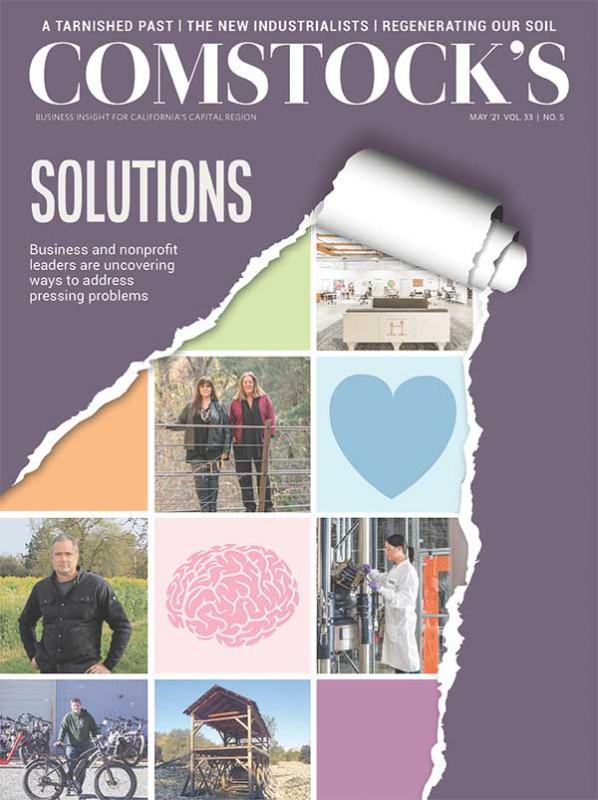 This story is part of our May 2021 issue. To subscribe, click here.
The old ways of doing business just aren't good enough. This message from consumers has echoed loud and clear in recent years. Younger generations in particular have pushed for companies to prioritize social good over financial gain.
In the past decade, this evolution of values has bulldozed its way into boardrooms. It has been almost 10 years since California became the seventh state to allow entrepreneurs who want to incorporate green initiatives and social causes into their businesses to file as benefit corporations — a for-profit company that prioritizes improving the community and environment in addition to making money — instead of going the traditional nonprofit route.
The Capital Region is trending that same way. With the support of organizations like UC Davis' Venture Catalyst and the new California Mobility Center, the region will continue to see technology developments that will have a lasting impact on people's day-to-day lives, says Christopher L. Russell, a Stoel Rives partner and chair of the Sacramento Region Innovation Awards that launched in 2016.
"From the nominations that we received for the Sacramento Innovation Awards to the eventual winners, it's clear that cutting-edge technology is being developed in our region," Russell says. "Many of these technologies will directly affect our lives, including new therapeutics and devices that will improve people's health to new technologies that address challenges created by climate change."
Here are four entrepreneurs on that leading edge who are transforming ideas of manufacturing and thinking well beyond their wallets to the well-being of the world.
---
The Reflector
Diana Eastman, Founder and owner, ThermēShade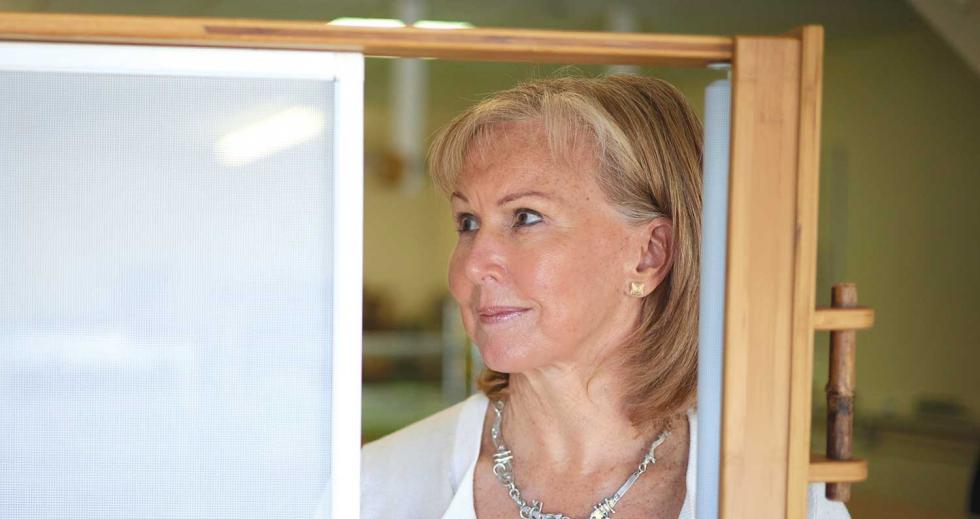 If you can't stand the heat, get out of the Sacramento office building, goes the modified version of the old saying. But Diana Eastman, a former energy consultant, knows that's not always possible.
In commercial and residential buildings, summer sun in the Capital Region can be relentless. Air conditioning units work overtime. People seal, caulk and cover windows in hopes of saving energy. But the discomfort persists. Eastman wanted something different, something better.
She came across a material, described as a laminated film that is perforated, that didn't block visible light like normal tightly woven darkening shades or drapes — it actually reflected the sun's radiant energy. This technology became the basis for her business, ThermēShade.
The silvery filmlike material is not new. The technology dates to thermal insulation for liquid hydrogen in the late 1800s. Last century, NASA started using the material for its spaceships and spacesuits. Eastman, who launched her company in 2012, set out to create a commercial version of the product but ran into a big issue: cost.
The past few years, Auburn-based ThermēShade has been modifying the product, encapsulating the shiny silver in between the other layers: one side reflecting summer heat, the other keeping winter heating in. The startup has reworked the layering and fabrication process to cut down on manufacturing costs. Eastman believes the price point should be comparable to generic blinds or shades. "My goal is to get the price down, because that is how you invest in every social strata," she says. "It's all about making the technology not exclusive."
According to the U.S. Department of Energy's Energy Saver office, "Window coverings can reduce energy loss through the windows, lower heating and cooling bills, and improve home comfort." In 2014, DOE funding led to the creation of the Attachments Energy Rating Council, an independent nonprofit organization, which rates, labels and certifies window attachments. This rating system will give ThermēShade credibility to consumers who may not understand the nuts and bolts of the concept, Eastman says.
The social impact of this technology could be huge, given the health benefits of natural light. In 2018, a Cornell University study reported an 84 percent drop in eyestrain, headaches and blurred vision, all symptoms that can detract from productivity. With people spending their days indoors, getting access to that light without suffering in the heat would be ideal.
"People don't need to know the rocket science behind it," Eastman says. "They just want to solve their problems."
---
The Energizer
Kyle Chittock, Founder and owner, Bolton Ebikes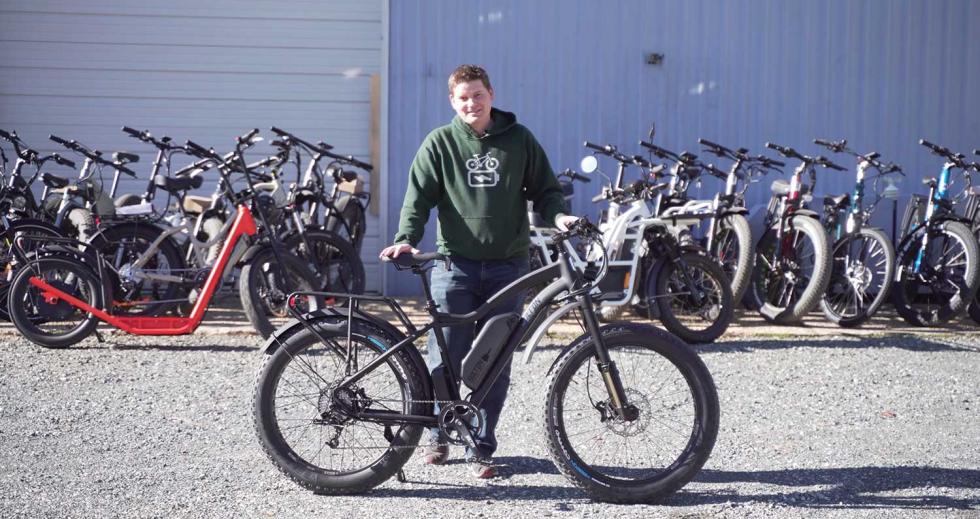 Kyle Chittock grew up riding all kinds of bikes: mountain bikes, road bikes, basically "anything with two wheels," he says. But while he was in the mechatronics program at Sierra College, he did his own research in electric bikes — and their inherent flaws. "They were heavy, they were slow, they weren't ready for prime time," he says.
The battery technology wasn't sufficient. Around 2010, for a college project, Chittock decided to build a complete custom e-bike. He put in lithium batteries and a brushless motor. From there, he realized he might be onto something. He purchased e-bikes online to modify them with bigger batteries and new motors. In August 2015, he officially started Bolton Ebikes.
At the time, it was just a side job that allowed him to sell parts and make a few extra dollars. It brought him back to his younger days, tinkering with classic cars and radio-controlled cars and airplanes. "I saw the transition happening very early in the radio-controlled space," he says. "People started going away from gas-powered, and electric started to take over."
In late 2018, after he started a YouTube channel (currently getting over 500,000 views per month, he says) about e-bikes, business ramped up, and he began building e-bikes from scratch. Based in Grass Valley, Bolton Ebikes now has a team of six. To this day, he says, he doesn't do any traditional advertising beyond maintaining a social media presence. The parts and manufacturing happens overseas in Taiwan and China. Through the pandemic, e-bike sales have skyrocketed, he says, but factories slowed down, creating a huge gap between supply and demand. "I'm ordering parts a year in advance to guarantee I have e-bikes at all," he says.
Chittock hopes this reality allows manufacturing doors to open in the U.S. If only 15 percent of commuters in the U.S. switched to e-bikes, carbon dioxide emissions from passenger transportation could drop by 12 percent, according to a 2020 study. The recently introduced Electric Bicycle Incentive Kickstart for the Environment Act proposes a 30 percent consumer tax credit up to a maximum of $1,500 on purchases of e-bikes less than $8,000. If that goes through, Chittock says, sales will spike even more.
Notably, customers aren't typically the commuters on a mission to reduce emissions. Chittock says 99 percent of people who buy his e-bikes are older than 60, either retired or on the cusp. They buy e-bikes, he says, because they are easier to use than traditional bikes. They help seniors get exercise, get outdoors and have fun. "After having fun," he says, "they realize they can ride to the grocery store or to run errands. Then they use it for things we want them to use it for."
A self-described aviation nut, Chittock names his e-bikes after various aircraft. One of his most popular models is the Bolton Ebikes Blackbird (named after the SR-71 Blackbird, which used to fly out of Beale Air Force Base). This one comes with several features, such as a seat dropper post, tubeless ready rims and tires, adjustable stem for comfort, and more.
"I will never have the cheapest bikes," he says, "but I hope to always be extremely competitive for the price with features other bikes simply don't have."
---
The Recycler
John Bissell, Cofounder and co-CEO, Origin Materials
"Nobody ever really builds a chemical company from scratch in today's world," says John Bissell of Origin Materials, a company that uses patented techniques to turn wood chips into bioplastics.
During the financial crisis of 2008, when Origin launched, Bissell says people abandoned climate technology as an investment opportunity. But it took the company about a decade to develop the chemical and materials platform. The technology and financial backing has finally caught up to the vision outlined by Bissell and co-CEO Rich Riley. (In February, Origin Materials announced a landmark deal to merge with a special purpose acquisition company as a route to a major IPO.) The warnings about a pandemic went unheeded for so long, and then the coronavirus hit, which has caused the world to think seriously about putting money toward companies on a mission to prevent or reverse projected disasters, including environmental ones.
On a mission to replace petroleum, the West Sacramento-based company's first plant is coming online in 2022, followed by a bigger commercial-scale facility in 2025. Its first order of business is supplying recyclable, 100 percent plant-based polyethylene terephthalate plastic for food and beverage packaging, apparel, and textiles.
"We, as a species, need scale in decarbonization fast," Bissell says. "The way you scale fast is dropping into existing product and supply chains."
Bissell, who grew up in Sacramento and went to UC Davis, expected he would be a chemical engineer. He comes from a family of doctors, but he had an interest in chemistry, math and biology. One night over dinner, his dad suggested Bissell look into material science. Bissell never looked back. "We're a weird company for Sacramento," he says. "There aren't a lot of companies like us, doing heavy asset construction. It's highly technical."
---
The Accelerator
Gina Lujan, Founder, MakeHers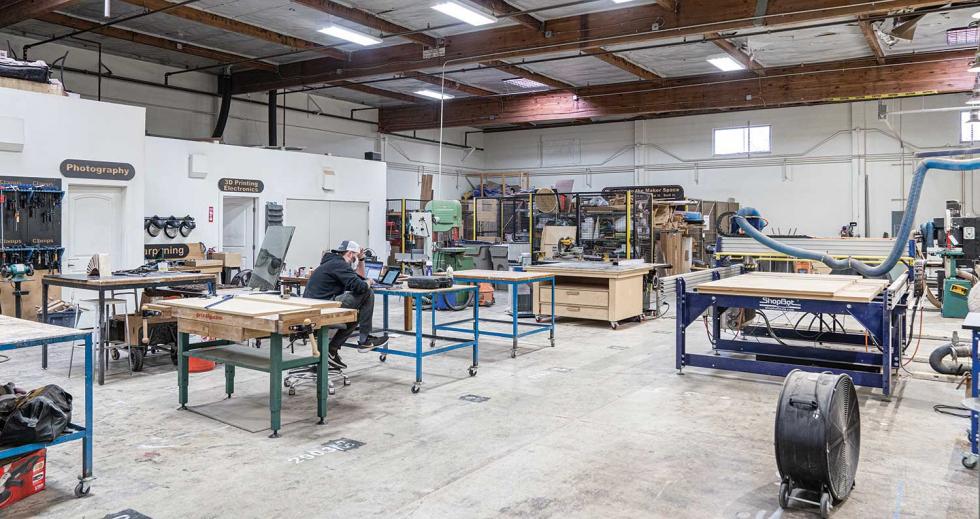 A business accelerator might not fit the literal definition of a manufacturing company. But Gina Lujan, cofounder of Hacker Lab in Sacramento, knows something about creating spaces for entrepreneurs. Her latest venture, MakeHers, focuses on building a pipeline for women. Due to COVID-19, millions of women — especially women of color and those with lower incomes — had to leave the workforce.
Being a caregiver at home while trying to pay the bills is hard enough, but adding systemic issues to the pot can make the idea of starting a new business seem impossible. "A lot of times we're starting businesses out of survival," Lujan says.
Lujan compares the recent shift to the first half of the 20th century when women had to work in industrial settings because the men went to war. Except this time, many women are working from home, selling items online on Etsy and Facebook Marketplace. Lujan created MakeHers to support what's happening now. The first round of the accelerator launched in April, supporting 15 women from the Sacramento Region with low incomes in launching or developing a small business.
The MakeHers program will run 60 days for each round. The women meet virtually every week for lessons on the structure and cost to operate a business, understanding the market, and developing confidence and storytelling skills. It also includes mentoring sessions and helping entrepreneurs get their business documents in order.
"It's a holistic approach to entrepreneurship," Lujan says. "Especially women from lower incomes or women of color, systemic issues and traumas lead to habits and mindsets because of the environments we're in."
The goal is to have MakeHers be a continuous program that serves all women eventually. Anyone who goes through the program will receive an initial seed investment of at least $1,000. (Lujan plans to use crowdfunding to generate additional funds for needed resources.) Lujan counseled thousands of people this past year and knows that support, money, education and resources for women are where help is needed.
"The stories you hear," she says. "I've talked to people who told me, 'I can't even pay my car insurance, so I've been driving around without it,' or, 'I don't have enough money to feed my kids.' It's heartbreaking, and if you're in a position where you can do something, why not do something?"
–
Stay up to date on business in the Capital Region: Subscribe to the Comstock's newsletter today!