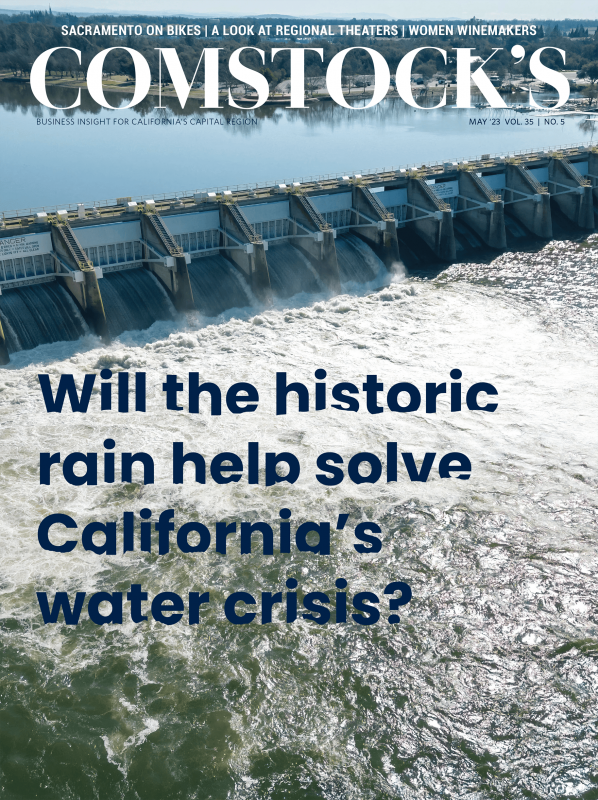 This story is part of our May 2023 print issue. To subscribe, click here.
In drought years, California's depleted reservoirs are a visible reminder of the state's water crisis. As dry periods drag on, its two largest reservoirs — Shasta and Oroville — start to look more like streams than lakes. But for every gallon of water no longer aboveground, gallons more are disappearing, largely unnoticed, from storage that can't be seen from the highway.
California's underground aquifers can hold around eight to 12 times as much water as all its largest reservoirs combined. Yet over the past two decades, California's Central Valley — the epicenter of the state's agriculture industry — has been pumping groundwater at an accelerated rate. During the 2011-2017 drought alone, Central Valley aquifers lost more water than it takes to fill Lake Mead all the way to the top.
California's shrinking aquifers represent both an opportunity and a problem. The state could store a lot of water underground, and overdrafted aquifers are more than just wasted space. As the groundwater basin empties, the land above it subsides or sinks, sometimes as much as a foot per year. Subsidence reduces the available space in an aquifer and can also damage water infrastructure like canals and pipelines. This is one more reason why scientists, state agencies, and farmers alike say we need to "recharge" our aquifers when water is plentiful, not just build more reservoirs.
"Compared to the space that's available in the Central Valley subsurface already, an additional reservoir or two or three or four, even five, would be a drop in the bucket in comparison to the water you could store in the ground," says Graham Fogg, Professor of Hydrogeology at UC Davis. Groundwater does recharge naturally, Fogg says, but natural recharge takes years or even decades, and California doesn't have that much time. Instead, scientists and state agencies are developing strategies for capturing excess water and making sure it reaches the aquifers quickly. One way to do that is by flooding working landscapes like refuges, floodplains and agricultural land.
Terranova Ranch in Fresno calls itself a pioneer of on-farm groundwater recharge. The ranch has been voluntarily flooding its fields since 2011, when it covered fallow fields, active fields, and orchards with six to 12 inches of water as a part of a UC Davis feasibility study on groundwater recharge and flood mitigation along the Kings River. Researchers found that between 50 percent and 70 percent of the water diverted onto Terranova's wine grape fields and pistachio orchards seeped back into the aquifer, directly contributing to groundwater recharge.
"If we don't do this, we're going to lose a lot of farmland," says Don Cameron, vice president and general manager of Terranova Ranch. "But it's not just for agriculture," he adds. "Our rural communities, the majority of them, rely on drinking water from groundwater. So it's got multiple benefits."
The early work done on Terranova Ranch became the basis for Flood-Managed Aquifer Recharge (Flood-MAR), a Department of Water Resources water management strategy that aims to use floodwaters to recharge aquifers, reduce flood risk and enhance ecosystems across California.
In wet years like this one, floodwater arrives in short but intense surges and often goes uncaptured. "The concept is to divert high magnitude flood flows, especially the flows that are so high that that water would typically not be used for anything else," says Fogg. Agricultural land, he adds, is ideal for Flood-MAR because there's so much of it, and farms already have irrigation infrastructure in place that can efficiently move water onto the fields.
Diverting water into retention basins can also recharge groundwater, as long as the basins are built on coarse-grained, permeable ground. "Even though they're over a much smaller area than irrigated fields," Fogg says, "they can also accomplish a tremendous amount of recharge."
Water can be piped directly into the ground, too, though this is a less efficient way to capture floodwater since it contains sediment that has to be filtered out before the water can enter the basin. This method is more practical when the water comes from a clear water source like a reservoir. The City of Roseville, for example, captures excess water from Folsom Lake during wet years. The water is treated so it meets drinking water standards, then it's injected directly into the groundwater basin. Using this strategy, the city was able to bank 325 million gallons of water during 2021 and 2022, enough to support around 2,700 households for one year.
Groundwater recharge has broad support from water agencies and farmers, but environmental groups say there are risks to diverting too much water too quickly. On March 10, Gov. Gavin Newsom signed an executive order making it easier for water users to divert floodwater for groundwater recharge. The order includes protections for native fish, but critics say plans to divert large amounts of floodwater could still harm outmigrating juvenile salmon.
Fogg cautions that groundwater recharge — just like reservoir storage — is not enough to solve California's water woes. The state's underground storage capacity is vast, he says, "and the vastness of it is one reason we've been able to go for so long in California with an overall water budget overdraft." But, he adds, "when push comes to shove, the only way to really balance these groundwater budgets will be a combination of reducing pumping, managing demand and increasing recharge.
"Everyone wants to just do the latter because that's the good news."
Editor's Note: Gov. Gavin Newsom announced on April 20 that with reservoirs nearing capacity and snowmelt runoff beginning, the state will deliver 100 percent water allocation to the State Water Project, the highest allocation since 2006.
Becki Robins is a science writer based in California's Gold Country. Her work has appeared in Undark.org, Science News, Earth Island Journal and Lonely Planet, and she's a regular contributor to the YouTube video series SciShow. Her articles for Undark.org have been republished by the Atlantic, Popular Science, High Country News and Scientific American.
–
Stay up to date on business in the Capital Region: Subscribe to the Comstock's newsletter today.
Unlike "The Big One" earthquake that is overdue along the San Andreas Fault, experts don't have an ominous name for a flood of biblical proportions that is likely to inundate the Central Valley within the next 500 years.
California has always been celebrated for Innovation, yet we can't budge our elected leaders to truly innovate much of anything, states Comstock's president and publisher. In this month's letter, she considers the complicated issue that is our state's water dilemma.
From 19th century battles between farmers and hydraulic gold miners over debris polluting rivers to 21st-century political duels over spawning salmon, Californians have squabbled incessantly over how water should be captured, allocated, conveyed and priced.