Two decades after California voters approved medical marijuana use, state lawmakers finally endorsed the idea of creating a statewide framework regulating the product last year. And just in time, as voters are expected to soon follow Colorado, Washington, Oregon and Alaska and legalize recreational use, as well. We sat down with the state's "pot czar," Lori Ajax, chief of the new Bureau of Medical Cannabis Regulation, to talk about the state's nearly $3 billion medical weed industry and the potential impact of legal recreational pot use.
After 20 years, California is finally creating a statewide regulatory framework for the legal medical marijuana business. But with 17 different licenses to establish by Jan. 1, 2018, some observers worry things might not be ready. Can you say for sure everything will be ready to go?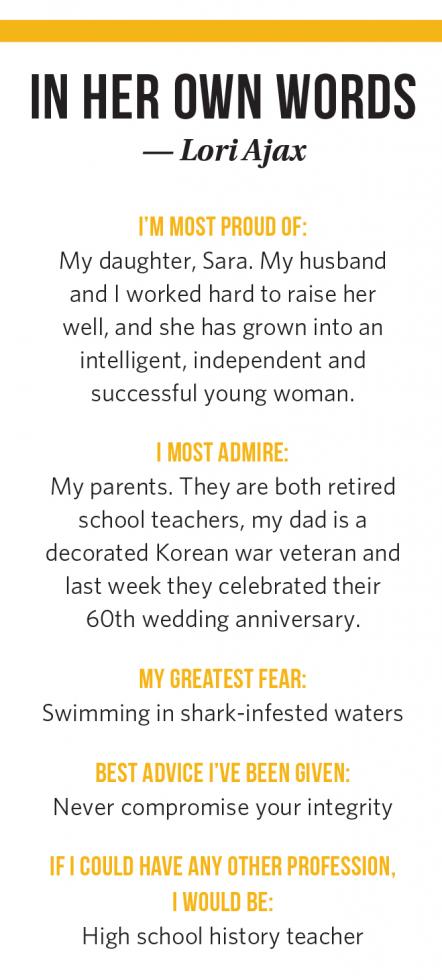 Yes, though it is a huge task and a big challenge. There are a lot of steps along the way, but I am confident we are going to make that goal deadline.
You're being called the state's "pot czar," but other agencies are also involved in regulating medical marijuana. What exactly is your agency's purview?
We've been designated the lead agency. We're tasked with licensing the distributors, transporters and dispensaries. As lead agency, we're also working collaboratively with the Department of Food and Agriculture, which is going to be licensing the cultivators and be responsible for development of the 'track and trace' program system. [The bureau will also issue licenses for labs testing all products for pesticides, microbiology and potency]. Along with that, we have the water boards, Fish and Wildlife, the Board of Equalization, Department of Pesticide Regulation. So there's a lot of moving parts and we've all got to work together to get this done. All of us need to get our regulations completed by the end of December 2017 so we can start taking applications.
What's your vision for this agency over the next five years?
"For the last 20 years medical marijuana has been unregulated, so now we have the opportunity to make sure patients have safe medicine, that we're keeping it out of the hands of minors and that we're protecting the environment. That is our great opportunity."
The immediate goal is to get regulations in place and set up a model we can be proud of in California. Once we start accepting applications, the goal becomes doing our investigation of those applications, issuing licenses and actually getting that information out to the public.We're really focused on making sure we get the regulations right so that we can have a very effective and strong bureau. I'm all about hard work, being effective and making sure that we engage all our stakeholders — from local government and law enforcement, to the public and the patients, to the medical cannabis industry — because I want to look back five years from now and make sure that we set out what we're going to do. We're going to protect our patients, the public and California's environment.
What are the biggest challenges you face in this task?
There are many. One is making sure we're engaging with and listening to everybody, because you know there are a lot of opinions about how medical marijuana should be regulated. Another challenge is that it's still changing. There's a few pending legislative items out there, and there is the [legalization] initiative. So it's a moving target. But we've got to focus on what's in the law right now and then be nimble and change directions if we have to. It's a huge challenge and the clock is ticking, but I thrive in that environment and so do the employees I've hired.
Conversely, what would you say are the biggest opportunities for California?
For the last 20 years medical marijuana has been unregulated, so now we have the opportunity to make sure patients have safe medicine, that we're keeping it out of the hands of minors and that we're protecting the environment. That is our great opportunity.
What impact would legalizing recreational marijuana use have?
I get asked this a lot, but we just don't know. It's going to create more work for the bureau but we really don't know the specifics of what's going to happen. Right now, I'm tasked only with implementing what's in the Medical Marijuana Regulation and Safety Act. Of course, we're keeping our eye out on what's happening with the initiative, but we're trying to remain focused on the task we have at hand. If legalization happens, then we have to adjust.
Most local governments have a dual licensing capability and their own rules. How would you describe the relationship working between the state and local governments as you're moving this process forward?
We've started early on engaging local government because, as you mentioned, it is a dual licensing system: In order for a medical cannabis business to operate, they [need] both a local license or permit and a license with the state. So [having a] relationship with the local government is important because we've got to communicate the status of our applications. It's important for us to know what ordinances they have in place, and to engage them as we go through the regulatory process.
Do you feel so far it's been a good relationship?
Yes. Some jurisdictions have bans already while others have a really robust regulatory system in place, so I think we learn from both sides and what their concerns are. A lot of our informational sessions have been talking about what the Medical Marijuana Regulation and Safety Act is and what we're tasked with doing. I think that's helped a lot, just getting the word out. I think the hardest thing for everybody is that at this point, until we draft our regulations and finalize them, we don't know exactly what all the details are. We don't have all the answers right now.
You've said you're not a marijuana user. Some people might question whether someone who doesn't use pot could really be the best arbiter of how to set up a system to regulate it. What are your thoughts on this?
That is correct, I'm not a marijuana user. But this isn't about me, it's about the bureau and all the other agencies implementing the Medical Marijuana Regulation and Safety Act. That's what's important here — you've got people who are going to do this right and are going to get it done. That's where I come in.
In dealing with the cannabis industry, has anyone questioned you on that?
They have actually. In one of our first informational sessions a gentleman said that if we haven't consumed the product we couldn't regulate it. But the majority of folks have not said that. The majority of people are concerned about what the regulations are going to look like. They're concerned about taxes and things like that. So I think that's only a small concern in the industry.
How do you feel about medical marijuana in California, and the possible legalization of recreational pot use? Share your thoughts in the comments.