Alexander Gonzalez, 66, stands in front of the climbing wall at The WELL gym at Sacramento State. Gonzalez has served as campus president since 2003 and has no plans to retire.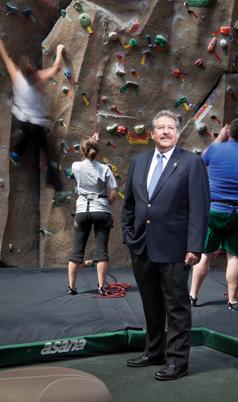 "I believe Sacramento State can be the flagship campus of the California State University system, the exemplar of what a regional state institution should look like. It should be the model for how a campus can educationally, economically and culturally enrich an entire community."
"Above and beyond being a center for undergraduate education, we have to be a convener. We should be a safe haven for discussions on what's going on in the community and the rest of the world. Politics, science, social issues — no topic should be off limits. That's part of education. That's part of serving the community."
"As a system and a campus, we have built a budget predicated on a $250 million reduction from the state. For Sacramento State, that means $18 million less than last year. Last year was the first time CSU students paid more in fees than the state allocated for subsidized education. That goes against the main principles of the state's Master Plan for Higher Education. Student access will obviously suffer. It starts at the UC level, then trickles down to CSU and then to the community colleges."
"One can't help but get fatigued after years of staffing and course reductions. This angst shows up in the form of increased complaints voiced and lawsuits filed. Students are upset because they can't get the courses they need. Faculty, staff and administrators are worn down by the continued workload increase due to the number of positions that remain unfilled."
"Morale issues have been tempered by improved overall communications on campus. I believe we have improved relationships with the faculty senate and [student government] through the establishment of the University Budget Advisory Committee. There are no secrets. Everybody knows how much money is coming in and where it is being distributed."
"To fulfill the vision of developing the south side of campus, we will need to develop public/private partnerships. With severe state bond limitations for the foreseeable future, that's the only practical way to move forward. It will be great for the campus and the entire community if we can build a partnership to fund a 10,000-capacity special events venue."
"I'm old school. I believe our core mission remains to provide an undergraduate education anchored in the arts and sciences. If you're going to succeed in this competitive world, you still need to know how to read, write, think, communicate and have an appreciation for the arts and sciences."
Sacramento State President Alexander Gonzalez's tenure has been one of the most tumultuous in the university's history.