Aliyah Sidqe is not a fan of the starving-artist mentality. She says when an artist gives in to that way of thinking and accepts a low wage for their work or a job, that not only leads to burnout for the artist, but "it kind of messes it up for other people."
Sidqe says artists who are "willing to take whatever" often don't realize they can negotiate. "They say that they do it for love instead of just being able to support themselves. I feel like you can do something out of passion and love but also be able to support yourself well," she says.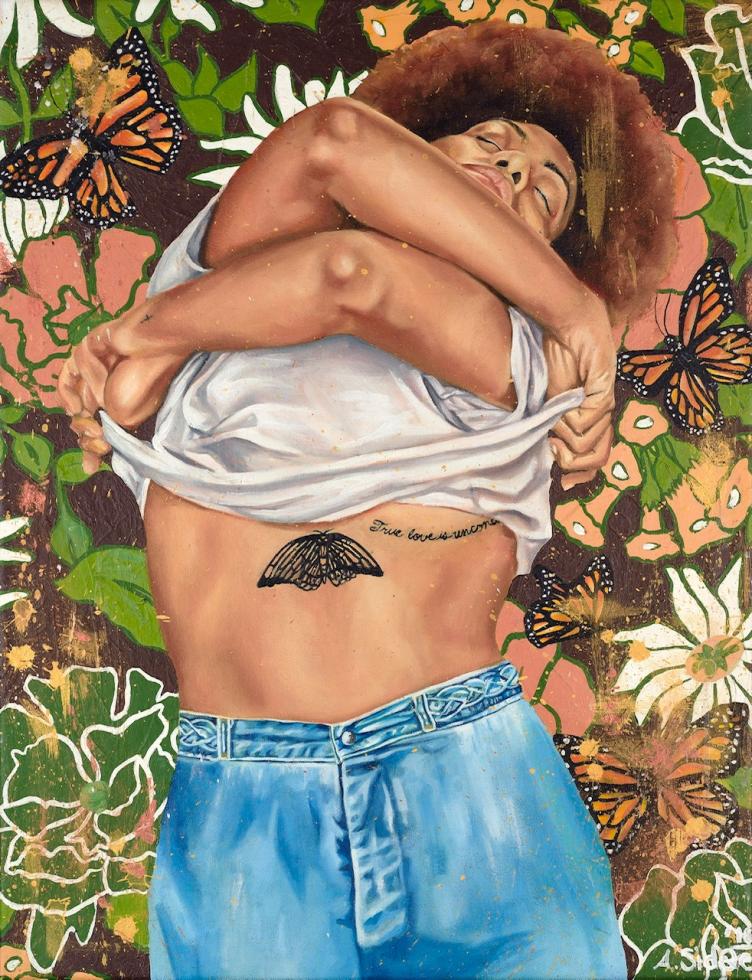 Sidqe, who grew up in Elk Grove and El Dorado Hills and now lives in Sacramento, says art has been her full-time gig for three years. She describes herself as a self-taught artist, activist and educator. Early on when she decided to pursue this profession, her mother met Milton Bowens at an event and asked him to meet her daughter, who was around 17 at the time. "He was willing to mentor me," Sidqe says.
Bowens seems to be an appropriate mentor, since his mixed-media art reflects the Black experience in America, and activism and education are priorities in his work. In Sidqe's pieces, she says "illustrating Black faces, showing a fuller sense of who we are on a daily level" alone is a significant statement.
Those faces in her work are often her own — as she's her most readily available model — and her paintings show an affinity for vintage 1970s motifs and pop culture. She's painted several murals around Sacramento and was chosen to participate in the Sacramento Artists-in-Residence pilot program to bring art education to the Sam & Bonnie Pannell Community Center. She has exhibited in a handful of shows as well, the most recent being a solo exhibition in February at the Brickhouse Gallery & Art Complex on Broadway, which was supplemented by events she curated, including a blaxploitation movie screening and discussion, "because often, we don't have an opportunity in a public space to speak our minds and just say how we feel."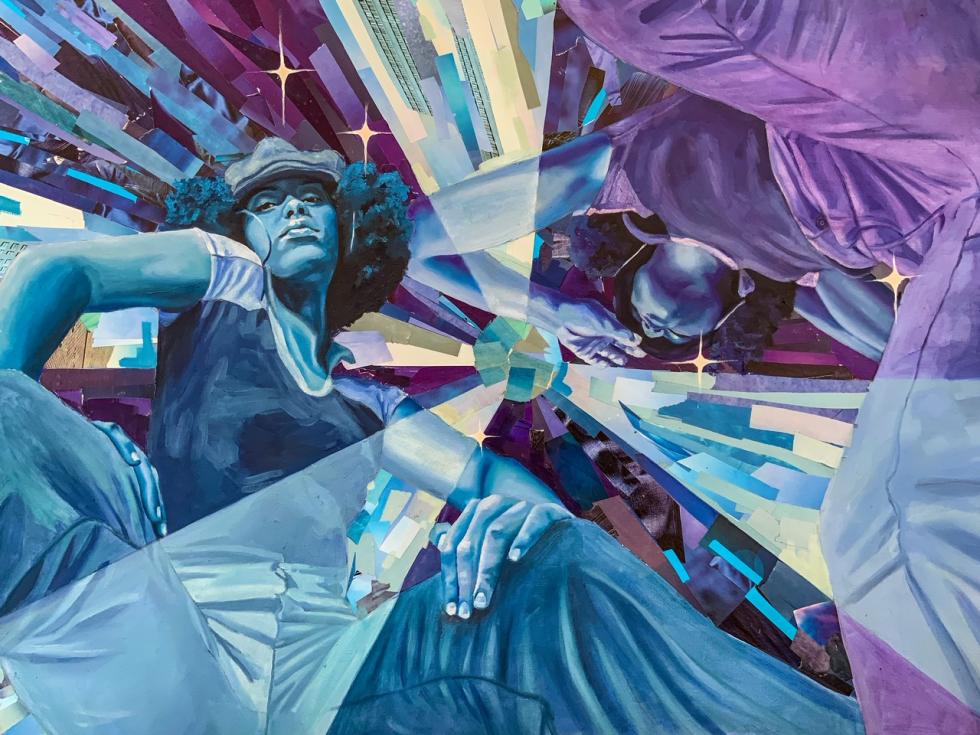 You started to get serious about art as a profession seven years ago, right?
I always liked to do art. … (My parents) always encouraged me to do that, but my response was, "Artists don't make any money." … I was the kid who was always interested in money. …
It wasn't until I got out of high school that I was being exposed to artists who were living … and thriving. … My mom was the person who got me connected with a man named Milton Bowens. … I had no clue who I was in the presence of at the time.
Activism seems to be important to who you are and what you do. How are you incorporating activism and education in your work?
Art and activism really go hand in hand. Artists really have the power to affect things more than I think a lot of people understand, and art has always been at the forefront of any political movement in time. …
Sometimes we think of activism as just in-your-face and protesting and things like that, and I do have pieces around those things, but having a young lady being able to look at my artwork and being able to see herself is a political statement in itself.
Was it Bowens who inspired your approach to activism and education in the community?
My own background kind of created that, but how he does it is inspiring. … Realizing that (art) is a therapeutic tool and wanting to continue to share that — and realizing that a lot of people are not exposed to it, especially in lower-income communities — (is what drives me).
How are you involved in the arts community?
I'm not heavily involved in it. … What's funny about this year and (is ironic is that) my goal this year was to connect more with folks and the art community and just be out and more art events, … and then everything happened with the virus. So it's put me back in the house. …
I just kind of do my own thing and put my stuff out there. … But it's kind of hard. I mean, art is interesting, because I think people don't want to share their secrets — it feels like a secret society sometimes — that's why being exposed to Milton so early was such a luxury, because he really did take me under his wing and show me so much.
You say you're not very active, but you're involved at the Brickhouse Gallery and put on events there.
I did five events through each weekend (in February).
Doing several events in a month makes it look like you are pretty involved.
I mean, I am (laughs), but I feel like there's so many artists in Sacramento, I'm constantly learning about new people. … I guess I am downplaying it a little bit. At the Brickhouse, I made that connection through Milton.
Your subjects include nods to iconic Black pop culture and imagery, like "Soul Train," movies from the 1970s, but also protests for Stephon Clark in 2018. What draws you to that older era?
There's so many amazing things about the '70s. … I see a lot of similarities in the way that things are now and (then). I feel like we're still fighting the same fight. … Other than that, I just love the colors, I love the fashion of that time. I feel like there was an element of freedom of how people were dressing and how people were moving through life with their hair.
For a long time, I would straighten my hair growing up, to the point where I told myself I would never go to school with my hair not straightened. … (In high school, I) stopped putting heat in my hair and just allowed it to be what it was and finally got a little Afro, … and for the first time, felt really comfortable in my skin. … The natural-hair movement of (the 1970s) was really inspiring.
How have the pandemic and protests changed your work?
I've gotten a lot more support during this time than ever before, to be honest. I really have been enjoying being able to have a reason to not to be out because of the pandemic. … Because I've been pregnant (she gave birth in mid-July), I haven't been painting. I've been trying to focus on other things, but really getting into the idea of what's next.
As far as the protests go, … everything that's going on is nothing new, and I'm sure for a lot of Black folks and people of color, this is nothing new. … It's more so an eye-opener for everybody else who isn't affected on a daily basis with these issues. …
For my art, I think because of the subject matter, just the heavy influence of Black people and empowering Black people, I've gained a lot of support. … People want to support Black businesses. They feel like they're doing something in a time when it's hard to know what to do.
When you say support, what does that mean?
Sharing my page on Instagram more, buying my work online. I've seen a huge influx of sales for the month of June. For the whole month of June, I contributed proceeds to different organizations that were assisting in the liberation of Black people … like the West2West movement. … (People have been supportive), … but it's really about how does that continue? I definitely don't want this time to be a trend. I think because of the virus, it's forced people to kind of sit with all that's going on. … We really do need to change a lot of things.
Do you mind if I ask what was the difference in your online sales before June and after?
My average sales prior to this, per month, I would say, maybe like $400 (in print sales). … Within the last month, I made like $4,000 from just print sales. … As far as (Instagram), I think I gained 2,000-3,000 followers in the last month.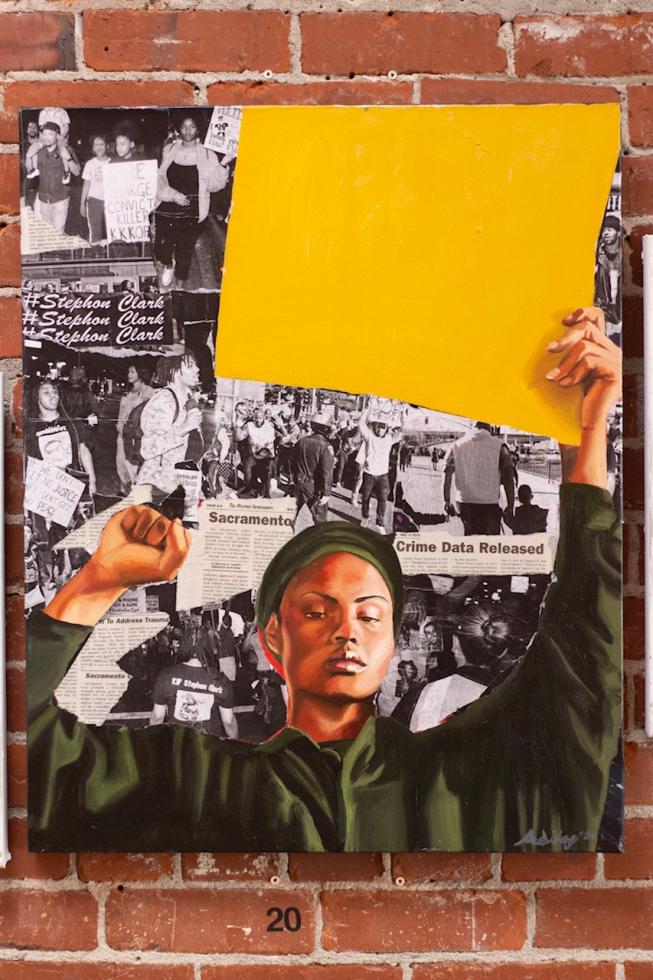 Is there anything you do specifically in your marketing approach?
Instagram … (is) primarily where people see me. … I try as best I can to show my personality through each post, so I often do longer posts. … As far as community outreach and teaching and things like that, that's organic. I don't try too hard to market things. I think the right things just come to me, the right people come to me.
Are you usually the one who reaches out to organizations to paint murals, or are they most often contacting you?
I've never approached anybody to do a piece. … Slowly but surely, more like-minded folks come about and give me opportunities. … That's why I love Sacramento. Once you're doing what you're passionate about, … people will start to see that and share it.
You said on your website you want to run your own gallery.
I love to elevate other artists. … It's a whole other level to be contributing to other people's success and careers. I find myself often talking about artists making money and getting the money that they deserve and just knowing their true value. … That's a problem that I would like to assist in. That's why I really want to do the gallery.
How has not knowing how to value one's work held artists back?
Let's say you have a mural that you're doing, and you charge less than what you deserve or how much time it actually takes to get it done, and … it's taken a month to do, you don't really have much to show for it. That doesn't help an artist sustain themselves. …
For me, I'm having a child, and I need to be able to really take care of her, and if I'm coming at something with the approach that I will take what I can get, that's not going to take me very far. And then people who are commissioning different things (will) have very low standards of what they need to pay other artists. … So if we all as artists get on the same page, "This is the bare minimum of what we're expecting," then no one can be undervalued. … It starts with more conversations between artists.
—
Stay up to date on art and culture in the Capital Region: Follow Comstock's on Instagram!