Angela Tannehill considers herself lucky. Although the Elk Grove-based graphic designer of more than 26 years earned her bachelor's degree in fine arts, she only began working as an artist a few years ago, and now her mixed-media work is drawing the attention of private art collectors, art consultants and public-art project organizers.
Her collages are surreal landscapes, combining natural elements with classical details, like an elephant marching along on a rugged beach carrying a gray castle on its sloping back against a sky of golden clouds, or a deer-headed woman who has a network of rust-hued coral instead of antlers, wearing a gold empire-waisted gown with the moon looming behind her. Tannehill spends hours finding images online to print on her archival printer, cuts them out with tiny scissors and arranges them on wooden panels in such a way that viewers often mistake them for paintings.
Kentucky born and Ohio raised, Tannehill earned a BFA at Kent State University, and then worked in graphic design at Countryside magazine in New York. She moved to Elk Grove in 1992 and continued to pursue graphic design as a profession, not really flexing her fine art muscles beyond a few sketches she made for herself occasionally. "Mostly I think that was a confidence issue," she says. But about five years ago, Tannehill was introduced to fine art collage by Sacramento artist Jill Allyn Stafford. "I went to her Second Saturday show and said, 'This just really speaks to me.'"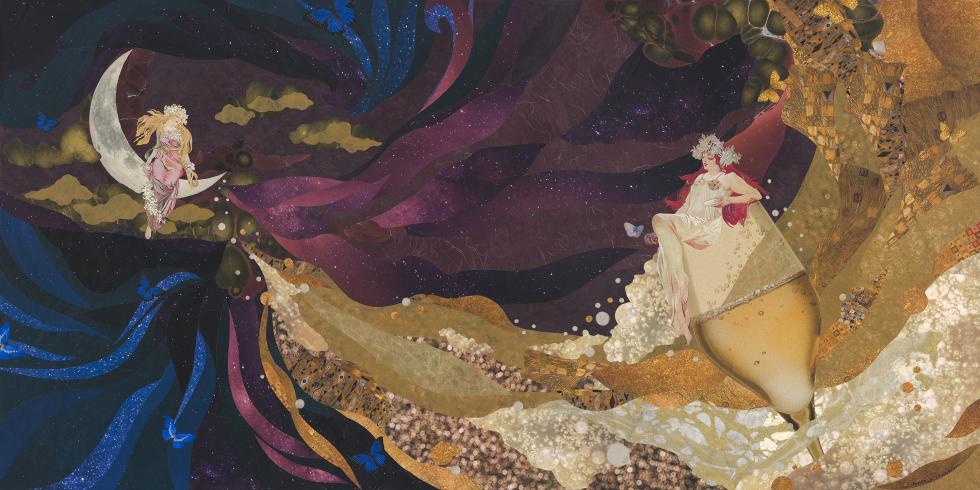 Tannehill says being accepted in ArtStreet, a temporary group exhibition in Sacramento in 2017, was "the big turning point," giving her more visibility in the arts community. Soon after, she began renting a studio at Arthouse Gallery & Studios, which put her face to face with art collectors every month for Second Saturday receptions. Since then, she's been selling her work on social media, been contacted for private and public art commissions, and has a group show at Unitarian Universalist Society of Sacramento in May and a solo show in September 2020 at Sparrow Gallery. She also plans to have work displayed at Audacity, a home furnishing and decor shop opening this year in Roseville. The upcoming exhibitions are part of the reason she decided to leave Arthouse in February and remodel her formal living room to be her home studio.
Tannehill says she's lucky, but well-executed work and strategic decision-making may have more to do with her local and national success. She says 17 images of her work are being carried by two licensing agencies that sell prints directly to customers, including interior designers, and license images to wholesalers to print "on pillows, cards, notebooks, puzzles. Pretty much anything you can put an image on."
What drew you to collage?
It's similar in a way to design, because the way my mind works, I am constantly solving puzzles. … With collage, you really are solving a puzzle, you're solving the puzzle of the colors that need to go together, the structure. For me, now, it's really about figuring out the piece of the puzzle that tells a story. … Everything I need to create the collage brings with it its own history, it's feeling of, you know, whoever took that photo or painted that image 100 years ago, there's some quality that comes along with that.
How do you find your source images?
I source my images online because that way I know that they are public domain, that way I know they are copyright free, or if I am in a pinch, I will actually buy a photograph or take one.
I make sure everything is legal for me to use, and I just search through literally thousands of images all the time. Sometimes I will find an image and then it sparks an idea, and sometimes I have an idea and have to look for the right pieces of the puzzle to go together. … Not only [am I] looking for the right color, the right mood, I also have to find the right pose, the right angle of the face or the right position of the paw. A lot of times I am compositing images to create the scene that I want.
What's it like having fine art — the thing you earned your degree in — be your second career a few decades into having another career?
I love design work … but to actually do my own artwork is amazing. And one of the things that is really nice right now is that I'm trying to bid on more public art projects, so that is sort of a mix between my design background and my art background, so I can create public work that fits the bill for that space, but at the same time I can use all that artistic energy.
How much time do you put toward marketing?
I feel like I'm always marketing! (Laughs.) Probably not as much as I should, but it's sort of a standard amount that you spend on Instagram and Facebook … three or four times a week that I'll post something, and I'll post in-progress works, or I'll post about an upcoming show, or I'll post about a thing that I've just finished.
How are your art buyers finding you?
The way that people found me this past year, which is really when I started the more business side, it has been through Arthouse and also through art consultants. The commissions that I've done, primarily last year, they were all but one just private commissions — people who had seen my work and they wanted something. … I did a piece for Fizz, the new champagne bar downtown — that commission came through Grigio Art. I did a 60 inch by 30 inch for them for their private dining room … and I am bidding on a really big project right now which I don't want to talk about yet, but that's the direction that I am hoping to go.
Why did you decide to leave Arthouse?
After a year, I realized it was a really great experience, and I got exposed to a lot more people. … It was really great feedback and was wonderful validation, but I realized that I was working for Second Saturdays, and so that meant that not only are you trying to make your rent, but you want to keep things fresh, working to make sure I had something in my studio that was new every month, and that kind of felt like it was holding me back in a way, because I had to work more quickly. … I have a solo show coming up in 2020, and with that, it gives me a little bit more freedom to really concentrate on creating a body of work and to just kind of follow my gut and kind of figure out what I really want to do with each piece.
How do you engage with the arts community and buyers?
Because I just left Arthouse, my marketing strategy has changed, and it will still involve social media. It's going to be more where I have to reach out to art consultants and galleries to get my work out there and apply for a lot more public art projects and grants. It's evolving, … but I know it's going to involve specifically mailing things to people and a lot of research on my part. There are a lot of ways to get your artwork out there, such as Zazzle and Fine Art America. One of the other things that I'll be doing is I'll be trying to get my work on Artful Home, which [sells prints online].
How did the relationship between you and the art consultants begin?
They reached out to me. They are people who know my work and have seen my work. Both of the art consultants that I've been working with, they've purchased little pieces of my work and then realized it would be good for a particular client. I actually just hired an artist consultant. She's the author of "How to Survive and Prosper as an Artist"; her name is Caroll Michels, and she helped me figure out how to price [my] artwork … how to reorganize my website, and how to create a marketing piece that eventually [goes] out to art consultants all over the country and galleries all over the country, and I guess museums … along with her advice, I've sought the advice of gallery owners that I know and other artists who've been in the industry for a long time.
Do you feel like organizations and individuals in Sacramento are trying to create more opportunities for art?
Yeah, I think that they are. There are a lot of people in town who seem to be working toward emerging artists and helping people just get started. There's a love of high-quality art, but it's also not a snobby community, and I do think, like with the [Wide Open Walls] mural festival and people like [M5Arts] creating things like ArtStreet and Art Hotel, it's just there's such a premium put on art.
Jeff Musser was an artistic child who went on to graduate from the Art Institute of Chicago in 2000 with his bachelor's degree in graphic design. He then spent two years at an ad agency in Chicago managing creative for McDonald's Happy Meals. Despite a respectable salary, Musser was anything but happy.
Compromise brought contemporary artist Lin Fei Fei from China to Sacramento two and a half years ago. She and her husband "met halfway" while trying to decide on where to settle and call home, figuring that California split the distance between her husband's hometown of Detroit and hers of Da Lian, China.