Tahoe Elementary School in Sacramento has had a makeover. Local and professional artists recently created vibrant wall murals that transformed the campus in the Sacramento City Unified School District into an exterior art gallery, thanks to Wide Open Walls, a local nonprofit.
Shannon Mayfield was the school's principal when the mural project took shape. "The primary target of the uplift centered on removing the 'institutionalized concept' and associated vibe that was uninspiring for students, staff and community stakeholders," Mayfield wrote in an email. "Some of the students told me. 'We have a whole new city here,' and 'We have the best school in the world now.'"
Jamillah Williams painted one of the Tahoe murals. She is a Sacramento artist, self-taught, and her mural features a setting sun. The mural, along with those of the other 50 artists involved in the project, captured the students' appreciation, attention and imagination.
"The kids were inquisitive and surprised," Williams says of her experience creating public artwork at the school. Youth education is part of this equation. "Projects like this can revive kids' interest in the arts."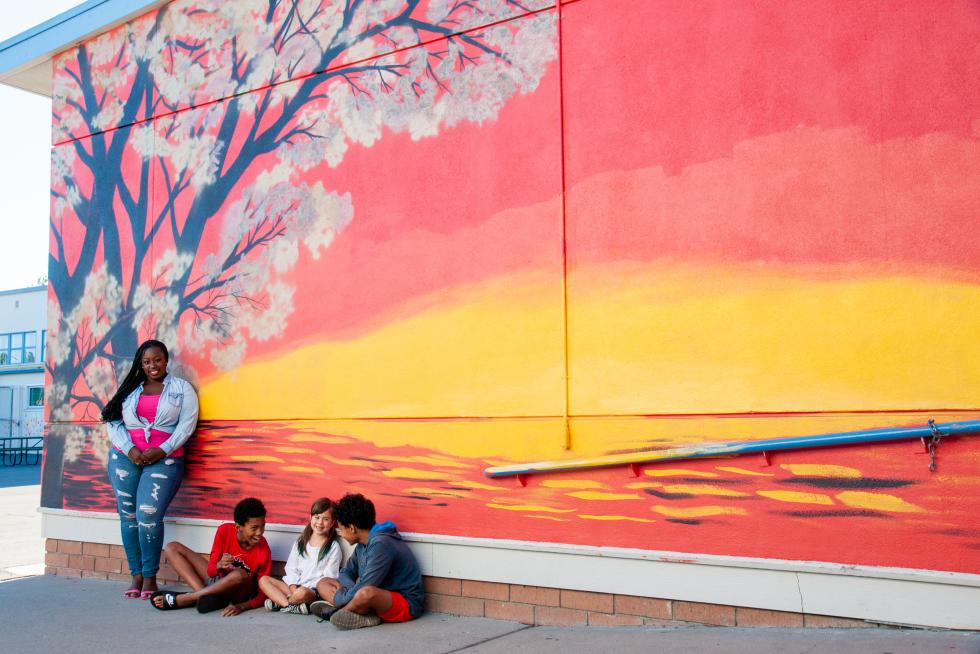 In California, state law requires that schools provide "instruction in the subjects of dance, music, theater, and visual arts, aimed at the development of aesthetic appreciation and the skills of creative expression" in grades 1 through 6. However, not all schools receive adequate funding to interpret this law liberally, so some schools rely upon parent volunteers for art instruction and only offer occasional arts classes. Initiatives like the mural project at Tahoe Elementary School can ensure that students learn in an art-filled environment and demonstrate a school's dedication to art education.
Students past and present reacted favorably to the artistic landscape of the WOW project. "I really like the panda mural," Vivienne, age 5, says of the mural by Davis-based artist Kris Rosa. Her brother Lennox, age 12, agrees. "My favorite is the panda mural close to my classroom," he says.
In addition to the murals by the guest artists, students made their own mural by pressing their paint-covered hands to a wall to form a rainbow of prints. One of the handprints belongs to Kyshon, age 12, a classmate of Lennox and the author's grandson. "It feels like we're leaving a bigger part of a new legacy at Tahoe for students," he says.
Lennox and Vivienne's sister Etta, age 8, gives a nod to a wall mural with a sea life theme, painted by San Francisco-based artist Max Ehrman. "I really like the one with two fishes," she says. Their big brother, Warren, age 14, attended Tahoe and weighed in on the visual changes at his former school, where beige, nondescript outdoor walls are now alive with bold colors and striking shapes. "I think they were all so interesting and it's really cool to have so much art all over the school."
Heather Haight, Tahoe's volunteer art docent, approached David Sobon, founder of Wide Open Walls, about painting some murals at the school. Later, he met with her and Mayfield; the school's new look is the outcome.
Sobon secured funding from the Golden Bay Mortgage Group and UCD Medical Center to pay the artists to paint dozens of new murals on the school's walls. "We did this as a gift to the community," he says. "We had never covered an entire school with multiple murals."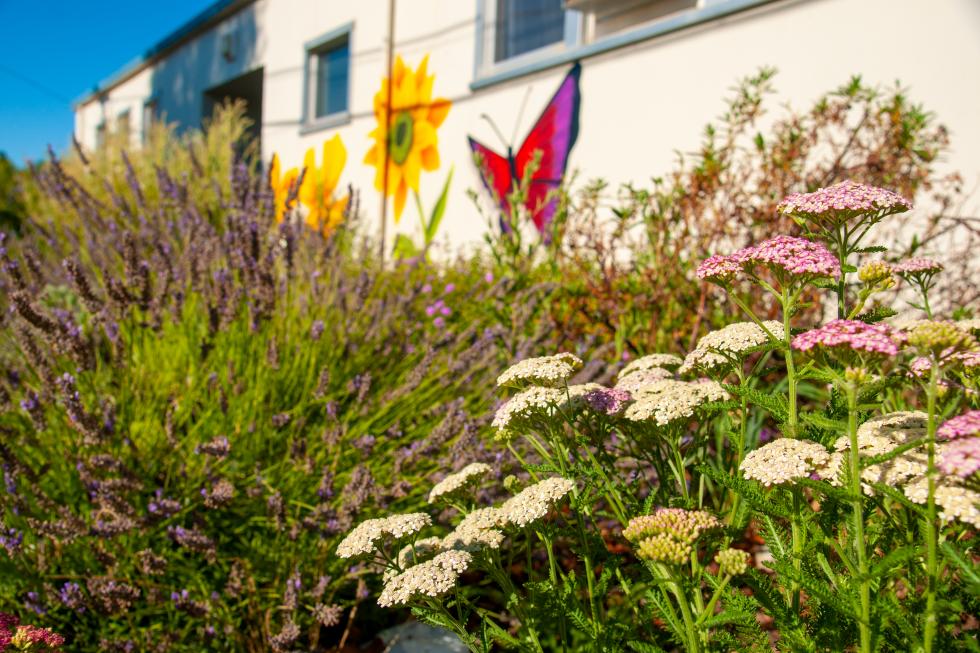 The Wide Open Walls founder is known for his persuasive personality. Just ask Cameron Villa, a loan officer and owner of Golden Bay Mortgage Group. "I received the request from Mr. David Sobon and Wide Open Walls to help out," he says. "We couldn't say no."
According to Haight, there are 37 walls with new murals, in addition to the student handprint wall and the community handprint wall. The murals range from 10 feet wide and 7.5 feet tall to 98 feet wide and 27 feet tall. Other school districts in the Capital Region, from Elk Grove to San Juan and Twin Rivers, are interested in having campus mural projects similar to Tahoe's, according to Sobon.
"These districts have made inquiries to WOW about doing the same thing as Tahoe Elementary School," Sobon says, "taking dark and beige walls and transforming them into color-filled murals."
–
Get all our web exclusives in your mailbox every week: Sign up for the Comstock's newsletter today!