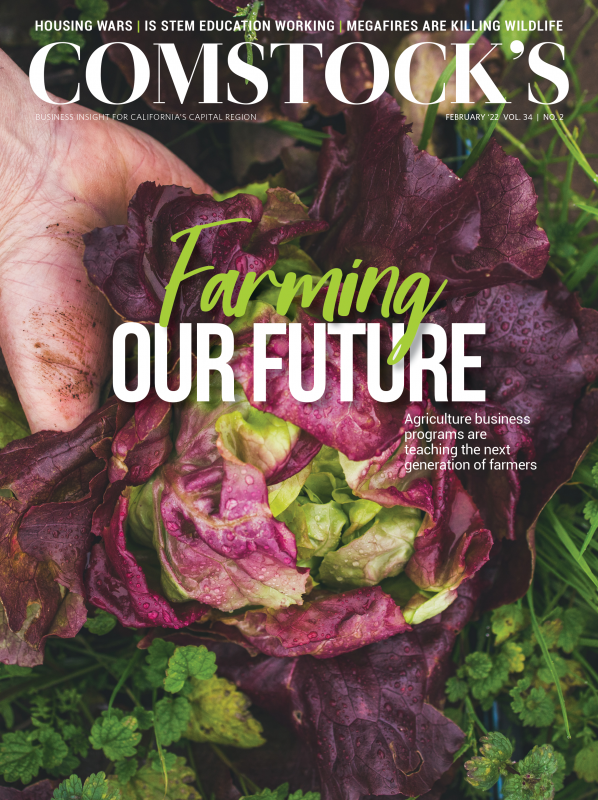 This story is part of our February 2022 print issue. To subscribe, click here.
Students at the California International School in Rocklin wanted to improve the way their recess was structured. So they took the initiative to create an alternative and presented it to Head of School Michelle Reynolds.
The students are "in an environment where they have a voice and where they can create. And when I said no to something, they revised and tried again," Reynolds says. "And this happens every day."
Today, the students enjoy a recess that reflects their vision — a rotating schedule of zones that allows older students some autonomy but remains flexible to include younger students. That creativity, innovation and problem-solving by 38 students at CIS serve in part as measures of the school's success. The private school opened in August 2021 with a STEAM-focused, project-based program for students in kindergarten through fifth grade. The program will expand to eighth grade with a capacity for 160 students.
While STEM education incorporates science, technology, engineering and math, STEAM adds arts into the mix. Proponents of STEAM say it develops creativity that bridges the sciences with the development of personal expression, emotional intelligence and social awareness: the human factors that define how we relate to the world.
But not everyone supports the formal integration of the arts into STEM education. Some critics believe creativity is already a natural component of innovation within the sciences. Others say integrating art detracts from the fundamental goal of STEM education to catalyze a lagging pipeline of students into science-based careers, which will drive a competitive U.S. workforce in an increasingly high-tech global economy.
To address the trending lack of interest and proficiency in STEM education, the Next Generation Science Standards were launched by the states in collaboration with the National Resource Council and various organizations in 2013. NGSS aims to fundamentally shift the way scientific subject matter is taught to students. Instead of rote memorization of facts and figures that lack context, it teaches integrated STEM subjects through real-world applications that require critical thinking and inquiry-based problem solving.
For example, take the concept of photosynthesis. "Most of us have heard that word. … It conjures up, usually in adults, a chemical equation that they had to memorize … (but) they really don't know what it means," says Cynthia Passmore, a professor of education at UC Davis and faculty director of Sacramento Area Science Project, a joint project between UC Davis School of Education and Sacramento State. SASP works with K-12 offices of education, school districts and teachers in 12 counties in and around the Capital Region "to assist science teachers with science instructional strategies and content knowledge."
Under NGSS, teaching photosynthesis begins by looking at a tree and using the power of wonder and observation to provoke questions such as where the matter came from to create a 3-ton redwood from a tiny seed. With labs and basic experiments, students begin to figure out that a tree takes in carbon dioxide and puts out oxygen, Passmore says.
"And it turns out carbon dioxide is matter," Passmore says. "It's stuff, and that stuff, when it's combined with water and the energy from the sunlight, transforms into actual materials that make up the tree. That's mind-boggling, right? Now I have just figured out myself, (no one) told me … by looking and doing investigations that the matter from the tree comes from the air."
And it turns out carbon dioxide is a cause for concern on our planet, Passmore says. That kind of contextual understanding of science is immediately applicable to the world and some of its biggest challenges. Most people know it's important to plant trees, she adds. But students who understand that trees pull carbon dioxide out of our environment and trap it in their tissues can explain why it's important to plant them.
A shift in education standards
To provide guidance on how to teach the new standards, the California State Board of Education adopted the 2016 Science Framework for California Public Schools. But "local control laws in California do not require (school) districts to adopt the California NGSS nor to implement the framework. It is up to the districts," says Scott Roark, information officer for the California Department of Education. That's led to an inconsistent rollout and implementation of the standards.
But there are formal efforts statewide such as the California Science Project, one of nine subject matter projects developed by the California Subject Matter Project, a collaborative of K-12 and university educators. The projects are designed to improve student learning by providing access to a network of experts driving educational policy and standards, as well as professional development to strengthen K-12 teachers' science knowledge and instructional practices. CSP works with regional offices to cascade resources down to districts, schools and teachers.
But the latest test scores among students in the Capital Region — and throughout California — show the majority of students still aren't proficient in science subjects. In 2020, results were released of the new California Science Test designed to measure the progress of NGSS among students in fifth and eighth grade and high school during the 2018-2019 school year.
Statewide, nearly 30 percent of students met or exceeded the science standards, with a significant disparity between white and Asian students who performed on average the highest, and Black, Latino and Native American students who performed on average the lowest. Among the 10 counties in the Capital Region, proficiency scores ranged from 22.88 percent to 45.06 percent. Sacramento County scored the lowest, followed closely by San Joaquin County, while Placer County scored the highest, followed closely by El Dorado County in second place.
But some are not apt to heavily rely on the test's first year of results. "They're all very low because they were in some early stage of implementation," says Kirk Brown, former division director of STEM Programs for San Joaquin County of Education, who became head of K-12 programming at the Milken Center for Advancing the American Dream in Washington, D.C. in December 2021.
Others argue the results are consistent with long-term trends among traditional assessments of student performance. They point to the challenges of a disjointed rollout and implementation of NGSS that's left up to districts with varying pedagogy ethos, budgets, access to updated textbooks and materials, teacher shortages and training.
"Think about the scale of what we're talking about. Something that happens in every single classroom, all across the state, every single day, millions of students," Passmore says. "I feel like so often in education we're like, 'OK, here's the new thing.' Boom! And then we just kind of throw a bomb and walk away. … Hopefully that's not what's happening with the shift in the Next Generation Science Standards, but I'll tell you, a number of school districts still don't have new curriculum. These standards were adopted years ago but they're still working with textbooks that are 10 years old that way preceded the standards, and that's not the teachers' fault."
The challenges of overhauling STEM curricula alone are real. And the prevalence of STEM over STEAM in mainstream education isn't a stance against art or the humanities, but rather a commitment to build a proficiency in the teaching and learning of STEM disciplines — a formal undertaking that has yet to be uniformly achieved.
But there are growing opportunities for local schools and teachers to integrate STEAM. For example, the California Department of Education, California Commission on the Status of Women and Girls, and the Californians Dedicated to Education Foundation co-host the annual California STEAM Symposium. The UC Davis Center for Integrated Computing and STEM program for K-12 students integrates STEAM components through music, drawing and visual media. And the California State PTA lists a host of STEAM programs in Sacramento County including the SMUD Museum of Science and Curiosity, Crocker Art Museum, Food Literacy Center, Soil Born Farms, Sacramento Splash, and Explorit Science Center in Davis.
STEAM in action
The California International School, which will finish its first year of instruction this spring, designed its STEAM program from the ground up. Art is not a component to be integrated but one that is an essential part of all subject matter.
Beyond students' studio art that adorns the walls, an inviting library of literature, and curricula that engages students in artistic building and creating, students participate in the humanities of learning in a STEAM environment. "Our students really do get to express and represent a range of emotions, thoughts, ideas. … (They're) developing their emotional and social intelligence," Reynolds says. "They have to work together, accept new ideas and give out new ideas … even when it's hard — and (they have to) work together as a team." And that leads to authentic learning, she says.
"Our students really do get to express and represent a range of emotions, thoughts, ideas. … (They're) developing their emotional and social intelligence."

Michelle Reynolds, head of school, California International School
For example, fourth and fifth grade students identified the problem of litter control in Rocklin and collaboratively created a solution. Students subjected their ideas to a series of redesigns before they presented them to members of Rocklin's City Council who provided feedback.
"Project-based STEAM education is 100 percent focused on the learning, not the final outcome," Reynolds says. Her school integrates the engineering and design process, which uses the following steps to solve problems: ask, research, imagine, plan, create, test and improve. Learning through those steps is considered as valuable as the final product.
"I think that's different than your traditional school and … it's important because solving big issues … like climate change or living through a pandemic requires people who are comfortable with change or with complicated problems with more than one solution," Reynolds says. "That's what can be polarizing … when you think there's only one way."
With an infusion of more than $3.5 million from the Ma family that owns CIS, the school is equipped with a robust makerspace where students engage in hands-on science, engineering, coding and technology. Students find solutions (rather than being given the answers) through the learning experience, Reynolds says. They know there are many solutions and how they choose to solve problems is up to them, and that's guided by the engineering and design process.
"The goal is that they're thinkers. … They have something inside of them already that needs to be developed and nurtured. And so we give them all kinds of tools but the learning is really on them. It really is their classroom," Reynolds says. At CIS, students are seen as people first with their own valuable ideas, desires, perspectives and questions, who happen to be students, she adds.
It's that focus on educating the "person" that seems to distinguish STEAM programs from STEM programs that incorporate elements of studio art. In a recent article in Nautilus magazine, Ohio State English professor Angus Fletcher spoke on the nature of literature — a fundamental art form — and its role in mastering ourselves as human beings:
"It wrestles with the psychological problems inside us. Grief, lack of meaning, loneliness — literature was invented to deal with these problems. To have happy and democratic societies, effective engineers and scientists, we need people who are joyful, not angry, who have a deep sense of empathy and purpose, who have an ability for logic and problem-solving. You get all these things from literature."
Reynolds, who has 30 years of experience in private school education, says in response to the human characteristics and skills identified in the above quotation: "I actually do believe that's at the heart of STEAM education."
Kids are happier when they're engaging, moving, learning and collaborating instead of sitting at a desk taking notes all day, she says. And after a full day at CIS engaged in authentic learning, students have no or very little homework, so they can spend time with their families and participate in after-school activities. It's a model of work-life balance rarely practiced — but rigorously sought — in the U.S.
CIS is also built on academic fortitude, owned by a family, Reynolds says, that opened 40 schools in China where they were involved in curriculum development. Its own curriculum is built on the framework of NGSS and common core standards, and incorporates STEM Fuse, a robust curriculum that works in tandem with its makerspace.
And its program is attracting attention among educators. According to a study by the Learning Policy Institute, a nonprofit education research group, 80 percent of school districts in California are experiencing teacher shortages. But when Reynolds posted three openings for teaching positions in early 2021, she received dozens of applications. While teachers at private schools are not required to have California teaching credentials, all the teachers at CIS do and most have a master's degree as well.
"I think STEAM education encourages students to approach their learning open-mindedly towards each other, towards the curriculum, towards their teachers, towards different ideas. … You're not going to have a class that's STEAM — it really is everything you're about. And so (students) are very open-minded," Reynolds says. "I think it's the best pedagogy out there."
Editor's note: The web version of this story was updated to correct the name of the SMUD Museum of Science and Curiosity.
–
Stay up to date on business in the Capital Region: Subscribe to the Comstock's newsletter today.