Oak Park neighbors Aimee Phelps and Kevin Greenberg delivered their first Art-Through-Pod in September and by year-end will exceed their initial goal of 10 mobile housing units for the homeless.
But they don't plan to stop there.
With about $18,000 raised through GoFundMe and business support on the rise, these community entrepreneurs will keep giving shelter to those who have been living on the streets for years.
"The homeless are part of our community in Oak Park," says Phelps, a professional artist known as Phoenix. "Some don't want to go anywhere else. But these pods help give them the chance to say 'I live here. This is my space.'"
Phelps and Greenberg came up with the idea of portable "pods," designed like mini-travel trailers and covered in vibrant art. These tiny sleeping shelters are built on wheeled frames, sized to fit within a parking space and engineered to be moved easily.
The idea for a mobile pod is based on the City of Sacramento's 72-hour parking code ordinance, which states that "vehicles are not allowed to park on the street, in the same location, for more than 72 hours." So pod recipients are advised to move their shelter every three days.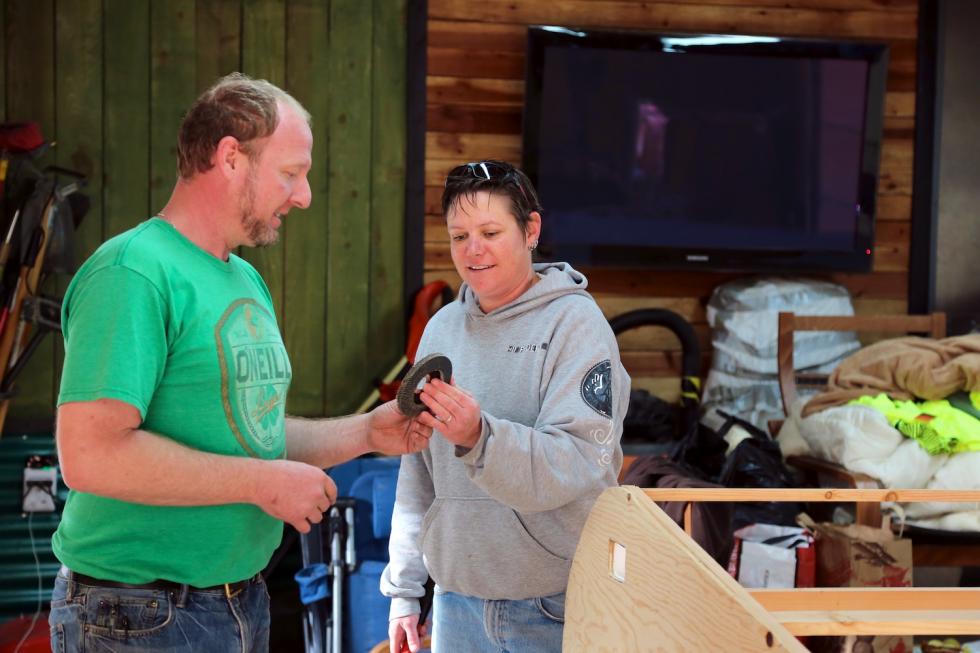 Inside, each insulated sleeping shelter holds a foam mattress, pillow and blanket. There's even a broom and trash can to help keep the unit tidy.
In September, Phelps built the first pod and delivered it to Gwen, a homeless woman in Oak Park. "Giving that first pod away was amazing," Phelps says. "That's my favorite part, to see the joy and love and being able to raise somebody up — to lift them off the ground, literally… It makes me sad I didn't do something sooner."
On a cold night in early December, Phelps delivered the seventh mobile shelter to Gladys, who parked her sunflower pod on 36th Street next to another unit that Betty (another pod recipient) calls home. As she turned over the keys, Phelps emphasized: Please keep your space clean, move the pod every three days and let me know if you have any problems.
"We don't just give them something and walk away," Phelps says. "We befriend them. We see their humanness."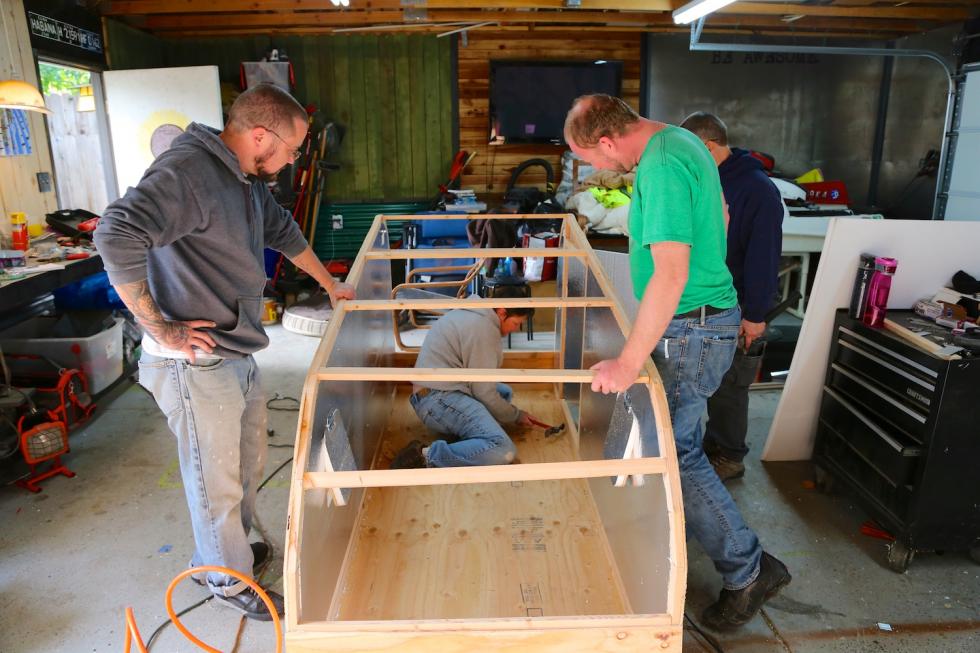 Making one pod requires about $250 in supplies and 10 hours of labor. Each pod also recycles materials, such as the wheels, brake and handles from donated wheelchairs. Initially, the mobile housing units were designed to be towed by bicycle. Now, a handle allows the pod to be "walked" to a new location — one of several evolutions to the original design, as not all recipients have bicycles.
The pod design isn't the only change. Media attention has spread the word throughout Northern California and into Minnesota, Ohio, Washington and Wisconsin. Area businesses are also getting behind the project, with the latest pod displayed at Mojo's Lounge in Woodland and at Preservation & Co. at 1717 19th St. in Sacramento. T-shirts and hoodies are sold at Broadway Coffee at 3200 Broadway.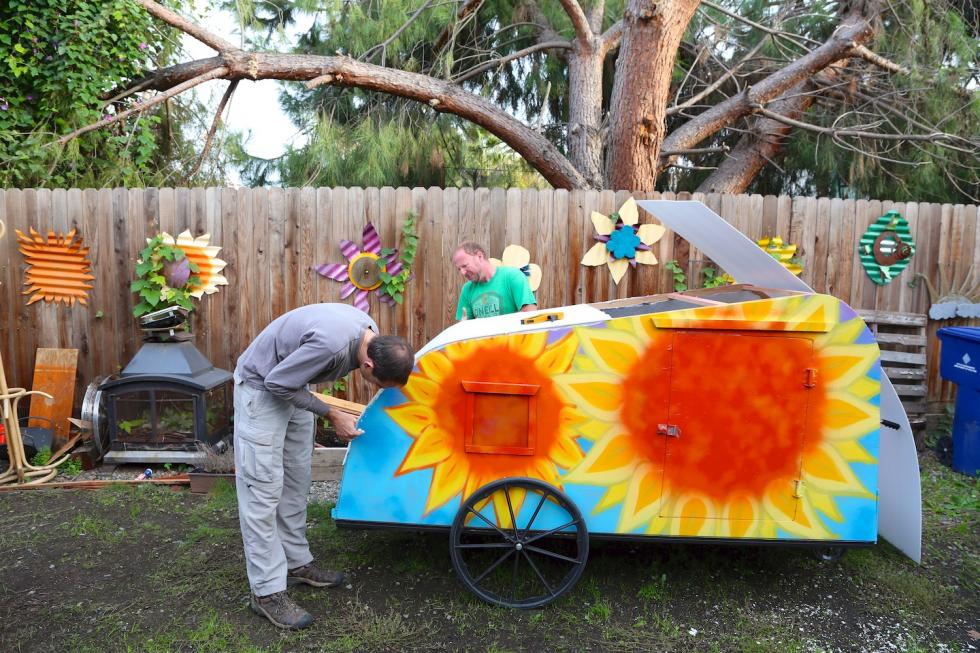 The project so impressed Jason Poole, founder of Preservation & Co., that he is donating 5 percent of all December sales to Art-Through-Pod. That could bring in about $2,500 for a project that has relied on much smaller donations from about 200 individual donors.
"I saw a group of people who wanted to do something. It's not a handout, it's a help," Poole says. "They're not saying this is a permanent solution, but it provides some security and shelter for the homeless while they figure out how to take their next step."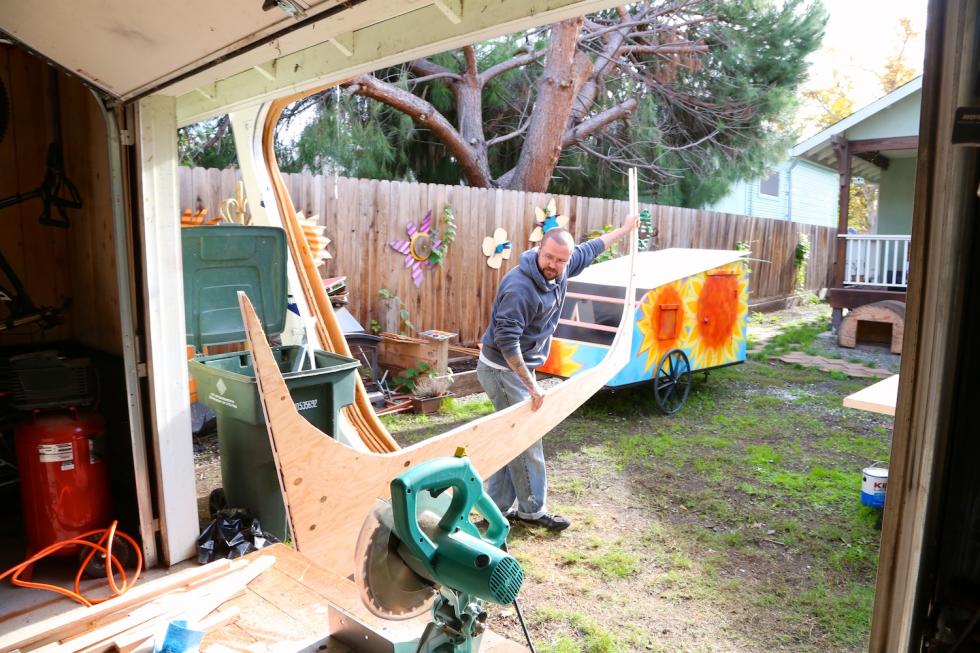 And that raises a question for Art-Through-Pod: What is the next step?
"We're still trying to figure out where to go next and how many pods to build," says Greenberg, a project manager for a web development company who also builds art-bicycles on his own time. "We don't want to inundate Oak Park, and we know there are many other areas with needs."
Phelps sees the project growing into Pod Nation. "If we can bring everybody together, that would be the best part," she says. "What you're doing is marrying a need, art and community service together. Next would be beyond Sacramento."