New beers are prime currency in the world of craft beer. Walk into any of the 60-plus independent craft breweries in the Sacramento region and you'll probably encounter an enormous tap list filled with 10-20 beers in a diverse range of styles. Come back a month later and you'll probably find that at least half of those taps have changed to different beers.
Patience is a rarity: One of the first things beer drinkers ask when a brewery makes a debut is when they'll be putting out some "new stuff."
By contrast, Michael Le, who opened Asian Brothers Brewing Company in January 2018, has no plans to expand beyond his current core of six to eight beers, at least not in the next few years. Instead, Le will sell his clean-drinking, slightly sweet, mostly low-alcohol, Asian food-friendly offerings out of his four family-owned eateries, including the Vietnamese/Thai restaurant Anh Hong – Bo 7 Mon in south Sacramento, while gradually rolling out bottle sales.
That unconventional business approach is keeping with the unconventional nature of Asian Brothers, a brewery that puts almost as much emphasis on the story of its beer as the actual beer.
"We want to bring out a beer and it has to have a story, it has to have a meaning," says Le, who was born in Vietnam, moved to the Bay Area with his family as a young adult in the 1980s and has lived full-time in Sacramento since late 2015. Le named his nascent brewery Asian Brothers because they offer a mix of Vietnamese, Laotian and Hmong-themed beers.
The current Asian Brothers offerings each come complete with a rich history and deep ties to those respective cultures. For example, the Saigon series manages to tell the overlapping histories of Le's family, the American military involvement in Vietnam and the evolving tastes of Southeast Asian beer drinkers in just three simple brews.
In 1954, the same year that the U.S. first intervened in the region, Le's family opened a small eatery at a railway stop in Vietnam. His grandmother introduced westerners to the Bo 7 Mon, a legendary seven-course beef meal now taught in Vietnamese cooking schools, while westerners introduced the Vietnamese people to beer. The Asian Brothers "54" Saigon Street Beer honors that transitional year by replicating the light, pale beers of the era. "It's a very light beer, you can drink it all day in hot, tropical weather, and it's easy to drink," Le says. "We want the younger generation to see that this is the beer we drank back then."
By 1968, the tiny restaurant at the railway station had expanded to seat over 600, while American military protection afforded the South Vietnamese people a comfortable lifestyle. It was a high-water year for the Saigon economy, and many American soldiers married into Vietnamese families. Asian Brothers Brewing acknowledges that rampant Americanization with the "68" White Vietnamese, a honey-sweet white beer with a higher-than-average alcohol content.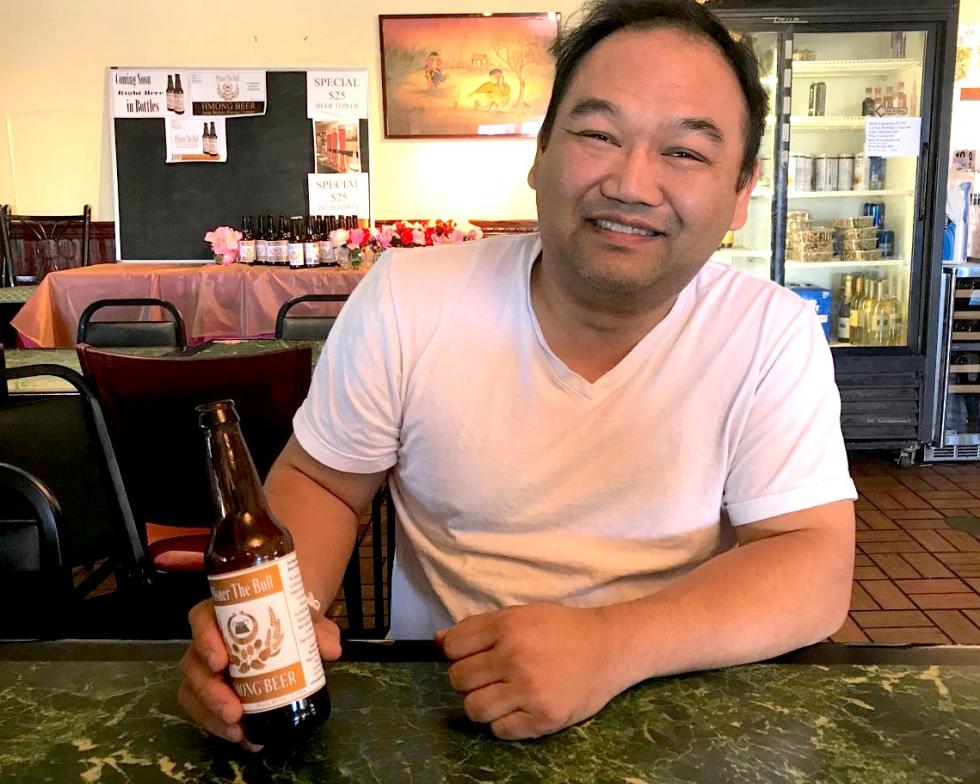 "Up until 1968, I feel that the South of Vietnam was living in La La Land," Le says. "We started speaking English, we converted over from speaking French, we spent American dollars, started wearing suits."
Things quickly turned sour, both for the country and for Le's family, who were forced to flee to Belgium in 1975, the same year that American forces withdrew from Vietnam. "Once the generals went away, there was nothing left, just complete chaos and collapse," he says. Le commemorated a bad year for Vietnamese, Laotians, Hmong, Cambodians and Mien with the fruit-forward and fairly complex "75" Tropical IPA. "It's a good IPA, but it has a bitter taste," he says.
As for the Le family, in 1982 they moved from Belgium to San Francisco, where they successfully resurrected their restaurant business. Michael married renowned Laotian chef Daovone Xayavong, and they opened a series of restaurants across Northern California. One of those locations includes the Anh Hong restaurant on Florin Boulevard where Le and Xayavong put his grandmother's Bo 7 Mon feast on the menu.
A longtime beer fan, Le started homebrewing 10 years ago, but it wasn't until a conversation with his Hmong friend Leng Yang that the seed for Asian Brother Brewings was planted. "He was asking about my people, what we have, what we don't have," Yang says. "We're a country-less people, so we started talking about that stuff."
When Le learned that there was no true "Hmong beer," he vowed to brew one of his own. "I thought it was just talk," Yang says, of his friend's intentions.
Instead, Le spent two months brainstorming before a nugget of cannabis finally fired his imagination. "It dawned on me to put that aroma and taste into the beer," Le says. Seven months of trial-and-error brewing later, and the Niyaj Kub Pale Ale was born. It offered a clear body and light hop bitterness for cultural palates more accustomed to Bud Light and Heineken, while the smell and flavor honored the skill of Hmong farmers, especially those in the field of cannabis cultivation.
The first people who tasted Niyaj Kub even thought that Le put marijuana in the beer, rather than the Columbus, Chinook and Cluster hops that replicated the dank flavor and aroma. "I put it on the menu, and before we knew it there was a big demand," he says. Yang tasted a sample from the first keg that Le brewed, and immediately invested in Asian Brothers as a co-owner.
Fortified by the support of friends, family and investors from the south Sacramento community, Le spent the next six months creating a full menu of beers, including the Lao Jungle IPA, and another Hmong beer called Pilsner the Bull. "The Hmong community has pushed us to get the beer in bottles because they want to take it to their family," he says.
Instead of the trendy 4-packs of cans that dominate the craft beer market these days, Asian Brothers will release most beers in 24-packs of bottles. "In our culture, we drink a lot of beer at all kinds of events," Yang says. "So far everybody is loving it, and a lot of people are coming to Mike's place to try it out."
In addition to offering ridiculously affordable flights and full pours of Asian Brothers' brews, Anh Hong – Bo 7 Mon is undergoing some cosmetic changes that will make the place more beer-friendly. Le aims to have an outdoor beer garden open in time for the June 14 World Cup kickoff, while karaoke, live bands and comedy shows will fill out the week inside the restaurant. As the only domestic craft brewer to create a Hmong beer, Le also hopes that Asian Brothers will become the official beer of the Hmong New Year celebration in November.
"All the Asian beers that are in this country are imported," he says. "It's all the same, there's no uniqueness in style."
Not only is there no uniqueness to those imported beers, there's no story, and for Asian Brothers Brewing that makes all the difference.