Even with kraft paper over the windows, light is peeking through cracks at Pressed Record Cafe on L Street in Midtown Sacramento, which opens May 19. Upbeat funk emanates from a turntable as the three co-owners prep the final stages of their opening.
"I can't remember who asked me — it might have been one of the landlords — they're like, is it going to be a record shop with a cafe or is it going to be a cafe with a record shop?" says co-owner Dean Bardouka.
According to Bardouka and his business partners, it's both, neither, and more. "It's bringing together a really well-designed, well-curated experience for people that is all based in connection and community," he says. In short, Pressed is a three-pronged, so-crazy-it-just-might-work combination of record store, coffee shop, and intimate, reservation-only supper club.
It's a gutsy venture. Sacramento has a reputation for taking all of those — food, coffee, records — seriously. Bardouka, along with co-owners Jon Blunck and James Williams, have boldly chosen to specialize in three of Sacramento's most populated business spaces.
They're crowded marketplaces, but not inhospitable ones: 2020 saw a nearly 30 percent rise in vinyl sales nationally over the prior year. With six other independent record stores within a stone's throw from Pressed, there's no denying Sacramento, birthplace of Tower Records, loves its vinyl. And while not all independently owned coffee shops have weathered a year of stay-at-home orders, they do seem to be some of the more resilient businesses in town; Yelp's September 2020 economic impact report notes that businesses that were already take-out ready had fewer adjustments to make.
Pressed's home is the vacated location of Plates Midtown, a restaurant and job training program managed by nonprofit Saint John's Program for Real Change. Plates Midtown and its sister location in southeastern Sacramento closed amid the pandemic, with no stated date to reopen.
Blunck, the lone out-of-towner among the three owners, wasn't as fortunate as other coffee purveyors; his San Francisco shop closed during the pandemic, "so it was kind of strangely good timing for me to uproot and start checking this place out. And yeah, I'm in love."
A Friendship Driven by Scooters, Records and Coffee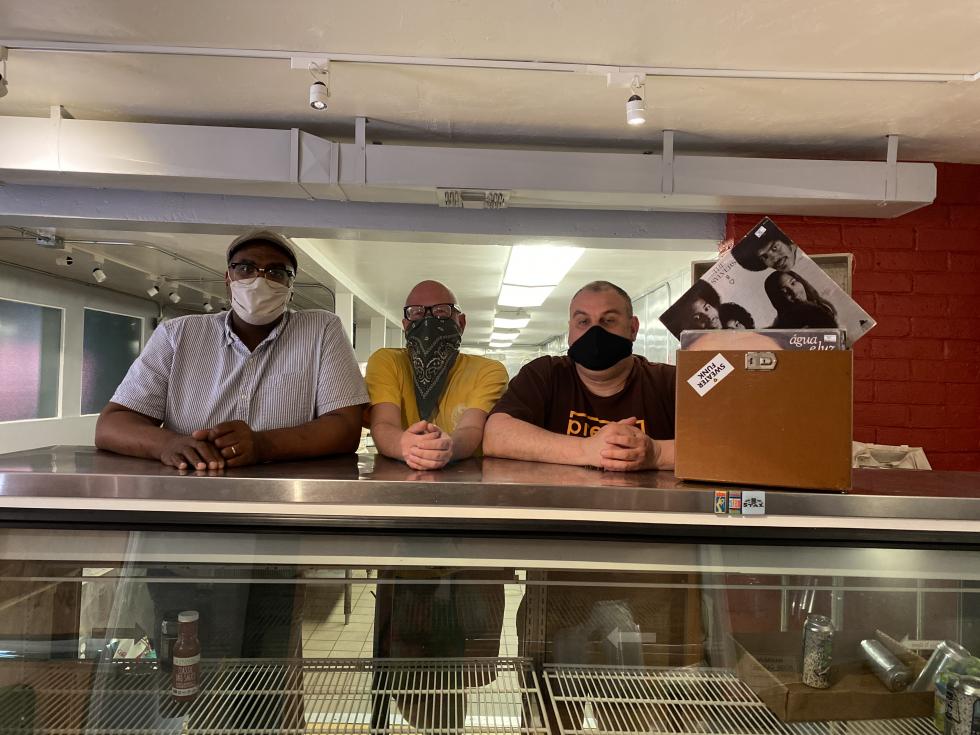 Bardouka had been trying to get Blunck to fall in love with Sacramento for years. The two bonded nearly a decade ago over scooter culture — Blunck's coffee business had been called Special Xtra, a nod to Lambretta's vintage Special X (SX) model, and Bardouka (then living in San Francisco) had done a double-take riding by on his own SX as he headed to work. Once Bardouka envisioned the coffee and record store combo, he decided Blunck — cofounder of long-running, hallowed DJ collective Sweater Funk in San Francisco — was his perfect business partner.
Blunck refers to Sweater Funk as a party rather than an event or club night. Either way, since its inception in 2008, it's been the weekly home to a collection of die-hard enthusiasts of funk, soul, and boogie who vary in age and background but come together. It's a vibe Blunck hopes will carry over to Pressed. "It was such a unique experience. It brought people together from vastly different backgrounds and from different places," Blunck says. "Young, very young people, old people like me. … I think that we can be a similar place where people can connect."
It took five years of cajoling before Bardouka convinced Blunck that a record-slash-coffee-shop could work. Initially, Bardouka and Blunck's visions for Pressed didn't line up. "I imagined it as just being a cute little record store with an espresso machine and some cookies and things like that," Blunck says. "Dean always has grander ideas."
Those grander ideas came to fruition when the pandemic forced the closure of Sacramento-based traveling gourmet events business, Nomad. Chef James Williams' partner in Nomad, Tim Slagel, recommended Williams to Blunck and Bardouka when the nearly-turnkey restaurant location on L Street became available. "Once we saw this space, that's where it all sort of clicked," says Williams. The storefront itself is a fairly straight-ahead cafe setup — soon to be intermingled with record bins — but Pressed's outdoor dining area is well-suited to the fine dining atmosphere that Williams is used to.
Nestled between Pressed and the neighboring building, the patio is cloistered but welcoming. The commotion from the street is muted, muffled, and at midday the sun peeks in just enough as to not be oppressive. It's calm, exactly the kind of place where guests would happily pay to linger.
A Nomad dinner would be hosted at a private residence, with guests gathered at a long table for a five to seven course meal, served family style. It's a setup Williams plans to replicate on Pressed's patio, or indoors in colder months: "It's just about being at the communal table, sharing and having to pass the platter to the next person. So the thing you're talking about (is) the food and you know, you're sharing ideas about a wine. It's just a really cool thing that happens. So we're hoping to capture that same thing right back here."
These dinners, and the occasional brunch, are available only to those who've signed up on Pressed's email list. Making the events ticketed and not simply reservation-based enhances the experience. "Because we already know how many people (will be there), the service can be perfect, the timeliness can be perfect," Blunck says. "You don't have to wait 45 minutes drinking bad mimosas while you wait for brunch or dinner."
Bringing the Joy
There will be more casual options, too: small plates at happy hour (though the trio plans to stick to beer and wine to avoid downtown bar hoppers) and lunch fare like panini, aka pressed sandwiches.
To the outside observer, it's these more casual touches — the sandwiches, the no-frills coffee — that might foster the sense of community the three are seeking. But providing a sense of community doesn't mean being all things to all people, and Pressed already has its evangelists.
Bardouka, naturally, is one of the biggest evangelists: "We believe there are a lot of people that are either into this music or discovering it. And it's particularly like the (genres) from Sweater Funk is just undeniably good music," he says. "And I think a lot of young people are discovering it now, (and) a lot of people our age are going back and going, not only are these things that I knew before, but there's all this rare stuff that I didn't hear on the radio."
Bardouka is particularly excited about Pressed's initial response, and that excitement has resulted in two additional investors. "It's like the universe is literally conspiring to make Pressed happen. It's just it's insane how much we've just been leading with our hearts on this, and people have been showing up, records have been showing up. We've had little pop-ups and they were ten times as successful as we thought they would be."
Blunck — whose own collection will be seeding the record bins — has a take that's similar to Baroduka's: It's less about commerce and more about passion. "It's just pure joy for me. I love it. I'm almost addicted to getting rid of my stuff now. That's one of the biggest joys for me, putting special records into people's hands (who will) really love them."
A lot of the basics of Pressed are still in flux, a process the crew jokes is like building the plane as it goes down the runway. The opening date, initial hours, and scope of food and coffee offerings aren't yet set in stone. And while coffee — a core of the business — is often an early morning draw, Pressed's owners anticipate somewhat limited hours to start. The records are a constant, though, and being a bit of a niche business doesn't faze them.
"In the end, we're not going to be for everybody. Somebody's going to either go to Old Soul (coffee shop), which is right over there, or they're going to come here," Bardouka says. "And there's nothing wrong with that decision. We're either going to be for you or we're not going to be for you. This city is big enough to support it all, right? Sacramentans love their coffee. They love food. And they love weird things like records. They're into it."
–
Get all our web exclusives in your mailbox every week: Sign up for the Comstock's newsletter today!
Small businesses continue to open, and some longtimers — like Tess' Kitchen & Culinary — have found ways to thrive under new owners.
Miranda Culp and Laurelin Gilmore are accustomed to the look of wonder on the faces of the people who stumble into their independent bookshop, Amatoria Fine Art Books.

Luke Swanson and Jacob Dill, cofounders of Plant Daddy Co., are partners in life and business and discovered the joy of plant parenthood in their 20s living in San Francisco and Portland.