When Mindy Cooper met with the dean of the theater and dance department at UC Davis to discuss joining the faculty as a professor in 2016, the dean asked what would make her happy.
After thinking deeply about the question, Cooper — who had been working in New York City for 30 years as an independent choreographer and director — concluded that she would be happy if she could create a theater festival focused entirely on developing never-before-seen plays.
While the Sacramento area's theater scene includes renowned companies such as B Street Theatre, Capital Stage Company and California Musical Theatre, Cooper says there is no entity completely dedicated to producing new works.
"One of the most important aspects of a new work, which has always been my passion, is a place to work on them," Cooper says. "A place to try things out. New plays and musicals do not grow on trees. You let them grow and ripen and pluck them when they are ready."
Last fall, Cooper and her three co-founders brought her vision to life when they launched the Ground & Field Theatre Festival at UC Davis, developing 14 new plays and musicals during the inaugural month-long event, with around 750 people attending performances.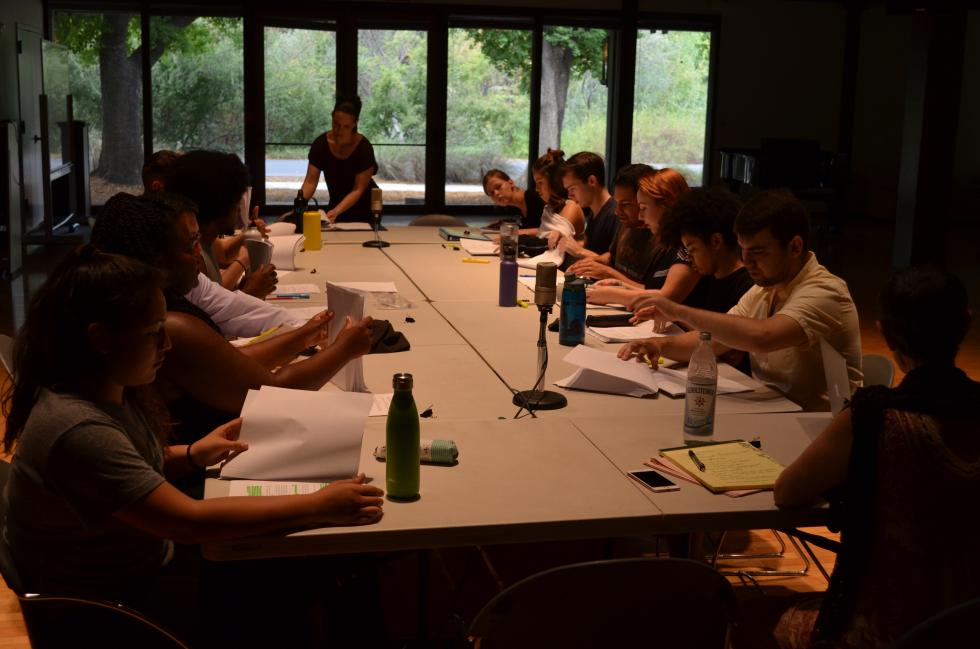 Ground & Field is now planning its second annual festival and is accepting submissions and auditioning ensemble actors for its 2018 season. The festival will take place this September through early October, with performances at Wyatt Pavilion Theatre on the UC Davis campus.
Lisa Quoresimo, a co-founder and director of Ground & Field, moved from San Francisco to pursue her Ph.D. in performance studies at UC Davis. She had previously run Kairos Theatre Company in New York City. As a newcomer to the Sacramento region, Quoresimo says she's excited to have helped bring this festival to life.
"I've seen some really terrific theater up here, and there really isn't this kind of opportunity for a festival where you can see a bunch of different new works — to have playwrights coming in from all over the country and from Canada," Quoresimo says. "I don't see as much of that happening in this area, so it's exciting for theater patrons to get exposed to that."
The festival selects never-before-seen plays from both emerging and established playwrights throughout the U.S. and Canada, and a group of directors, actors and writers collaborate to produce the plays at various stages of their development, from first-time table reads to full-scale production with music, movement and acting.
Last year, Briandaniel Oglesby's piece, "The Briars," was selected for full production. Originally from Davis, Oglesby is currently a playwright in Austin, Texas. His play portrays a group of townsfolk as they tell the legend of Buddy Briar, a larger-than-life character inspired by eccentric Asa Candler, Jr., the real-life heir to Coca-Cola.
"I got this amazing gift of production for a new play in development, which does not usually happen with new works," Oglesby says.
He considers himself an emerging playwright with ambitions to have his work produced at theaters in Sacramento and the Bay Area. Oglesby says Ground & Field is helping the Sacramento region become an important part of the national conversation for theater.
"I think that a thriving theater community helps create a desirable place to live, and I also think that a desirable place to live creates a thriving theater community," Oglesby says.
In addition to playwrights both established and emerging, the festival brings together an ensemble of actors to perform in various productions. These actors are often budding theater hopefuls and first-time actors. Last year, most of the 17 ensemble members were UC Davis students, although anyone can audition (they do not get paid to perform).
"I was excited to move some of these students forward and mentor them in a very safe environment, which is very important in the arts," Cooper says.
With a theory-based approach to education at UC Davis, students are not often able to practice a craft, according to Cooper, and participating in Ground & Field provides an opportunity for training. "Some of the students are budding writers, and this gives them the courage to really write," she says. "Some are budding directors and they don't know it yet, and this gives them a lot of fuel to work with. It's an incredibly exciting month. Last year, daily, these kids jumped forward."
This year, Cooper says she plans to add professional actors to the group to aid the student actors' growth.