Are you a successful professional yet perennially single? Your refusal to get digital might be the problem.
Hitting it off with a cutie at the grocery store. Locking eyes with that sexy stranger at your neighborhood coffee shop. These are the types of chance meetings we have come to expect from romance (and are the subject of many films starring Kate Hudson). But whether you're a lonely junior associate or flying solo in your C-level suite, it's time to accept that these romantic ideals are a major bamboozle.
For most of us in our 20s and 30s, the majority of our time is spent trying to invest in our careers and become the community asset we aspire to be. Between hours in the office, evenings spent rubbing elbows and weekends reconnecting with family and friends, who has time to date? We spend an inordinate amount of time putting ourselves out there professionally: networking, LinkedIn-ing, being proactive at the office. But despite digitizing every aspect of our lives, from calendars to project management, navigating our love lives online still feels a little stuck in beta.
But it is a new day, so keep up. A combination of a pervasively connected online culture and a bevy of mainstream online services has created a digital marketplace where finding someone who fits even the most narrow criteria is not just possible, but probable. And most importantly, you can do it on your own time. Forget spending an hour primping before hitting the social scene hoping to meet Mr. or Mrs. Maybe-Right. You can peruse a list of potentials, screen for undesirables and test run a few before locking something in — all from the comfort of your sofa.. After a long day at the office, which sounds more appealing?
More and more, we are starting to see couples proudly their claim their online-cum-real life partner. Here are a few local movers and shakers who are proud to proclaim their online love.
Maren Conrad & Geoff Jernigan: Tinder
Occupations: Fine artist and Air Force pilot
Both Conrad and Jernigan's careers take up all of their time. Conrad works day and night at her studio and, at the time they met, Jernigan was in the military flying U2 planes out of Marysville for the majority of the week. That doesn't leave a lot of free time, especially for hit-or-miss dating.
"I thought online dating was for desperate people," Conrad says. "It's so superficial to fill out a profile about yourself." But the smartphone app filled a need. "I work 80 hours a week, and I'm a single mom," she goes on to say. "I would rather hang with my friends or my son than waste time going on a billion dates with strangers with no potential."
For Geoff, the appeal was Tindr's relative approachability. "Tinder worked well because I'm introverted," he says. "I'm not that guy picking up girls at the bar."
The couple, who have been together for a year and a half, now live together in South Land Park with Conrad's son.
Callista Wengler and Steve Polhemus: match.com
Occupations: marketing director for Paragary Restaurant Group, teacher in Yuba City
Wengler's life and career are centered around social engagements. At work, she oversees all of the marketing and outreach for one of the largest restaurant groups in town, and in her little spare time is highly active in Metro Edge and the Food Literacy Center's board.
She was frustrated at the lack of options given she knew, and was known, by nearly all of her potential dating pool. "You can only go so many places in Sacramento without running into the same people," she says.
And despite being a PR pro, selling herself was more difficult. She found online dating made the process of getting to know people easier. "I'm very confident from a professional standpoint, but marketing yourself is different," she says. "Online dating made it really easy to connect and put myself out there."
Despite a few misses, Wengler says connecting with Polhemus made the process worthwhile. After exchanging emails, the two moved to texting, then phone calls. They say that by that first in-person meeting, any awkwardness was nearly gone.
"With the awkward get-to-know-you stuff out of the way, we could hit the ground running after we met, knowing that our attraction came from something substantial," she says.
After almost three years of dating, Polhemus and Wengler will wed this month. Their online roots are proudly stated on their wedding website.
Tre Borden & Johnny Doran: GRINDR
Occupations: Arts Consultant and Actor/Teacher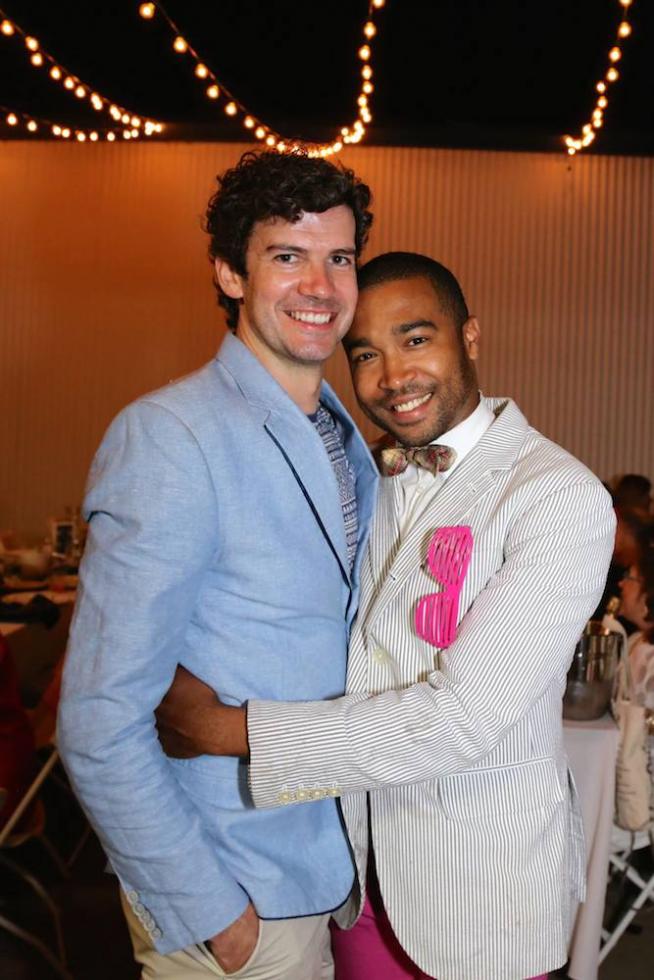 I met my current squeeze while on vacation in London a year ago. I'd just finished a grueling stint running a pop-up gallery where I'd had no time to date and really felt jaded with the dating scene in Sacramento, where it seems Kevin Bacon only requires 1.5 degrees.
I had no intention of finding something serious (GRINDR is a notoriously casual app), but when a handsome Irishman ping'd me to invite me over for a pint and conversation, I decided to live a little.
A pint lead to us spending most of my time in London together. When I left, I thought that would be that; however, we stayed in touch and by summer I was hosting my new European boyfriend for seven weeks in Sacramento. I even spent my first Christmas abroad in the beautiful countryside of Ireland. As I write this Johnny is here on his spring break trying to think of quotes that won't horrify his mother.
The fact that using an app which is really not even intended for lasting relationships could lead to something substantive shows the true versatility of this new platform. Even on a proximity-based app designed to find you the closest and most convenient love connection, you can end up in a relationship with a person 8,000 miles away. It's hilarious and troubling and awesome and scary but also real, which isn't at all what I expected from opening up an app on my vacation.
For Johnny, "Online dating is as surprising as life," he says. "It's not to be taken too seriously, but it literally took me to places I never thought I'd go, or hadn't even heard of, like Sacramento. Now I'm considering living here."
This new and exciting world is at your fingertips, so stop being too good to swipe. What have you got to lose? Late-night Netflix binges aren't going anywhere.