A typical doctor's office has a few distinctive elements that easily come to mind — beige walls, wrinkled magazines, a television in the corner. But what if, while waiting for your appointment, you could take a virtual tour of an art gallery, and that gallery is actually the doctor's office?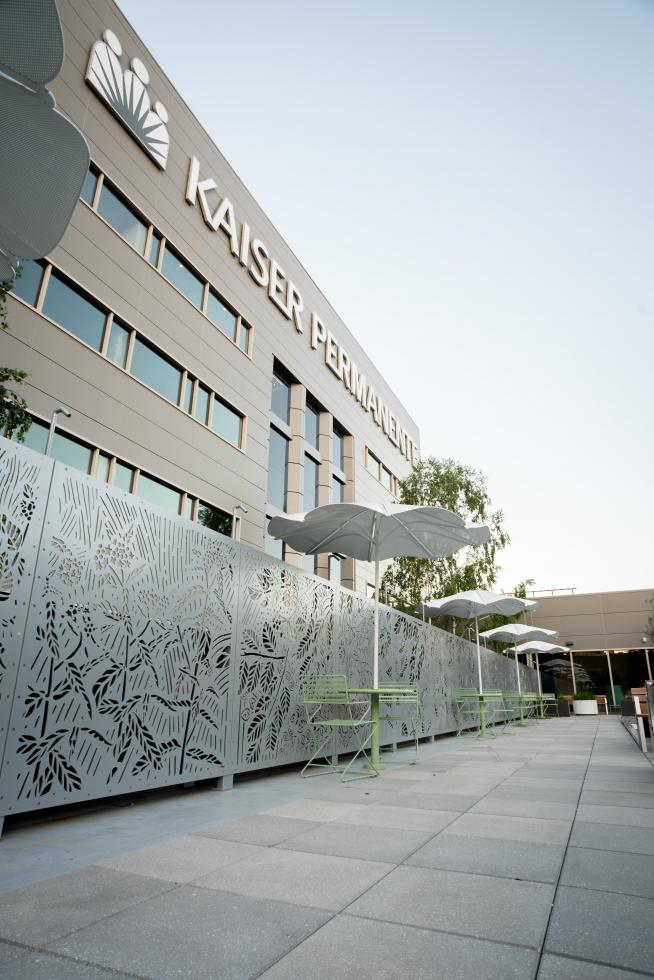 With the June opening of its Downtown Commons Medical Office Building, Kaiser Permanente has reimagined what a doctor's office can look like. Kaiser eschewed visual sterility in favor of a vibrant space comprising an art collection of more than 300 pieces — 50 of those created by artists in the Sacramento region. Kaiser officials believe the DOCO facility is now one of the largest commercial collections of local art in the city.
Jennifer Jackson, principal consultant for Grigio Art Consulting in Sacramento and curator for the collection, created a Kaiser-specific feature on her smartphone app "Artfolio" so patients can fully engage with the art surrounding them while in a health care setting. The app provides insights on key pieces through artist interviews, and time-lapse videos of the works' creation and installation — and provides users with a map of the new facility.
Jackson says that a client like Kaiser Permanente "is a shining example of how investing in local art is a win-win situation. They're getting unique, community-focused visual elements in their space that will build further connectivity with the members they serve. In turn, artists feel supported by their community. It builds a lot of goodwill both ways."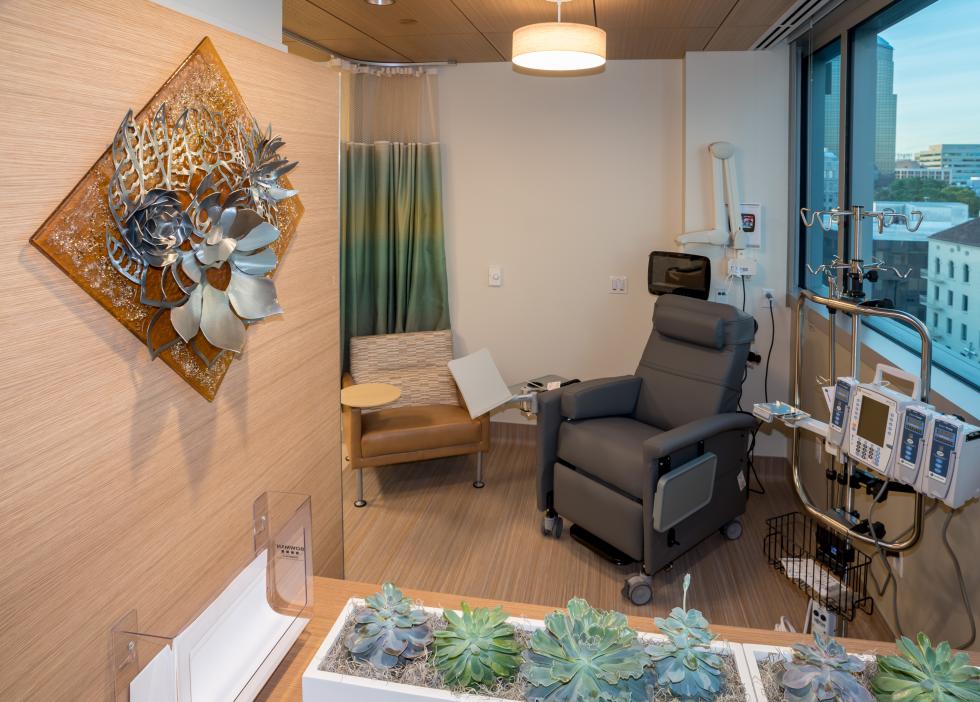 Jackson spent three years working on the project in collaboration with Kaiser committee members, combing through countless artist portfolios to select the final pieces, which encompass murals, architectural features, prints, photographs and site-specific commissions. They aimed to curate a collection that appeals to all people receiving care — whether a pregnant woman, a cancer patient undergoing chemotherapy or a child there for a check-up, says Sandy Sharon, senior vice president and area manager for Kaiser Permanente Sacramento.
"A health care environment is a very meaningful and rewarding place to have local art," Jackson says. "There's a lot of research in the industry about the healing power of art, and artists are often very excited to have the opportunity for their work to help people."
According to a 2017 case study, artwork in hospital rooms and medical wards leads patients to feel safer and more social, by allowing them to maintain a stronger connection to the outside world. The research further showed that the presence of art improves patient satisfaction and sense of self, noting a particular importance to patients "who experience a deprivation of identity and power during hospitalization."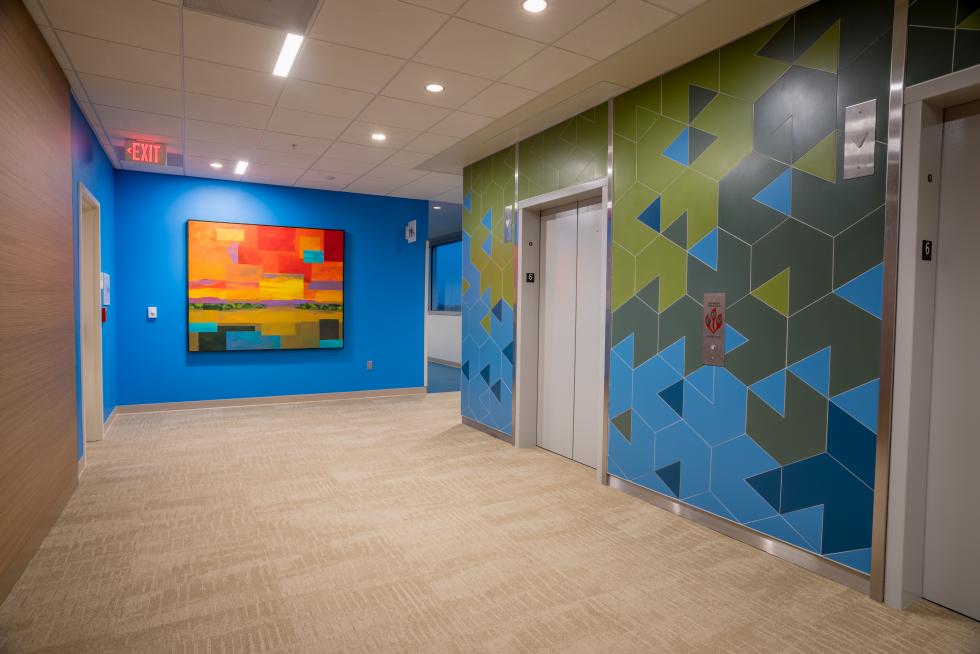 At the DOCO medical facility, artwork surrounds visitors as soon as they enter the lobby. Near the central elevator, an installation of brightly-painted wooden blocks scales and wraps around the corner of a sky-blue wall. A few yards away, paintings of fruit trees finished with glossy, reflective resin mirror the images of passing cars outside the windows facing J Street. In one treatment room, a metal sculpture echoes the shape of plump succulents in a table-side container, giving patients a soothing object for contemplation.
The roster of participating artists includes familiar names such as Maren Conrad, whose murals have been part of Sacramento's Wide Open Walls festival, and Sofia Lacin and Hennessey Christophel, who collaborated on the "Bright Underbelly" mural under a section of freeway downtown. Other notables William Ishmael, Shirley Hazlett and Jesse Vasquez — all artists who either originally come from or currently live in the Sacramento region — also have pieces on display.
"Growing up, my associations with medical facilities were beige, sterile and boring," Lacin says. "We were lucky enough to be invited to help reimagine a health care environment as a healthy, vibrant, lively space that we would want to spend time in."
Lacin and Christophel, both Sacramento-natives now living elsewhere in California, contributed two large murals, and a water-jet cut aluminum guardrail illustrating milkweed, butterflies and wildlife that runs along an interior rooftop courtyard. All three works emit a serene feeling that interweaves native, natural elements with features of the city itself.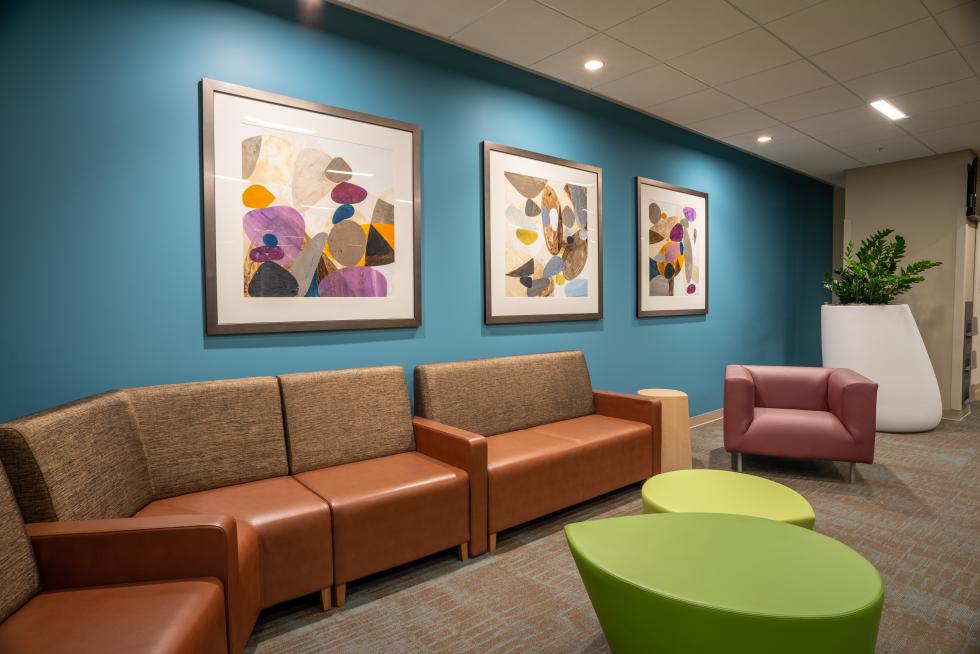 "For our murals, we layered watercolor-inspired abstract paintings with playful illustrations of Sacramento that go beyond the known landmarks," Lacin says. She describes the indigos and greens that wash across the murals' backgrounds as powerful yet soothing, topped with storybook stylistic outlines of the Sacramento River, downtown buildings and Victorian houses. "Our hope is that our artwork is instantly welcoming, but also invites visitors to uncover new details over time."
Beyond their function for aesthetics, many of the pieces have been placed as orientation markers across the building's six stories and numerous hallways and waiting areas to assist patients with finding their way around, Sharon says.
As a further aid, Grigio's Artfolio smartphone app allows users to view maps of the facility and major art pieces on each floor while providing potentially bored or nervous patients a means of interactive entertainment. Grigio's app is also available for the Kaiser Permanente South Sacramento Medical Center and for Shriners Hospital for Children in Pasadena.
"Artfolio is all about adding more depth to the viewer's experience with the artwork, as well as providing visitors to a health care space an engaging activity," Jackson says. "It adds so much to the experience when you can really hear direct from the artist what they are trying to accomplish and how complex the creative process is."
On the fourth floor, a piece entitled "Remembrance of Things Past" by William Ishmael is made of four copper panels floating out from their anchors on the wall, revealing rust marks that almost resemble ripples in a stream. An interview with Ishmael on the Artfolio app explains the piece's nod to the Sacramento Railyards, which can be seen outside the adjacent hallway window.
Ishmael himself worked in the Railyards as a civil engineer for 18 years, but today the site has undergone a massive preening for incoming development, which will include a new Kaiser hospital, giving the viewer plenty to contemplate about the past, present and future of Sacramento — at least until it's time for their appointment.