When countless businesses went into shutdown in mid-March, amid the burgeoning COVID-19 global pandemic, it wasn't just a question of how long these companies would be closed, but how business might look after restrictions started to ease.
Comstock's has been following four businesses in Sacramento through the course of the pandemic. Despite the number of confirmed cases of coronavirus still soaring around California and throughout the country, state and local governments have begun loosening restrictions on businesses. Here's how businesses are adjusting to the new normal.
Bars and Restaurants: Tropics Ale House
Paul Mandich sat at the bar at Tropics Ale House on J Street, where he'd come in for a Bloody Mary and the fish of the day. Mandich, 67, lives in and serves as property manager for a nearby building. On June 4, the day Mandich spoke to Comstock's, Tropics had been reopened for dine-in service for almost two weeks, though this was his first trip back in.
"I noticed that they were open last week," Mandich says. "I know that they've been doing takeout, but I wanted to sit down at the bar and have something to eat and drink."
It's been a surreal few weeks in his Midtown neighborhood, with Mandich noting he'd spoken earlier in the day to an investigator in the Sacramento County District Attorney's Office. The Subway restaurant below where he lives was broken into during looting and vandalism that accompanied peaceful protests around the country following the death of George Floyd.
Tropics, which now sports Black Lives Matter signs in its windows, fared better than many other businesses that incurred smashed windows and lost merchandise. Steve Carrigan, executive chef for Tropics, says his staff turned the lights down during the unrest but otherwise didn't board anything up.
Aside from Tropics being allowed to operate at just 25 percent capacity, there have been several other changes to conform to the new times. This includes disinfecting menus, allowing silverware to be used only once a day and reserving every other table to maintain social distancing, according to a member of the serving staff.
Other things haven't changed, with 31 drafts still on tap and a full food menu. "All you gotta do is open the door and then people come in," Carrigan says. "People want to have some food, they want to have a drink. We're just going to provide that for them."
Mandich says it felt great to be back in Tropics. "I can't wait for all of this pandemic stuff to come to an end," he says. "It put a super-damper on a lot of businesses."
Sports and Entertainment: Sacramento Kings
Jace Angelo had only slept a few hours, but here he was on the morning of May 31, ready to help clean up Downtown Commons.
The previous night, vandalism and looting had occurred. And while Golden 1 Center had come through reasonably unscathed, there were still signs of damage, including graffiti on a nearby DOCO wall and an $8 million public art piece by Jeff Koons that stands in the plaza.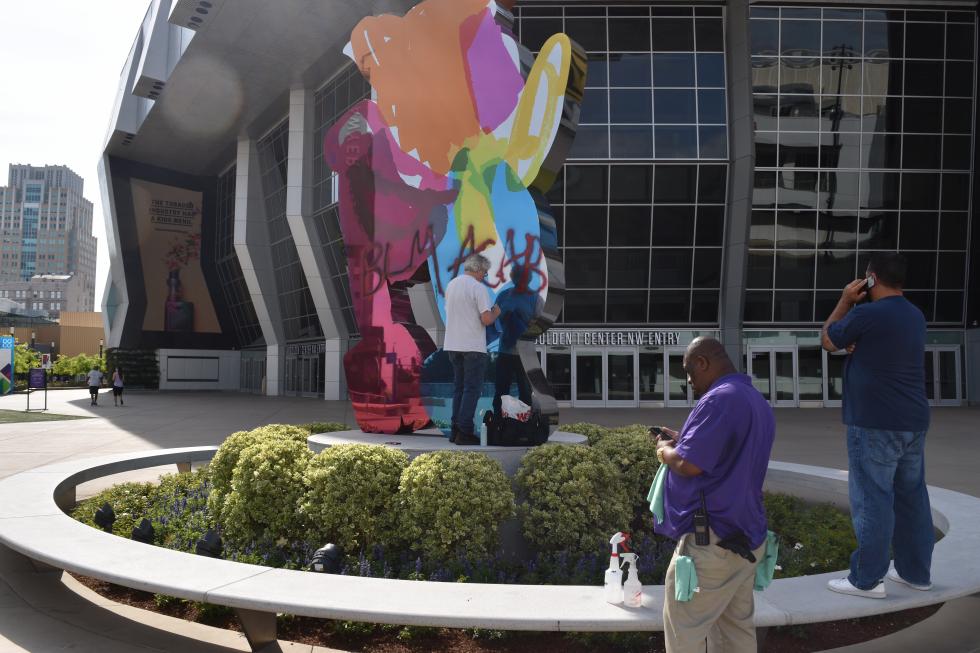 In the days to come, Kings players like Harrison Barnes would join in peaceful protests taking place in Sacramento. On June 17, the organization announced that Juneteenth — the day in 1865 when the last slaves in the U.S., in Texas, learned of their freedom — would become an annual company holiday.
But early on May 31, there was cleanup work to be done by people like Angelo, who works part-time for the Kings in administration, photography and ticket sales. "We just saw the news last night, my buddies and I, and we just decided, we're from Sacramento, we work in Sacramento, I live in downtown, so let's meet up … and let's just help out whoever needs to be helped out," he says.
It was a kind gesture from a member of a workforce that's otherwise been hard-hit. On May 18, Kings President of Business Operations John Rinehart, who wasn't available for an interview for this story, sent a letter to employees announcing "a four-month furlough for a portion of our workforce," beginning June 1. It affected 34 percent of the business' full-time workforce, roughly 100 employees.
Karen Luciano, a former partner account manager for the Kings, approached while Angelo was talking to Comstock's. She declined to discuss her recent departure from the Kings, saying, "We all just want what's best for the team, so we'd rather not."
When normal play resumes, people like Angelo and Luciano might have work again from the team. But it could be awhile, with the NBA recently announcing the Kings and 21 other teams would continue an abbreviated 2019-20 season next month, with all games at Walt Disney World in Orlando, Florida.
While a Kings spokesperson said in a statement to Comstock's that the team is "extremely grateful for the opportunity to play basketball again in Orlando," it comes at a cost to the city. "It's a huge loss for us when you think that (Golden 1 Center) itself generates almost 200 special event days a year, and a couple million people that come downtown to support the surrounding small businesses around it," says Michael Ault, executive director of the Downtown Sacramento Partnership.
Hospitality: Citizen Hotel
David and Julie stand outside of the Citizen Hotel on the afternoon of June 15. The couple, who didn't give their last names, hadn't been planning before the pandemic to come to Sacramento from their home in San Francisco to stay at the hotel and celebrate Julie's birthday.
But strange times call for unusual measures. "We came because restaurants in San Francisco are closed," Julie says. "One restaurant that's traditional for us (Morton's Steakhouse) is open here."
At a time where Sacramento Assistant City Manager Leyne Milstein tells Comstock's that local hotels are running around 10 percent occupancy rates — down from the mid-80 percent range, according to Mike Testa, president and CEO of Visit Sacramento — places like the Citizen Hotel need all the people like David and Julie they can find. Times are still quiet at the Citizen, with Julie saying, "We haven't seen anybody other than a cleaning lady in our hallway."
Citizen Hotel temporarily laid off 123 employees in late March, according to state records available online via the Worker Adjustment and Retraining Notification, or WARN Act. Hotel management didn't respond to an interview request for this story.
Layoffs have been common for local hotels, Testa says. "The challenge obviously has been you've got all these staffs of housekeepers and caterers and functions within the hotel that are not currently active," Testa says.
The City of Sacramento will almost certainly see an impact from the dramatic downturn for hoteliers, with Milstein saying revenue from the 12 percent transient occupancy tax that hotels pay could be down as much as 90 percent. For the 2018-19 fiscal year, these revenues were projected at about $31 million, according to city documents.
When asked if everyone has been continuing to pay transient occupancy tax, Milstein says, "Not everybody is current. I can't and won't tell you who. And people have asked for relief. That is not something that we can do. It is not allowable under our code to waive payment of the TOT."
Fitness Centers: California Family Fitness
It was past noon on June 12, when state officials declared that gyms could reopen, along with schools and bars.
But the California Family Fitness location at 1012 K Street — which had continued to operate until days before the mid-March stay-at-home order went into effect — sat darkened still. While a sign on the door noted that 12 of its 19 locations in the Sacramento area opened that day, there was no mention on the door of when this one would reopen. A schedule posted on the company website said reopening for this location would come June 29.
In March, the gym's parent company, California Family Health, temporarily laid off 398 employees around the Sacramento area, according to state records. It's unclear how many of these jobs have come back, with company representatives not responding to a request for comment for this story.
The industry has continued to struggle, though, with one high-profile competitor, 24 Hour Fitness filing for Chapter 11 bankruptcy, according to news reports Monday. Barry Broome, president and CEO of the Greater Sacramento Economic Council, says the personal fitness industry might need up to three years to recover.
"I think they're in the same situation as the hotels and certain small restaurants and small retailers," Broome says. "They're high-volume, small-margin businesses, and they're not equipped to be (experiencing) zero income for four months."
It's part of the new normal for businesses with COVID-19. At this point, it's safe to say some businesses are better-equipped to handle it than others.