Quiet days continue in Downtown Sacramento.
It's been more than a month since California Gov. Gavin Newsom ordered residents to stay at home and all but essential businesses to close.
At most, one-fifth of the typical downtown workforce is still coming to offices, says Michael Ault, executive director of the Downtown Sacramento Partnership.
"You've got a district that's really codependent on each other," Ault says. "We've got major hotels and tourism and office workers that directly support … retail and business. You take some of those pieces out of it and you realize the economic engine of downtown."
Comstock's has been following four businesses that have been helping to drive the resurgence of Sacramento's central city in recent years. Here's how they're faring a month into the shutdown.
Sports and Entertainment: Sacramento Kings
It's another near-empty day in the plaza outside Golden 1 Center, where the halting of the NBA season March 11 has helped create a perpetual quasi-ghost town.
Outside of Chipotle, which is doing takeout and deliveries only, Flex Ford, a homeless and self-employed IT worker, charges his phone at an unlocked outlet. "There's really nothing going on," says Ford, who spends a lot of his time downtown. "Everything's closed."
Few things symbolize this more than the shutdown of the Sacramento Kings basketball team, who bring a sizable upsurge in foot traffic to Downtown Commons with every game. "The good news is, if anyone wants to know how important Golden 1 is to the community, you can feel it now," says Barry Broome, executive director of the Greater Sacramento Economic Council.
With the season temporarily shuttered, Kings players have been doing group chats, yoga and workouts virtually, says agent Austin Walton, who represents Kent Bazemore and Justin James.
Some players are seemingly in a better spot in their careers to handle a shutdown. Bazemore, 30, in the final year of a four-year, $70 million contract, is in Atlanta where he has a home gym, basketball court and trainer. In contrast, the Kings had to deliver equipment for James, a rookie, who remains in the area.
NBA players have agreed to take a 25 percent pay cut on May 15, with the money going into an escrow account and to be returned if the season resumes, Walton says. "Hopefully the season comes back and they get that money back," Walton says. "But you always have to put the health and safety of people first."
The Kings have continued to pay team employees during the shutdown, and they've leased Sleep Train Arena, their former home in North Natomas, to the state for $500,000 a month to be used as a field hospital, according to a state contract obtained by The Sacramento Bee through a request under the California Public Records Act. The Kings have made available to the state their old practice facility, adjacent to Sleep Train, at no charge, Brian Ferguson, a spokesman for California's Office of Emergency Services, told The Bee.
Mike Testa, CEO of Visit Sacramento and the Sacramento Sports Commission, says Kings President of Business Operations John Rinehart explained the team's rationale.
"It wasn't about money," Testa says. "It wasn't about, 'We can't play Kings games anymore, we're losing all this revenue.' The attitude was, 'How can the Kings help?' I thought that was so indicative of the organization."
Fitness Centers: California Family Fitness
Just down from Golden 1 Center, K Street is similarly barren, with the California Family Fitness location shuttered, a closed sign on the front glass doors.
A voicemail greeting for the K Street location, which typically bustles with state workers and other employees trying to get in workouts on their lunch breaks, explains that per Newsom's order, all gyms throughout the state are closed; California Family Fitness has frozen memberships.
"We're all in this together," the greeting says. "Let's show our community that the worst can bring out the best in all of us."
Like the Kings, California Family Fitness has taken to the web to help people stay in shape, with its Facebook page populated with Zoom workout sessions. There's been a sizable audience for these workouts, with one 30-minute session boasting more than 4,000 views and another approaching 3,000 views. There are many positive comments, with one woman writing, "Awesome class. My son and I had a great time."
Virtual workouts might be a fact of life for the foreseeable future. Broome says he misses doing yoga but that it will be tough for studios to reopen with people side by side.
Gyms don't have an easy road ahead. "I think they're going to be very hard-hit for the next six months," Broome says.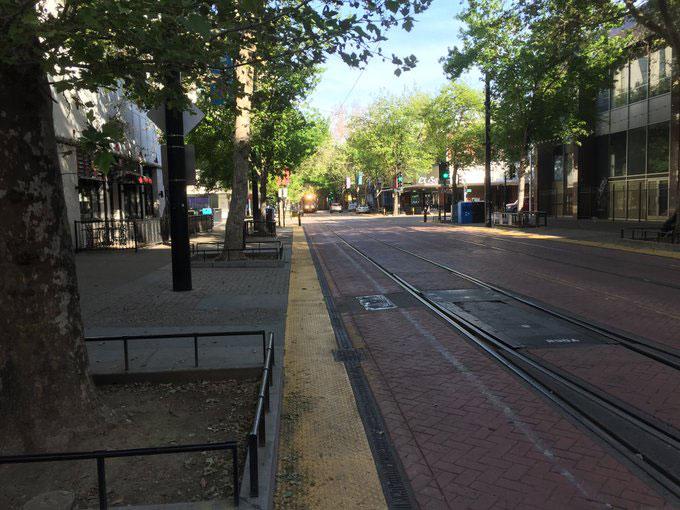 Hospitality: Citizen Hotel
In normal times, a historic place like the Citizen Hotel would have no shortage of patrons, including those doing business at the nearby state Capitol and those in town to see a Kings game or concert at the nearby Golden 1 Center.
Now, the hotel on J Street in Downtown Sacramento, is finding business where it can, including through existing contracts with airline flight crews. "Obviously, flights weren't at the volume they were six weeks ago," Testa says. "But there are still planes in the air and flight crews, so they're getting some of that."
It's all part of what hotels in the region are having to do to survive. "Hotels were running about 90 percent full before the shutdown," Testa says. "Now, many of them are in the single digits."
Representatives for the Citizen, which is owned by Marriott Hotels, didn't respond to a request for comment. But Shelly Moranville, general manager for the Residence Inn, another Marriott property on 15th Street, says the shutdown has had a dramatic effect for local hotels.
"I saw it start on March 10, where people were canceling," Moranville says. "We literally were watching our numbers by the hour, and we were losing tens of thousands of dollars literally by the hour."
Moranville's hotel has gotten by with a base of long-term business, which includes consultants who do work for the state, an assembly member, and fire and flood insurance claimants. She says she shut down four floors of her hotel.
Testa is optimistic about what the Sacramento Convention Center expansion could do for hotels, which are helping foot its $245 million rebuilding cost. Testa says the center is booked very well for 2021. But Broome is more pessimistic. "It's gonna be a while before people want to be in conventions with lots of people," Broome says. "It may even be post-vaccine before you see leisure and hospitality back."
Bars and Restaurants: Tropics Ale House
Other businesses in Sacramento's central city, such as Tropics Ale House in Midtown, have chosen to sit the pandemic out.
Hawaii-based Tropics owner Pat Kashani confirmed by phone that his business, which opened last September following the relocation of Pete's Restaurant and Brewhouse to downtown (now called Pete's 7), is temporarily closed. He temporarily laid off his staff, though he says they're willing to return should the stay-at-home order be lifted. "Everybody's antsy," Kashani says. "We're waiting on edge to get the word."
Kashani says he's applied for funding through the U.S. Small Business Administration's Paycheck Protection Program, and he's asked his landlord for a deferral on rent payments "until we can reopen."
Landlord Pat Shurnas of Horizon Capital Investments acknowledges that Kashani has asked for relief, just like a restaurant in another property that his family owns. "I would think they're hanging on by a thread," Shurnas says of Tropics, "like the rest of us."
–
Stay up to date on the effects of the coronavirus on people and business in the Capital Region: Subscribe to the Comstock's newsletter today.