Active volunteer. Accomplished professional. Working mother. Krista Bernasconi, Jill Gayaldo and Alyssa Silhi proudly claim each of these monikers. And this year, one more: mayor.
For the first time, Placer County's three largest cities are headed by a woman mayor: Krista Bernasconi in Roseville, Jill Gayaldo for Rocklin and Alyssa Silhi in Lincoln. All three cities have at-large elections where city councilmembers are elected for a four-year term with a mayoral rotational system (prior to the 2020 election, the top vote getter in Roseville City Council elections would serve a two-year term as vice mayor, followed by a two-year term as mayor). Last year turned out to be a perfect trifecta for the women, who have already been collaborating.
"I believe in the abundance mentality," Bernasconi says. "There's enough for all of us to be successful, to be helpful. There's not this scarcity mindset to where if I succeed somebody else doesn't. I believe there's room for all of us. I think that's what leadership looks like; we help each other along."
Roseville Mayor Krista Bernasconi
Long before running for a seat on Roseville's City Council, Bernasconi was active in her community. Starting in 2002, she won back-to-back four-year terms for the Roseville City School District Board of Education, followed by a pair of four-year term appointments as a planning commissioner for the City of Roseville. She was well known for her local activism by the time she ran for Roseville City Council in 2018 and received the highest number of votes, setting her up for her mayoral debut in December 2020. She is serving a two-year term. She served as vice mayor from 2018 to 2020.
As mayor, Bernasconi is focused on foundational goals she describes as the health, safety and fiscal well-being of the community. The council also has an eye on re-envisioning its older corridors with potential housing (Harding Boulevard, Douglas Boulevard and Sunrise Avenue). "Not only do we need housing and all types of products for people to be able to live here, but we are also mandated by the state to produce a certain number of units every year or we are highly penalized," says Bernasconi. Communicating that need and requirement to the local community can be a challenge. The city uses a variety of channels, including social media platforms, to educate and inform the public.
In addition to her duties as mayor, Bernasconi runs MarketSharePR, a Roseville-based public relations firm with a team of six women. "It's always been a goal of mine to start my own business. When you own your own business, your successes and failures are all yours and you have such an opportunity to grow," she says.
Rocklin Mayor Jill Gayaldo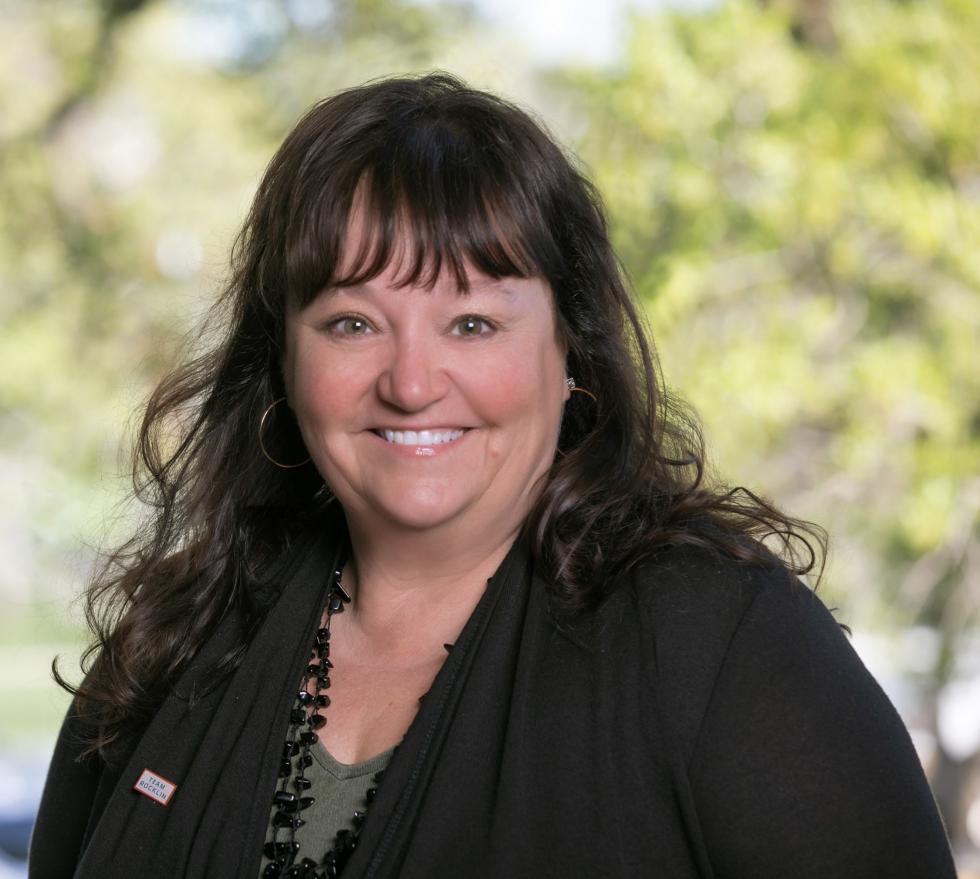 Gayaldo, a retired transportation director for the Elk Grove Unified School District, also runs a small business with her husband, Dan Gayaldo, a retired high school principal for the Placer Union High School District. They run Rocklin Laundry, which Dan's father built in 1948. "We have a long history of family involvement in this town," says Gayaldo.
Her husband's family emigrated from Spain to Rocklin in 1908 when the town had roughly 500 people. Her father-in-law, Andres "Hank" Gayaldo, served on the city council for 17 years, including two terms as mayor, and her mother-in-law, Connie Gayaldo, was president of the Chambermaids service organization and a successful restaurant owner.
Before being elected to the Rocklin City Council in 2018, Gayaldo had been active in the Rocklin community for years as a member of several local business and service organizations and as co-chair of the Rocklin Christmas tree lighting event. Gayaldo is serving as mayor for a one-year term that began in December 2020. "The cool thing for me in working with Krista and Alyssa is we have a working relationship already, and we collaborate," Gayaldo says. The three-member team recently had its first virtual mayor's forum in February, an informal event for local constituents to call in and ask questions; they hope to make the forum a regular event.
Gayaldo also has her own ideas and priorities for Rocklin, including developing the 184-acre Rocklin Golf Club property the city purchased in 2018 for $5.8 million. The goal is to use the centrally located land for parks, open space and a trail system. Phase one of almost 3 miles of trails has already opened, and grant money is helping with phase two. "This could be our own Central Park," says Gayaldo. Completing improvement work on Highway 65 is another priority for the council.
Lincoln Mayor Alyssa Silhi
Alyssa Silhi had worked for years as a legislative and policy analyst for the state of California but found she was not overly engaged in her local community. "I always had a desire to get involved, but I also had three small kids," she says. Keen to see more women represented in Placer County, Silhi applied for a vacant Placer County Planning Commission position in 2018, to represent District 2. While she did not get that role, which was appointed by the Placer County Board of Supervisors, she was recommended for a City of Lincoln Economic Development Committee post, a position she did get.
At about that same time, the news broke that the City of Lincoln would be audited by the state; both a procedural and fiscal audit were scheduled. "That definitely piqued my interest," she recalls. "I love my town, and my kids love it here. Lincoln is a fantastic community, but I didn't want to have to move, and I didn't want to see my city go bankrupt." She decided to run for Lincoln City Council and was elected in November 2018. Two years later, Silhi began serving a one-year term as mayor and says the city has made a lot of progress in addressing the issues raised in the audit.
In addition to continuing to monitor the ongoing audit, Silhi characterizes 2021 as a time of triage for Lincoln after a year devastated by COVID-19. "My goal is to try to keep as many businesses in business in our community as possible and to help our community heal and to get our kids back in school," she says. "It's a group effort making sure that our community comes back together."
This story has been corrected to state that Dan Gayaldo's father built Rocklin Laundry in 1948.
–
Stay up to date on business in the Capital Region: Subscribe to the Comstock's newsletter today.