It's harvest time at the Reimagination Farm in Lake County, California. As autumn turns the air crisp and the leaves begin to change, former UC Davis Asian American Studies professor Robyn Rodriguez surveys the land in front of her and reflects on the rhythms of nature. "Even the earth follows cycles of rest," she muses. "That's how we regenerate."
The past few years have been a profound journey for Rodriguez and her family — husband and co-founder Josh Vang and their young son Zee Vang — as they've developed the farm, an 8-acre learning center and wellness retreat located in the small town of Kelseyville. Their venture into farm life has been a time of growth and learning, as they jumped head first into no-till farming, goat rearing, canning and even trying out some culinary endeavors. "I concocted a tomato jam with a friend that I'm really happy about," says Rodriguez with a smile. "It's got a little vanilla bean and cardamom — it's pretty amazing!"
The transition to their new life took root in 2020 as the COVID-19 pandemic ensued. "We saw it as symptomatic of our disconnection from the earth," she explains. At the same time, she was feeling a lack of support for her work at the university, where she served as chair in the Asian American Studies department and is founding director of the Bulosan Center for Filipino Studies. "My husband and I made a pledge that we were going to shift things," shares Rodriguez. Over that time the family also faced the devastating loss of their 22-year-old son, Amado Khaya Canham Rodriguez, who passed away while working in the Philippines with Indigenous cultures battling climate change. "It was a moment not just to grieve but to transform," she says.
What they've built
Soon after Amado passed, the couple acquired a home in Lake County, naming it the Amado Khaya Healing House, a sanctuary to rest and reconnect with nature. Rodriguez says they felt a commitment to the land that led them to expand, and the Reimagination Farm was born.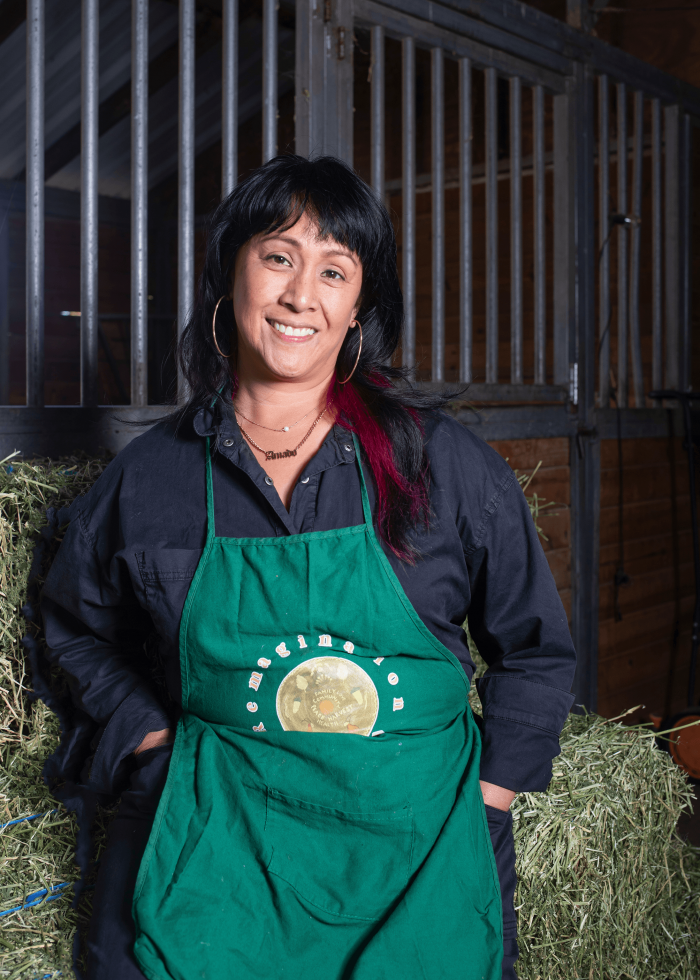 The farm's programming is especially geared towards BIPOC and other intersectional identities. They focus on sustainable farming techniques rooted in permaculture and agroecology, a holistic approach that works with the flow of nature. In-person learning experiences teach visitors about nature awareness, basic survival skills, Indigenous and land-based knowledge. Virtual offerings include courses on Asian American history and activism through Rodriguez's School for Liberating Education.
"We're trying to create a space that is accessible to people who maybe didn't grow up in a rural area or folks who are like us, who grew up in relatively urbanized suburban communities, whose families may have had a connection to the land, and through a variety of complication reasons may have found themselves no longer living on the land and resettling in suburban areas," Rodriguez says. The aim is to bridge that disconnect and invite people of their generation to reconnect to the land and nature, as well as showcase more sustainable ways of living.
It's both Rodriguez and Vang's first foray into farming. The space is home to dozens of chickens and several friendly goats, while the land bears flowers and vegetables like lemon cucumbers, melons, bell peppers and bok choy. "I learned a lot by reading the 'Farmer's Almanac,'" laughs Rodriguez. She also consulted with other farmers and researched online. "We come from immigrant parents, and our parents often pined for the homeland," she shares, noting her Filipino and her husband's Hmong ancestry. "For the second generation like myself and our children, especially in the context of climate change, we want to able to be responsible stewards of this land."
Looking forward
Since their official launch in May they've built a successful farm visitor program that allows individuals to reserve time for a range of activities. They recently hosted six students from UC Berkeley who visited through a hybrid educational program Rodriguez says they're developing in partnership with the university, essentially an extension of a farm internship they offered over the summer. "It was so fun to be able to talk about that history and experience while here on the land," she says.
The response from the community has been emotional, she says, with visitors often departing in tears. "I think when people leave here there's a kind of release that happens," she muses. "People are so grateful to be in a space that feels welcoming and safe."
They'll soon host "collective rest sessions," inspired by Tricia Hersey's "Nap Ministry," focusing on "rest as resistance" for marginalized communities, and Rodriguez is already in the thick of working with various collaborators to expand their space to host artists, musicians and other creators.
Rodriguez is also at work writing books about her experiences. For those thinking of launching their own venture, her advice is clear: "Just don't have fear as part of your vocabulary. I think if it was, we would've already packed up and left!" she laughs. "With farming," she says, "there's so much knowledge at our fingertips. Everything is an opportunity for growth."
Stay up to date on business in the Capital Region: Subscribe to the Comstock's newsletter today.