In light of Gov. Newsom's suggestions regarding the coronavirus outbreak, Revolution Wines is currently open for takeout only. For updates, click here.
Revolution Winery & Kitchen started so small — and in such an awkward location — that customers who sought them out often had trouble even finding the business, tucked away facing an alley in Midtown Sacramento.
These days, 12 years after the husband-and-wife team of Joe and Gina Genshlea launched their dream, the tasting room and restaurant is routinely busy and appears to have found its place at the upper echelon of casual destinations. Folks drop in for a glass or two of wine at the bar, for dinner or a tasting flight. It's a gathering spot for friends and neighbors, and an inviting and lively setting for a date night.
And by being resourceful and creative, Revolution has transformed parts of its menu enough that it has become known among foodies as one of the most reliable places for delicious vegan-friendly options, with a commitment to sourcing local ingredients.
The success of Revolution in recent years is a testament to listening, learning, retooling where necessary and sticking with what works in order to grow and thrive in Sacramento's ever-changing food and beverage landscape.
Figuring Out the Formula
In the early days of the business, food was not part of the equation. Revolution, billing itself in 2007 as Sacramento's urban winery, was tucked away in a tiny building on P Street. Customers, if they could find the place, would come in to buy wine or maybe do a quick tasting. Other Sacramento-based wineries have popped up since, but none have the customer base and staying power of Revolution.
"The business model that we thought we were going to operate is different than the one we are operating," Gina Genshlea says. "People wanted to come in and buy a bottle of wine and then stay and hang out."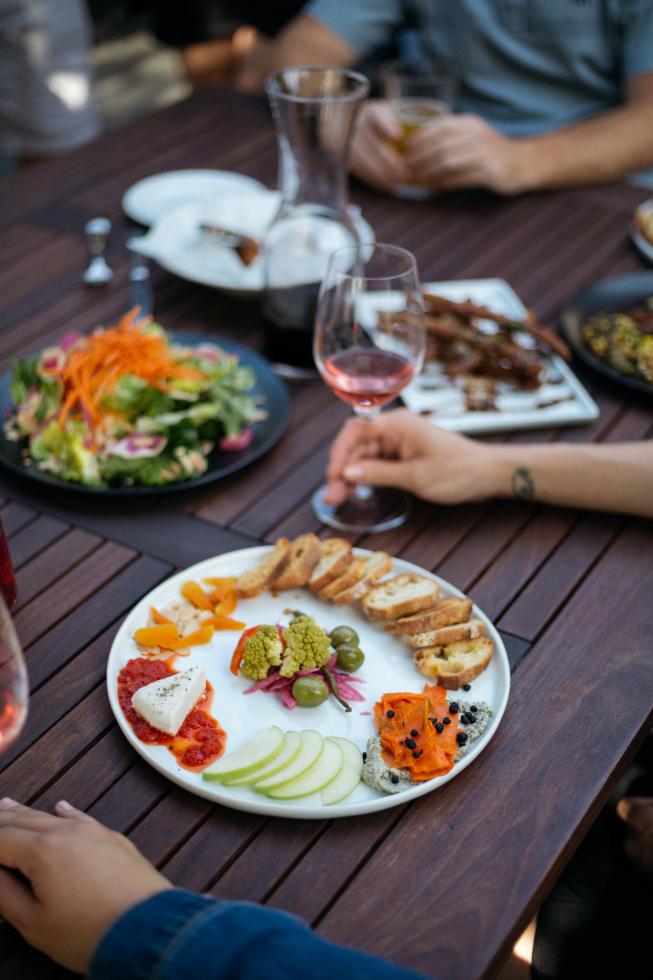 In 2010, Revolution moved to its current location on S and 29th streets. While the wines had gained a loyal following, the food from year to year could be hit or miss. But a couple of years ago, after the latest chef departure, Gina Genshlea says she was at a loss for what path to take. With no professional restaurant cooking experience but armed with a deep food background, including growing up on a farm in south Sacramento, she opted for the most difficult option — she became the chef.
"There's not really an easy formula for figuring it out. Most successful restaurants in Sacramento are run by a chef-owner, and I was definitely not a chef," Genshlea says with a laugh. "But it's been a lot of fun. I love the fast pace and I love being creative."
But Genshlea says she didn't approach her new role lightly. If Revolution was going to build a following of devoted foodies, including vegans, Genshlea was committed to learning as much as possible. She visited Sacramento Food Co-op next door nearly every night to try its vegan options. She traveled to San Francisco and New York to see what the most innovative restaurants were up to. "My goal was that if I'm going to cook this stuff in the kitchen, I'm going to try to improve upon it," she says.
While some might wonder why an established winery would put so much effort into vegan cooking, the reasons for Genshlea are both personal and practical. She recalls being approached by an employee during the transition into the kitchen and being asked to include gluten-free and vegan options and not have any cross-contamination with meat and dairy.
"It really bothered me that I had an employee that was so loyal to the company but couldn't eat anything that we were making," she says. "I feel like vegan food is much more challenging. There are so many creative things you can do with vegetables. It's finding the right ingredients and figuring out how to properly prepare those ingredients."
The new menu has paid off; two of the three top-selling dishes are vegan. Genshlea's kitchen earned kudos quickly. Revolution tied for first place in the "Impossible" category in the 2018 Sacramento Great Vegan Burger Battle and its meatless burger continues to be one of its most popular items.
For the 2019 Sacramento Vegan Chef Challenge — a month-long competition with dozens of restaurants that tabulates votes from customers — Revolution was named Most Popular Dining Destination and had the highest voter participation of the numerous participating restaurants. "They are fantastic," says Bethany Davis, cofounder of the Sacramento Vegan Chef Challenge. "All of their items are really good and creative. It's really super to see more and more restaurants getting on board with vegan cooking."
Wine Remains the Backbone
The backbone of the business is, of course, the wine. Revolution produces a range of styles on-site, including zinfandel, cabernet sauvignon, malbec, pinot grigio, chardonnay and chenin blanc. Whether cooking vegan or meat dishes, Genshlea makes sure there are satisfying wine pairing options. She does an Asian-inspired tempura-battered asparagus, for example, that she says pairs nicely with the chenin blanc; the rich and creamy vegan stroganoff is great with the Malbec, according to Genshlea.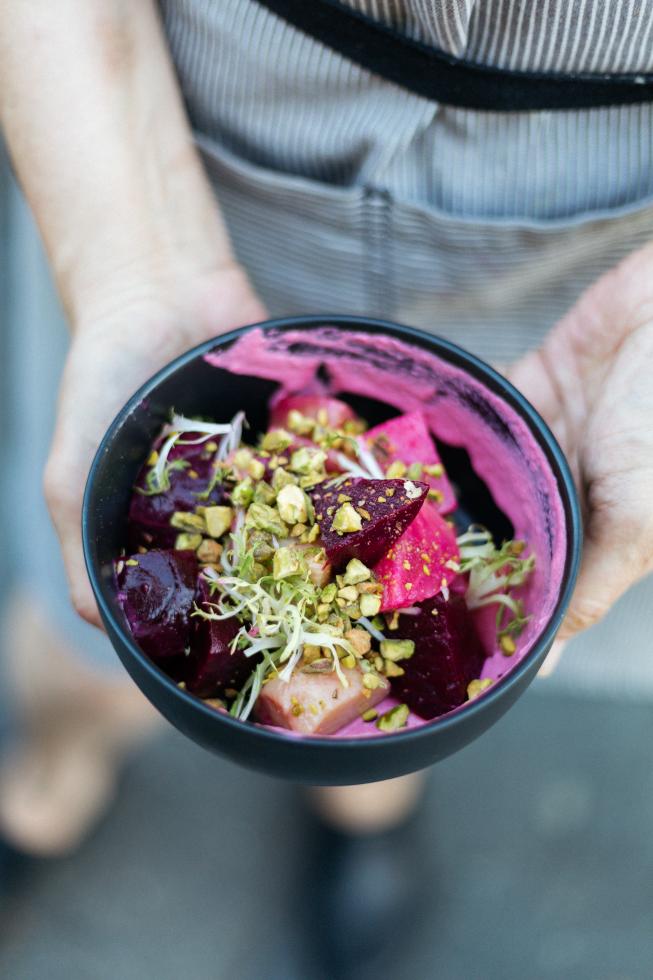 "One of the things we try to do on the wine side is create wines that are more delicate and true to their varietal character so that they do naturally pair better," she says. "We try to make wines that are food friendly wines. We start there. And I try to always make food that pairs well with our wines. I like to use a lot of fresh herbs, and I feel the herbaceousness in the food transfers very well to the wine."
A big part of any successful business is customer loyalty, and Revolution develops that through its wine club. Members who commit to buying a minimum number of bottles quarterly enjoy discounts on wine and food. Genshlea says 95 percent of the wine club members live within a 10-mile radius of the winery and restaurant, meaning they visit frequently.
It's a major shift from when Revolution launched, but the retooled formula is clearly working. "Our customers want to feel connected to what we're doing and the products we create," Genshlea says.
–
Get our monthly drinks column and other great web stories delivered to your inbox every week: Subscribe to the Comstock's newsletter today!

The 65,000-square-foot tasting room formerly owned by Renwood is now operated by Rombauer, the family-owned winery based in Napa County best known for its chardonnay.
"Farm to Fork" is not just an advertising slogan: It reflects a big part of the region's identity, and that reputation is growing. Wine has become one of California's most recognizable crops and production has grown tremendously over the last two decades. California is home to 4,700 wineries and produces more wine than any other U.S. state.​

Wine tasting at the Old Sugar Mill in Clarksburg is often thought of as a good time, but walking into Clarksburg Wine Company when Jeremy Maron is behind the bar is something every Sacramentan should experience.