Although High Water Brewing has been in operation for more than eight years, there has long been confusion about exactly what city the craft-beer business calls home.
The company's distributing license is from Stockton, but its brewery license lists Pittsburg, Calif., as the city of record. High Water first started brewing and selling its products in San Leandro, but now its wort (the liquid that becomes beer once fermented with yeast) gets shipped from San Jose and Colorado. High Water use facilities in Tracy and Santa Cruz for fermenting and barrel-aging, but has equipment scattered all over Northern California. Such is the life of a nomadic, a "contract brewery" that brews beer at another brewery's facility.
"There's a lot of money that goes into putting in a brand-new brewery," says Steve Altimari, co-owner and head brewer at High Water. "It was a way to get in without committing several million dollars to something that might not work out." Best known for the s'more-flavored Campfire Stout, High Water started when San Leandro-based Drake's Brewing Company offered spouses Steve and Barri Altimari — who previously owned Valley Brewing Company in Stockton — a chance to brew and sell their beers inside the spacious Drake's Barrel House taproom.
After eight years on the road, though, with their beers now available in 10 states as well as Japan, Brazil and much of the European Union, High Water finally has a true hometown. In April, High Water will add to the booming Lodi beer scene by opening a large taproom and restaurant inside a renovated warehouse 1 mile from the city's downtown. The facility will include a 5,000-square-foot beer garden, as well as small-batch wine and spirits, courtesy of onsite tenant Delta Artisan.
With beer drinkers increasingly supporting small local breweries while distribution-dependent breweries jostle for shelf space in a saturated market, the regional presence and thicker profit margins of a taproom have become more important than ever. "It's the golden jewel," says Steve Altimari. "Current market conditions are so brutal out there, and quality and quantity are no longer in the same room, so having this local identity was the biggest thing."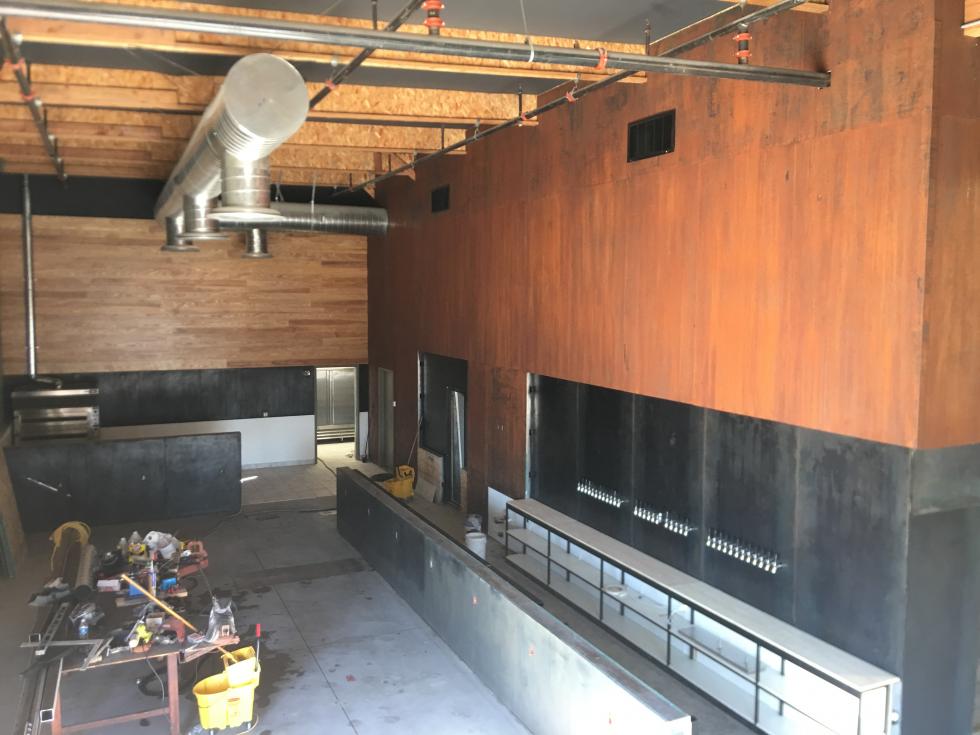 In 2013, High Water was one of eight contract breweries to brew a collaboration for San Francisco Beer Week called Belgian Tramp. With High Water ready to open in Lodi, only two of those eight breweries — Bison Brewing and Pacific Brew Lab — still go the contract brewing route, one went out of business, and the rest opened taprooms. Over 30 contract breweries currently operate in California, according to data from the Brewers Association. The restaurant Sauced BBQ & Spirits, for example, sells "house brews" brewed at Working Man Brewing Company in Livermore.
High Water's arrival in Lodi adds a tide-raising craft beer presence to a city commonly identified as "the Zinfandel capital of the world." Lodi Beer Company was the only game in town since debuting in 2004, but the winery, bakery and restaurant The Dancing Fox added beer to its repertoire in 2015, and Idol Beer Works and Five Window Beer Company opened in 2017. Both Lodi Beer and The Dancing Fox are also undergoing major expansion efforts.
"We started running the numbers on beer and spirit sales and realized that our current small system could not keep up with the taps, let alone bottling," says Gregg Lewis, co-owner of The Dancing Fox, which is also adding a distillery, barrel-aging space, an outdoor bar and two sleeping quarters in addition to increasing its beer production capabilities. "We want to expand the beer, get it out into the market."
The other four Lodi breweries are located within a few blocks of each other in downtown, so the challenge for High Water goes beyond merely attracting customers to the taproom. "We want people to not only come, but to stay and to feel comfortable in that realm as well," says Barri Altimari, who holds the title of CFO (chief flavor officer). Toward that end, High Water plans to host movie nights, concerts, seminars, beer dinners and other events at the taproom.
Construction has been underway since July 2018, and High Water has been working in the meantime to establish its local identity. Last month, High Water participated in a super-collaboration project organized by the Sacramento Area Brewers Guild, joining over 30 other area breweries in brewing a West Coast India pale ale called Friends With Benefits.
Along with Delta Artisan, High Water is also reconnecting to a crucial piece of Lodi history by bringing back the Flame Tokay grape. These seeded table grapes were the city's cash crop in the early 20th century, but their market crashed when seedless grapes became popular. "I crushed the first Tokay grapes in Lodi in probably 12 years, and I'm turning them into brandy as opposed to generic wine," says Delta Artisan owner and winemaker Blake Bomben. "From there, we can make vodka and gin out of the same stock."
Bomben and the Altimaris also have ambitious designs for swapping barrels, sharing ingredients and engaging in unusual co-fermentation projects. But for now, High Water is happy to have somewhere to hang its hat. "We're making a warm, engaging place that could serve as a second home," Barri says.