While pop-culture conventions may be all the rage these days, that hasn't always been the case.
SacAnime

When: Friday, Sept. 2 to Sunday, Sept. 4 Where: Sacramento Convention Center, 1400 J St. Cost: $30-$50 Info: www.sacanime.com
The local anime-centric convention SacAnime was originally born out of SAC-CON, which started in 1986, back when Star Wars was only three movies and long before films like The Lord of the Rings broke box office records. But in 2004, the manager of Waldenbooks at Sunrise Mall approached Dan Houck, now the founder/convention director for SacAnime, about trying to organize a convention for the mall, given how well manga — a Japanese style of comics — sales were doing.
"It was kind of crazy," Houck says. As an organizer, he didn't know what to expect for the first convention. Back then, he adds, comic book conventions weren't doing that well, with maybe 500 people showing up for SAC-CON. But, after the first SacAnime in July 2004, it was only six months later when a second show was held. Over its history, the show has moved several times, most recently leaving the Woodlake Hotel and upgrading to the Sacramento Convention Center in 2013, a location it still calls home.
Lindsay Ramirez, 23, of Sacramento started going to the SacAnime when she was 15, and hasn't "missed a single one" since. She attended her first convention because of her penchant for video games. "I just ended up going to a con out of curiosity, put on my little Halloween costume and just fell in love with it that first day," Ramirez says.
Now, SacAnime attracts way more than the few thousand attendees they aimed for in the early years. Last summer's show, which was the largest in the convention's history, drew roughly 17,000 people, with the winter show attracting a crowd of 12,000.
But success can cut both ways.
"I think that right now it's kind of a difficult time for pop-culture conventions, because there's so many of them," Houck says. "Pop culture's so in vogue, everybody is running a convention … so everybody is competing with each other for the same guests, the same attendees."
Houck, who says the "most challenging" part of the convention is organizing the guests, is already working on SacAnime's January show, even as he wraps details on the upcoming September convention.
Convention guests — which for the upcoming event include Laura Bailey (DragonBall Z), John DiMaggio (Adventure Time), Jonathan Freeman (Aladdin) and others — tend to be the most expensive part of hosting the show, with the venue costs coming in after that (including the up-front cost of renting the physical space, and then back-end costs like decorations, A/V needs, and tables and chairs).
Guest costs vary wildly, and the business of these deals has also gotten caught up in the rising tide of popularity for conventions. It used to be that for anime conventions, guests wouldn't charge for fans to get autographs, instead being paid via an appearance fee. "I'll attend for autographs if I know for sure that there's something I want to have signed, or if they were a really big part of my childhood, I'll stand in line and meet them," Ramirez says.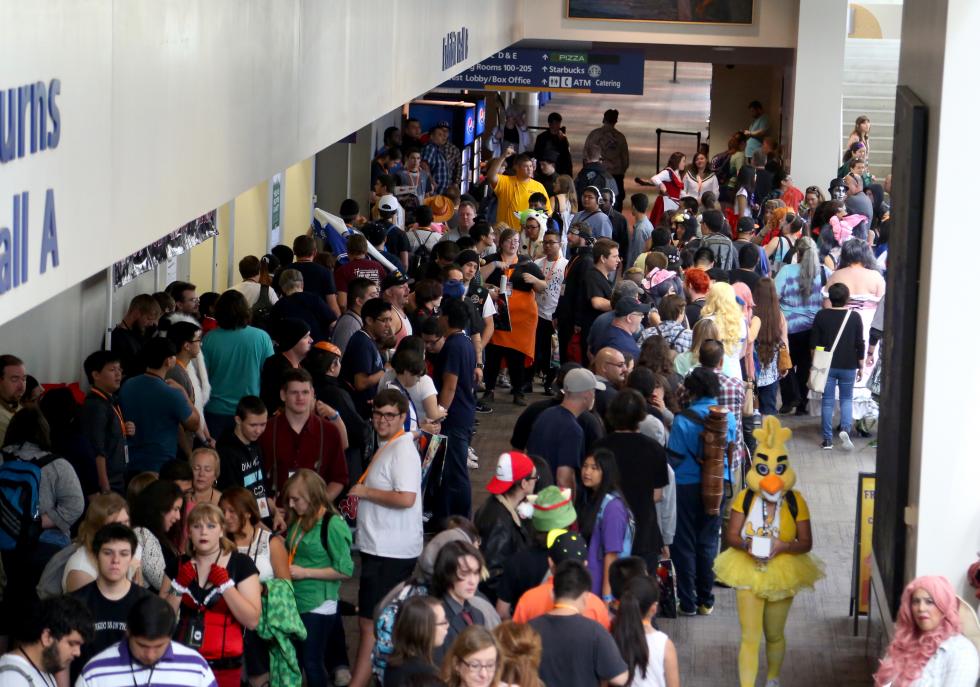 Some guests instead operate with signing guarantees: Houck mentioned he's had guests that charge for autographs and have up to $20,000 in signing guarantees. If they didn't meet that number, he would have to make up the difference.
More conventions also means more competition. Houck recounted a story about one guest who often comes to SacAnime, and gets paid $3,500 (not including the flight, hotel or food stipend). The guest ended up canceling to attend a different show taking place the same weekend, where he could make $13,000 charging for autographs. Over the past several years, "it's become very commercial," according to Houck."
To complicate matters further, even guests who sign for free can have stipulations: Some may sign many items, while others may only sign one for free, then charge for additional signatures.
Booking agents are now another part of the process, as well. "A lot of times you have to deal with booking agents who often don't even really talk to the guest," Houck says. "You know, they basically have their own agendas as far as what they're expecting. So a lot of times there's a shield. In the old days, I could call somebody up and say 'Hey do you want to do our show? Great.' And it was years before we even had contracts."
Things have changed though, and even for guests that Houck has a history of working with, there's a layer of agents and back-and-forth that needs to be done, which he describes as a "long, involved process."
From a funding standpoint, SacAnime (a sole proprietorship) is "one continuous machine," according to Houck, with the money for each show funding and supporting other shows, including SAC-CON; SacAnime is now more successful than its inspiration.
And for Ramirez — who says her favorite part of the convention is cosplaying — and the thousand of fans like her, SacAnime creates a space for them to get together and share in their mutual love of the same facets of culture.
"It's really hard to approach people in your everyday life and ask them 'Hey, do you happen to like this video game?' But when you're at a con, you can see people dressed in the costumes, you know that they do," Ramirez says. "It's the equivalent of running into someone wearing your favorite band's T-shirt. You just [know] that you have something to talk about. At a con, it's just everyone around you."