More than 40 women recently gathered for an informational seminar at Fleet Feet, a sporting goods store in Sacramento. However, the crowd wasn't there for one of its popular run clinics — this was a clinic on tackling a triathlon. The event kicked off a free 10-week training program co-hosted by Fleet Feet and Total Body Fitness, a triathlon training company based in Rocklin.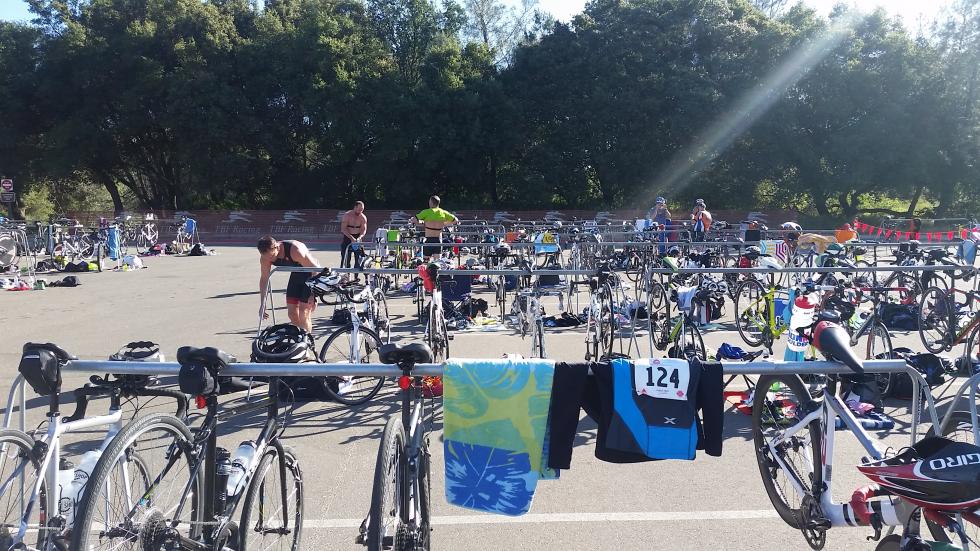 The program aims to introduce women to the sport and get them comfortable with combining swimming, biking and running into one race.
"I think the biggest barrier is the intimidation of doing so many new things at once," says Dusty Robinson, owner of the Fleet Feet stores in Sacramento and Davis. "Bikes, swimming, wetsuits, transitions — it's a sport that seems like you have to take a huge leap to get started. The biggest thing anyone needs to take on a new challenge is resources to support them, and Sacramento has that in abundance for the newbie triathlete."
Female participation in the sport has grown from 27 percent in 2000 to 39 percent in 2016, according to USA Triathlon, the national governing body for triathlons. As national participation has increased, so have both women-specific and co-ed training programs in the Sacramento region, according to several local businesses.
Amber Leonti, owner of Kaia FIT's Sunrise, Sacramento and Carmichael locations, recognized this increased interest in the sport and developed the Kaia Tri program six years ago. The program is designed for women of all fitness levels, from the triathlete looking to improve her race time, to the new mom looking for a post-baby fitness routine. The 10-week program attracts about 30 women per course and concludes with participants putting their skills to the test in a local triathlon.
For those interested in the challenge but intimidated, a training program can make all the difference. "We've had women start Kaia Tri who were scared to put their face in the water," Leonti says. "Ten weeks later, they are crossing the finish line of their first triathlon."
Leonti's business partners with local bike shops to teach participants maintenance and bike safety. Topics include how to change a flat tire and the way to safely pass other cyclists. She also partners with the Swimstitute, a swim school in Rancho Cordova, for lessons on swimming form and breathing techniques. "Add to that all the running and bike paths in the area, and it just made sense," she says of her triathlon program.
While Kaia offers a training program for women that focuses on all three disciplines, other training programs have co-ed clinics specific to swimming, biking or running. Total Body Fitness, for example, offers a 5-month open water swim clinic, 10-week cycling programs and a year-round running clinic. Each one is under $200 and allows the triathlete to customize their training.
"Most triathletes favor the swim, bike or run. Some want training in all three, others only want help in specific areas so they can improve on their weaknesses," says Bill Driskill, owner of Total Body Fitness.
Total Body Fitness also hosts triathlons throughout the Capital Region, with varying distances to make participation possible for different fitness levels. "Our shortest race is a Super Sprint Triathlon, which is a 200-yard swim, a 4-mile bike and a 1-mile run," Driskill says. "It's a great way to get into the sport. You can be a triathlete, even if you don't want to do an extreme distance."
Training is an important aspect of preparing for a triathlon, but having the gear is also essential. From buying a road bike to a wetsuit, the cost of equipment can quickly add up. While elite triathletes can spend more than $10,000 on a bike and nearly $800 on a wetsuit, more cost-effective options include renting or buying used equipment. For example, for $40 you can rent a wetsuit from Fleet Feet for a week.
The Sacramento Triathlon Club — a membership group of about 300 triathletes training at all levels — offers equipment swaps. Members can sell their used gear to other members at major discounts. The club, founded in 2000, also partners with local business to offer discounts to their members.
Susan Henning, president of the Sacramento Triathlon Club, believes all these resources make the region a great place for triathletes. "Sacramento has a strong triathlon community," she says. "Local businesses support our sport and athletes in the region range from kids to people in their 70s. It draws in so many people because it's an exciting challenge for all fitness levels."