Some may say that fashion isn't important to Sacramento. The city is America's Farm-to-Fork Capitol after all, not to mention the coveted place sports holds in hearts, minds and headlines. However, talented local stylists, designers and retailers are working to establish fashion as a viable industry. To that end, designers Karisa Gold and Kimberly Eanes new operation, The Workspace: Fashion Incubator, opened a little over a month ago in downtown Sacramento.
The names probably sound familiar: The duo came in second in last year's Calling All Dreamers contest, Downtown Sacramento Partnership's annual business plan competition (this year's contest kicked off last week). They had proposed the incubator as a place where design students and established designers alike could work in a professional environment with industrial tools in a collaborative way. In addition to the actual workspace, the incubator was to house a showroom for designers to sell their creations. Currently, The Workspace serves as the pair's personal design studio; however, they have bigger plans.
"Eventually we want to double the space," Gold says. "This is just phase one."
Overlooking St. Rose of Lima Park, The Workspace is intimate, but with a bird's eye view of the new Golden 1 Center. For now, Gold and Eanes have been using the space to work on designs for this year's Sacramento Fashion Week, which kicks off on Feb. 21.
"We've been working really hard and are grateful to have the space to create," Eanes says.
Neither designer is a stranger to fashion week. Gold's Karisa Gold Collection has been featured each year since 2013 and Eanes' Kimberly Dawn Collection debuted in last year's showcase. With Sacramento Fashion Week entering its 10th year, perhaps it's time to take a look at the landscape and where fashion fits into the Sacramento story.
Gold describes The Karisa Gold Collection as "sultry and sophisticated" with "the class of Audrey and the sass of Marilyn." Eanes calls Kimberly Dawn as "edgy with the urban girl in mind, [for] the one that wants to stand out in a room." On paper, the designers couldn't be more different. But after spending just five minutes with them, it becomes clear they are able to feed off one another's energy to creates something greater than the two of them. The first testament to that is The Workspace.
"We've been through some adventures together," the ladies say in unison. Both designers hold full-time jobs in addition to their individual design businesses and The Workspace. Gold works in medical surveillance and Eanes works as a graphic production artist — not to mention, Gold is married and a mother to a toddler.
"We wouldn't be able to do what we do without our support systems," she says.
When asked about their roots in fashion, the ladies have very different stories. Eanes says that "fashion chose her." She calls her first design "Red Rachel," made when she was 6 years old, it's a crimson dress drawn in red and black crayon. Gold's story is a bit different: always a creative spirit, it took her some time to consider design school and to see Sacramento as a viable place to pursue her passion.
Both ladies credit the local community for their success and emphasize that continued community support is imperative to continue building momentum around the local fashion industry.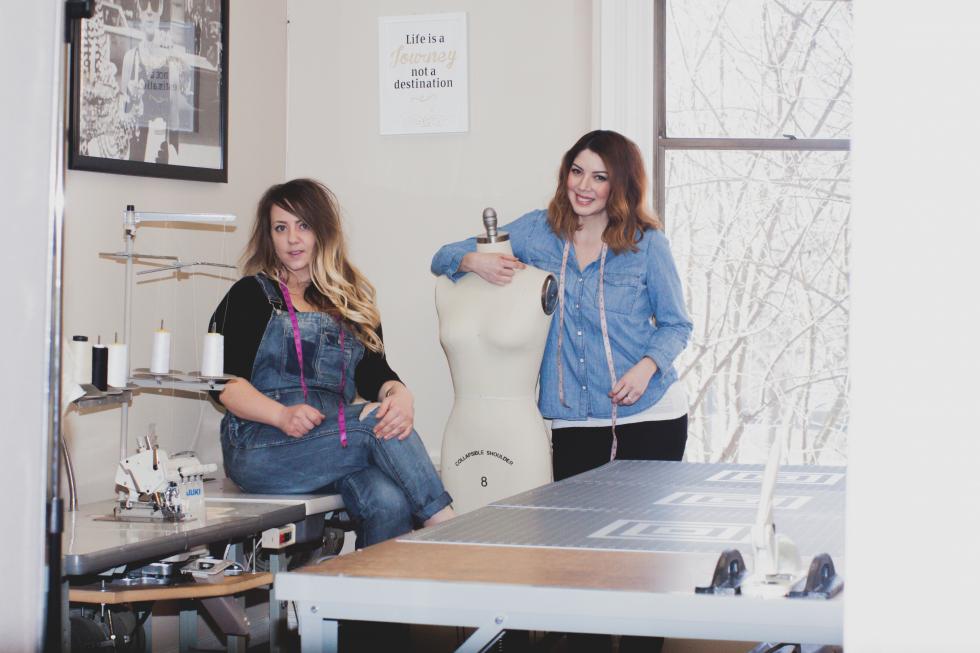 "Everyone is so supportive of each other and always willing to collaborate," Eanes says. "Beauty, stylists, photographers, boutiques, you name it." Retail outlets like The Denim Spot cater to local designers, making their creations available to the public when designers may not be able to afford their own spaces.
Despite their fashion incubator still in its infancy, Gold and Eanes feel that they have a clear understanding of where they are going and how to get there — and their unbridled passion for their work helps, too.
"I love fashion because it is a true expression of your individuality, and it should be that way," Eanes says. "You are allowed to be who you are and express yourself through what you choose to wear."