From hockey to motocross to snowmobiles, Jordan Darling has always liked the challenge of new terrain. In high school, when he started jetskiing, a new world opened up to him. He wasn't a top rider or competitor, but he chased waves, doing backflips with his younger brother. He would fly 10, sometimes 15, feet in the air. But what went up came down. Hard.
"When you're progressing, you're not going to always land your tricks," Darling says. "I noticed that the hulls don't take the beating they should. They broke several different ways."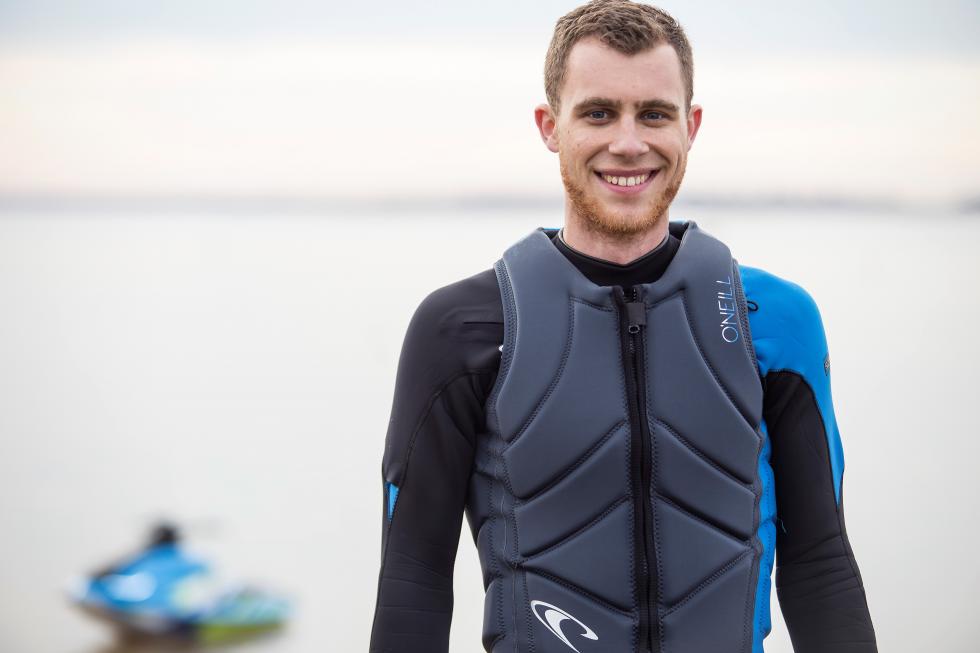 He used to buy old Yamaha and Kawasaki jetskis to rebuild and resell them. Then, once he had the money, he built a new after-market competition watercraft to take his riding to the next level. But he wanted technology that was more stable and durable enough to handle the rigorous riding. The personal watercraft model hadn't really changed since the 1970s — all the major manufacturers use fiberglass. But that material requires a lot of labor, which makes it expensive, Darling says. He wondered: Why doesn't somebody make personal watercrafts out of unique polymer materials, which are far cheaper?
In 2014, Darling launched Free Form Factory, making after-market decks and hulls out of durable polymer material that he designed specifically for watercrafts. Two years later, the company relocated from Rochester, New York to Rancho Cordova. From a concept Darling drew up, Free Form Factory has unveiled a stand-up watercraft prototype that is 100-percent recyclable and electric-powered. The price tag is $17,990. Pre-orders are underway and the watercraft will be delivered this fall.
This month, Darling is starting a new round to raise up to $3 million from local angel investors and venture capitalists. Still, finding support hasn't been smooth sailing: "No one had ever branched out and disrupted the space with new technology," Darling says. "When the technology doesn't progress, you're choking the industry from growing."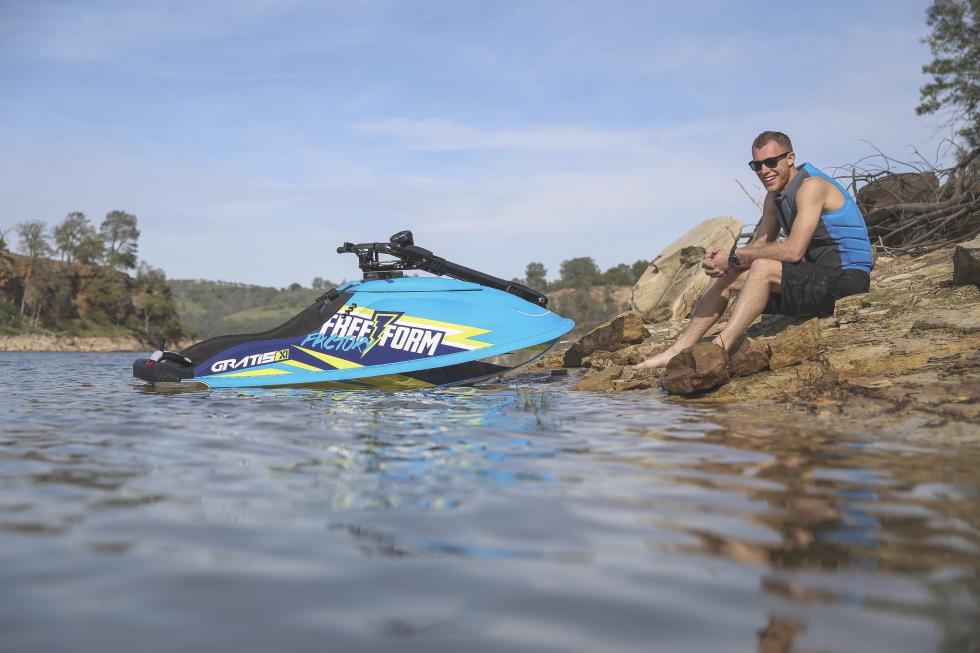 Ken Tallo was one of the early investors, part of a group that contributed the initial $500,000. He had started and invested in other companies before, but never a jetskiing startup. But Tallo didn't see Free Form Factory as merely a watercraft company.
"This is well beyond watercraft," says Tallo, who now unofficially consults the team on business development. "I look at the company as an advanced manufacturing technology company. We can go into transportation, aerospace, so many different directions."
Darling also saw the potential of Free Form Factory as a manufacturing technology company, which would ultimately use material advancements and composite innovations across several commercial industries.
With a proprietary polymer material and manufacturing process, Darling believes his high-performance watercrafts will be game changers. The first model, the Gratis X1, is touted as the first zero-emission personal watercraft. Unlike gas-powered watercrafts, Free Form Factory's model can access most of the world's waterways without restrictions. You could ride this watercraft in Lake Tahoe, for example, and still "Keep Tahoe Blue."
The material used in their designs is stronger and lighter than fiberglass, which appeals to Brandon Lawlor, a professional rider from Redwood City. But he noticed many other advantages when he tried out Free Form Factory's watercraft. The wider stance, Lawlor says, makes it much more stable than traditional designs without sacrificing performance during freeride competitions.
"The stability and quickness of the hull makes spinning 360s in the wave very easy," he writes in an email while training in Europe for the IFWA World Tour (International Freeride Watercraft Association). "I think this is a great ski for all levels from beginner to expert."
Lawlor praises the design for its buoyancy, which allows him to land tricks easier. (The hardest trick he's ever done was the double barrel roll.)
But the durability of these new models is the main draw, and Darling knows that. Freeriders can experience it firsthand, but for all the skeptical ones or non-wave-chasing types, he needs to demonstrate this another way. This is why, when he showcases Free Form Factory's watercraft, Darling will smack the hull with a sledge hammer and declare to potential investors, "Ours can take the beating."
Do you know an entrepreneur who has what it takes? Recommend their company for our "Startup of the Month" here.