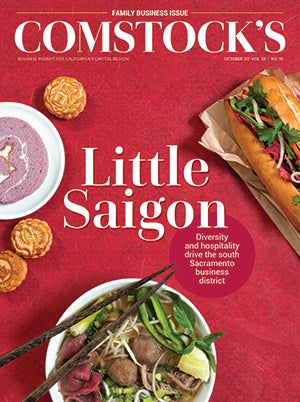 This story is part of our October 2020 family business issue. To subscribe, click here.
Mike Esparza's father, Joe Esparza, started Roseville Insurance Agency in 1989. Five years later, he gave the business the name All-Cal Insurance Agency. Mike says the All-Cal name had previously been used by a Japanese American man who started a firm during the 1940s or early '50s for Japanese Americans in California who were unable to get insurance through other agencies. This was an era of rampant discrimination against people of Japanese ancestry.
Joe purchased that firm in 1971, but eventually closed the business, and somebody else acquired the name. When he learned the name had become available again, he scooped it up.
"We insure a lot of nonprofit organizations, because they were the underserved population in the state — actually, all over the country," says Mike, president of All-Cal Insurance Agency and owner since 2015. He says nonprofits had a "very hard time getting insurance in the '80s and '90s, and even a little bit today." Nonprofits make up 97 percent of All-Cal's clientele; the business is licensed in California, Nevada and Idaho.
The youngest of three brothers, Mike joined the agency at 22 years old in 2002, after a stint in college (his brothers pursued other careers). He earned his life and property and casualty insurance licenses, which he says were basically equivalent to a college degree for his field, and gleaned most of what he knows on the job. "I followed in my dad's footsteps, learning a lot of things, as I remember it, through just osmosis," he says.
In 2015, Mike and Joe had a conversation about succession planning. Mike was nervous to bring it up because he didn't want his father, who was then 70 years old, to feel pushed out. "But at the same time," Mike says, "I felt like I needed to start running things the way I wanted them run. … To his credit, he totally understood it, he knew it. He was just waiting for me to have the courage to step up and ask."
"I felt like I needed to start running things the way I wanted them run. … To his credit, he totally understood it, he knew it. He was just waiting for me to have the courage to step up and ask."

Mike Esparza president and owner, All-Cal Insurance Agency
Over the course of a multiyear transition, Mike started implementing changes, which included renovating the All-Cal office in downtown Roseville, paying off debt, modernizing financial processes and cleaning up the data-management system. Much of this was handled by Mike's wife, April Esparza, who joined the agency in a limited capacity in 2011. She left her job as a legal clerk at the City of Roseville in early 2019 to work for the business full time as account executive, managing its day-to-day operations, with the assistance of four support staff members. She now has her property and casualty insurance license.
"The best part of working for a family business is being able to share another aspect of your life with family," April says. "Sharing and achieving professional goals together is very fulfilling. The most challenging part is maintaining a work-life balance. It's really easy to let work consume our thoughts and conversations, so we make a conscious effort to limit how much we talk about work when we are at home. We are a better spouse, parent and coworker when we take a break from work and spend time enjoying other aspects of our lives."
Joe retired from the business two years ago, although Mike still calls his dad occasionally with questions. One thing the son hasn't changed is All-Cal's focus on nonprofits, even if there are more lucrative routes to take. Since the coronavirus pandemic began, the agency has been restructuring clients' policies to reflect their diminished operations. So these clients are paying less, which means the agency is earning less, and revenues are down. Mike says he's grateful that one of the first steps he took upon becoming owner was to pay off the company debt, which would be stressful to carry during a recession.
Mike is thinking about whether one day he will pass the family business onto his sons who are both teenagers, but says it's too soon to finalize plans for the future. "I also want to let them decide and see where life takes them in the next 10 years."
—
Stay up to date on business in the Capital Region: Subscribe to the Comstock's newsletter today.
Tens of thousands of acres of almond orchards are pulled up each year in California. Knotty Wood is out to put those trees to better use.

The Granite Bay farm was established in 1911 by a Japanese immigrant and is still run by his descendants, including his 104-year-old daughter.

Clint Hopkins and his husband Joel Hockman are the current owners of Pucci's Pharmacy in Sacramento, a 90-year-old business with a long history of inclusion.