Chris Barnum-Dann is meticulous, driven and creative. A little OCD with a rocker persona, those close to him say, but in a way that's an asset for the man focused on shaking the Sacramento culinary scene. He's unapologetic about his restaurant's changing menu or pricey offerings. Barnum-Dann is making his mark, not pleasing the masses.
"Why fight for the majority when the minority wants somewhere to eat?" says the 35-year-old executive chef and owner of Localis, a high-end New American, farm-to-fork restaurant in Midtown that celebrated its two-year anniversary in July.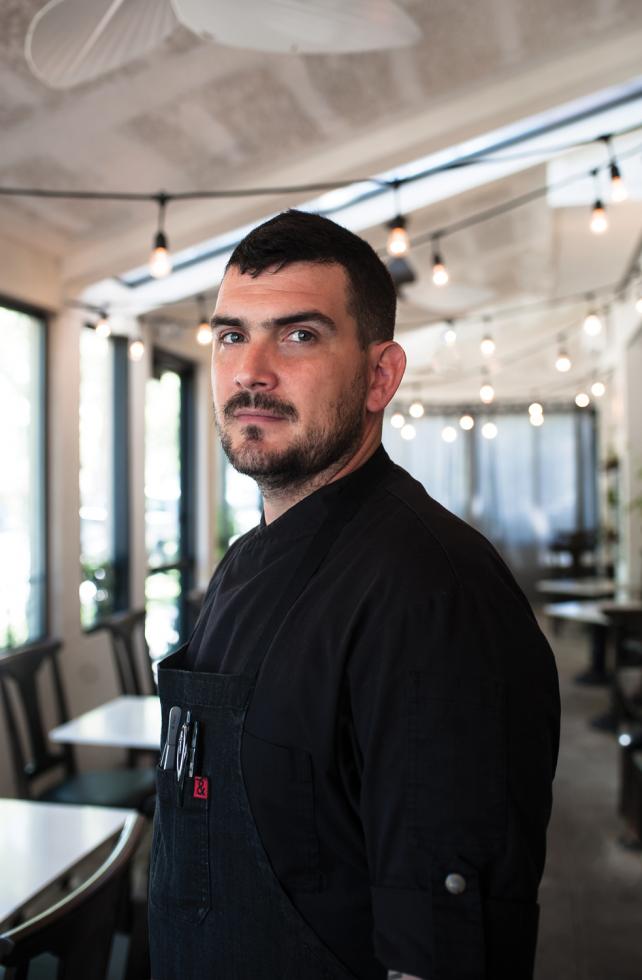 Jeb Burton, one of several Localis investors, says he fell in love with Barnum-Dann's cooking immediately. He credits the chef with understanding wine pairing on a level that's rare in the industry and admired by wine makers. "No one has his flair, presentation style and ability to mix ingredients the way he does," Burton says. "His palate and understanding of food is way beyond 99 percent of the chefs out there."
Barnum-Dann has already achieved local celebrity chef status — he's one of six lead chefs selected to create the annual Tower Bridge Dinner on Sept. 24. But culinary conquest on a broader scale is what drives the self-described "small-town kid with big-city aspirations" who was raised in Foresthill.
He wants to attain Michelin Star status within the next five years and to win a James Beard Foundation Award, considered the Oscars of food, which honor the finest chefs, restaurants and other food professionals nationally. While at it, he wants to see Sacramento flourish as an arts, agricultural and food hub, with his destination restaurant playing a pivotal part in that transformation.
"I'm going to stick to my guns and create without boundaries. I'm OK with not being safe."Chris Barnum-Dann, owner and executive chef, Localis
"My goal is get Sacramento higher up in the food chain," he says, adding he wants to retain a fun, lively kitchen and work environment.
He has experienced tedium — no talking, joking or laughing, just silence — in restaurants he's worked at briefly for free (known as staging, a French word pronounced staahjing) abroad that offered superb techniques and ingredients, but scared him away with their structure and sterility. As a former death metal drummer, guitarist and vocalist, Barnum-Dann says he has to hear music to work. And have space to innovate.
"I'm going to stick to my guns and create without boundaries," Barnum-Dann says. He is adamant that his restaurant won't capitulate to the masses and serve predictable dishes. "I'm OK with not being safe. If I were to lose my restaurant tomorrow, it'd be OK because I'd get another job."
Sticking to It
From age 17 to 25, Barnum-Dann toured North America with his band Dismal Lapse as a guitarist, drummer and vocalist. He also spent several years as an electrician. Before Localis, he was executive chef at Winchester Country Club outside of Auburn, Cibo 7 in Roseville, Wise Villa Winery in Lincoln and he worked at Ten22 in Old Sacramento.
Now married with three children and living in Auburn, he's manifesting a vision for Localis that took root six years ago, down to the details of the sturdy menu paper patrons could easily grasp.
"I wanted somewhere that served fine-dining food, with great service and a wine list, but without the snootiness and pretentiousness of a lot of fine-dining restaurants," he says. "A restaurant that would showcase how I like to dine when I go out."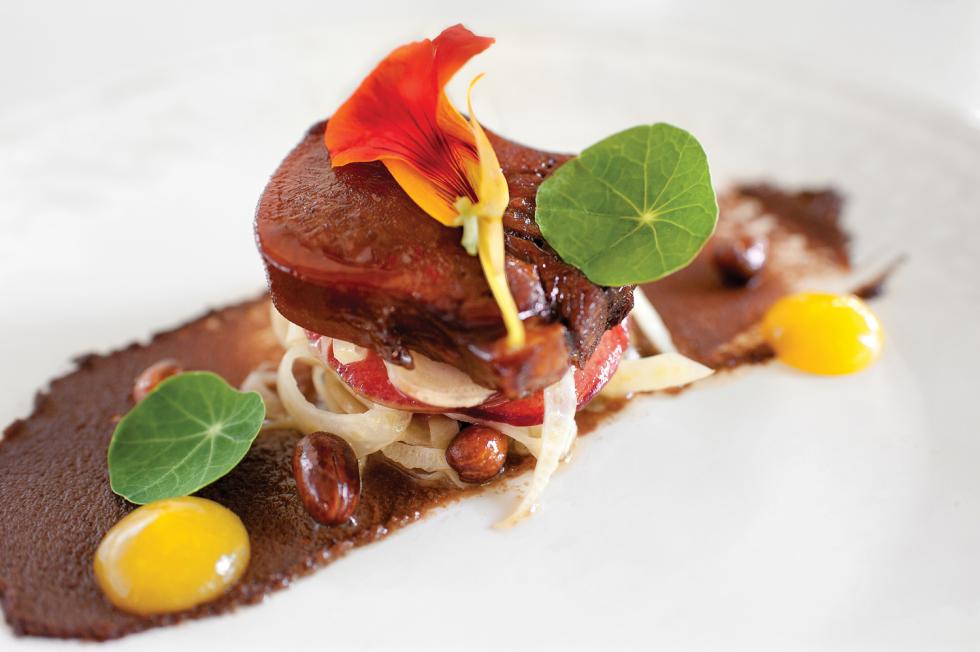 The Localis menu is atypical — on any day there could be lamb, rabbit, octopus or swordfish — and its tasting menu switches daily. "One thing Localis will never be is stagnant," Barnum-Dann says. "We tell people, 'Fall in love with us, not in love with the dish, because it could change tomorrow.'" Prices are considerable: $79 for the tasting menu, $12-$25 for "Lite Fare" items on the dinner menu, and increasingly pricier main dishes.
"Chris is the embodiment of the spirit of local farm-to-fork in Sacramento," says Kari Miskit, public relations director at Visit Sacramento, which hosts the fancy, $200-per-head Tower Bridge Dinner fundraiser for the free Farm-to-Fork Festival. "He's created this magical little niche in the neighborhood — he's so passionate about the local food scene that he took over the restaurant."
The restaurant opened in 2015 on the corner of S and 21st streets under the ownership of Broderick Roadhouse's Chris Jarosz, who wanted to feature Italian food but gave Barnum-Dann the autonomy to execute his dream as executive chef. In a changing of minds, Barnum-Dann says that freedom was quashed when he was told to scale down his higher-end cuisine concept.
The morning of Sept. 9, 2016, with the help of investors, Barnum-Dann bought out the original owners — to the tune of roughly $100,000 — and opened the same day for lunch. He realizes the risk to his family and friends (his wife, Jessica, recently came on part-time to do accounting) of such an investment and going it alone. "I try to stay very humble and grounded," he says. "I know it can go away in the blink of an eye." Despite a slow week here and there, Localis is operating in the black. Barnum-Dann tries to be smart about business expenses, fully cognizant that excessive spending often destroys restaurants. He knows what every item on a plate costs, but is aware of the bigger picture. "If it gets to the point where a dollar makes a difference, we're doing something wrong," he says.
Staying Fresh
Barnum-Dann wears black cargo shorts and black closed-toe Birkenstocks with black socks. His T-shirt features a death metal band out of England called Carcass. He's got short, dark hair with wisps of gray coming through, and a short beard that frames his face.
Other than his personality, the most colorful part of him is his arms, which display intricate tattoos — an octopus playing a pile of vegetables as if they were a drumset on his left forearm, and on his right what he calls a "west walking rose" (also the name of his limited liability company that owns Localis) in tribute to his children Weston, Walker and Emma-Lee Rose.
As a point of clarification, Barnum-Dann explains that the Localis investors are in a limited; partnership agreement with the LLC. So he maintains ownership and control.
Barnum-Dann is constantly eating at other Sacramento restaurants, and when he has time to explore other cities, such as a recent trip to Portland, he wastes no belly space while observing what works well and what doesn't. He'll soon be staging again, hopefully at Alinea in Chicago, and supports his employees who do the same, such as one who recently returned from The French Laundry in the Napa Valley.
As far as hiring, he says he only selects people who specifically want to work at Localis, not those who just need a job. He's present at his restaurant; his face is often the first you'll see in the open kitchen. He emphasizes Localis isn't an in-and-out, order your regular meal and never try anything new, kind of establishment. It's about the experience, a journey of the senses.
"When people leave and are blown away, it's worth everything," he says. "It's about feeding people. I love to feed people."