Since late 2010, following the completion of a multimillion-dollar remodel, management at Enotria Restaurant & Wine Bar has been in pursuit of creating Sacramento's ideal dining experience. Managements goal was to bring together a team of professionals with complementary talents and skills that would accentuate the modern-retro ambience of the Del Paso Boulevard eatery.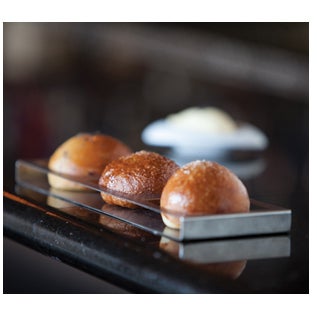 General Manager Michael Coyne has spent much of the past year building an all star team. The final selection was up-and-coming local Chef Pajo Bruich.
Pajo Bruich: "What we saw in Pajo was an extremely talented, incredibly imaginative chef who didn't have a home. I feel [Enotria] is the place where he is going to truly establish himself," Coyne says. "All of our food is farm-to-table fresh and of the highest quality you can imagine. And with Pajo, that food is now re-imagined to be something incredibly different. He brings a serious wow factor to the menu."
Throughout Northern California, Bruich is becoming known as the modern guy because of his ultra-artistic approach to food presentation, a detailed production of evaluation and planning. According to the chef, it takes up to two days to prepare most menu ingredients, so he and his staff work six days and week, up to 16 hours a day perfecting his New American menu.
Bruich traces his incredibly detailed and often scientific approach to food to his lifelong interest in arts and drafting. In college he earned a degree in industrial design with a minor in business, and then he went to work for his moms restaurant repair and service company. Still, he sought something more creative.
"Food and meals were always an integral part of my family life. Both of my grandmothers were great cooks. My mother owned a couple of fast-food burger places in the 80s, so I was exposed to the business of cooking food and serving people at an early age," he says.
In 2005, while contemplating how to enter the culinary industry, Bruich started cooking and putting on dinners at home for friends and family. The occasions quickly became more elaborate while growing in popularity and frequency.
"At some point, my wife looked at me and said, You know you have to stop doing this? We cant afford to keep feeding all of our friends," he recalls.
He branched out, taking short internships at restaurants throughout the region. He started a high-end catering business and grew by launching pop-up restaurants. At these temporary sites with rented equipment, seating and dishes, he presented pre-fixed menus over a weekend. With his reputation on the rise, he launched a second business that took him and several other freelance chefs to special events in Napa Valley and Southern California.
It was at that time he was approached by restaurateur Ali Mackani to start his own food program at the former Lounge ON20 in midtown Sacramento.
"The opportunity to really do what I thought was right presented itself. I cashed in all my chips and gave up my personal businesses," Bruich says. "I have to credit Ali for the opportunity. He has been a visionary in all of his projects. I think he saw something in me that was really unique."
While Lounge ON20 received much industry and media fanfare, especially for Bruichs distinct approach to molecular gastronomy, Mackani's business plan simply couldnt' profit. Soon after Bruich left, the business closed.
While exploring opportunities in New York and the Bay Area, Bruich was approached by Coyne.
"We had several conversations. Mike introduced me to other team members. When I really recognized their true dedication and commitment to this project, I realized Id much rather pursue something special here in Sacramento," Bruich says.
Michael Coyne: But before he stepped into the kitchen in early September, seasoned team members were bringing their own flare and expertise to the 16-year-old restaurant. Coyne himself was an integral part. He began his endeavors in the hospitality industry while young, working for the family business, the historic Delta King hotel and restaurant. He bussed. He served. He swept floors. He did leave town for college but returned with the restaurant business still in his blood.
"I decided this is what I was passionate about," he says.
Along the way, Coyne added some skill sets. Hes a member of the Guild of Sommeliers. He gained fine dining experience at the Supper Club working with Chef Matt Woolston. Back at the family business, run by his uncle Charley Coyne, he managed the Pilothouse Restaurant and the Delta Bar and Grill. In June 2011, the Enotria position opened up.
"It was the opportunity of a lifetime," Coyne says. "While the restaurant was successful, the owner (David Hardie) was looking for new ideas and directions to go with the newly rehabbed and expanded facility."
Matthew Lewis: In October 2011, Matthew Lewis brought his wine expertise to Enotria. Certified by the Court of Master Sommeliers, he has worked in the fine wine and culinary industry for nearly 20 years.
"I haven't done much other in my life besides food and beverage. I've worked in every aspect of the industry, from dishwasher to GM. I definitely found my niche with wine," Lewis says.
For 10 years Lewis worked at fine-dining establishments in Colorado and Las Vegas. When he arrived in Sacramento, he put in a short stint at the Slocum House just before its untimely demise. Then he had the good fortune of landing at the Firehouse Restaurant in Old Sacramento under the tutelage of longtime general manager and wine director Mario Ortiz.
"Mario is a wine Yoda to me. Hes an amazing person to know. I dont know anyone who has been in the business as long as he has. Especially in one location," Lewis says.
Lewis admits it was a difficult decision to leave the Firehouse, but it was made easier by the encouragement of Coyne and Enotira Dining Room Manager Emily Turner.
"It has been great fun working with this crew. The Enotria wine program has always had a great reputation. I was given the chance to elevate the program a little bit, in the bottle shop, the wine bar and the dining room. Pajo was the missing ingredient we all wanted. His imagination is going to challenge me to be that much better," Lewis says.
Emily Turner: Turner's route to Enotria is slightly different. As a child, she spent hours reading Emily Posts Book of Etiquette and planning dinner parties for her parents. After graduating at the top of her communication class at Sacramento State, she traveled around the country as a personal assistant.
Five years ago she returned to the capital. She met Lewis while working at the Slocum House and then crossed paths with Coyne at the Delta King. After the remodel was completed, which added private dining rooms, the wine bar and a private courtyard, Enotria was in need of a special events coordinator. She answered the call.
"The impetus behind the remodel was to provide space for special events," says Turner. "We now have the ability to host private and public events, wine dinners and wine tasting all at the same time if necessary."
According to Coyne, all this team-building has been about creating the Enotria experience.
"The team assembled here is really an extension of our vision. If you look at our location, were not right smack dab in the middle of midtown like most of the successful Sacramento restaurants. But I think that helps set us apart," Coyne explains.
"We want to be doing something different, but not just for the sake of being different," he continues. "From the front of the house to the back of the house, from management on down, everyone here is passionate about providing a unique experience for our guests. Something that is memorable and exciting."
Six months ago, Kevin O'Connor hit a wall. He had a good job in a good kitchen, but his body was exhausted and his passion was gone. So, at 24, he decided to step down as the chef of the now-shuttered Blackbird Kitchen & Bar and dig for a new plan.
It took a year of arduous twists and turns, but Matt Sin and Krissy White finally got what they wanted. The business partners and co-owners of the just-opened Foundation Restaurant & Bar at Fourth and L streets in downtown Sacramento have an eatery of their own. It's a sweet relief to be sure, because the story behind it is rather unsavory.