"There is an old adage that we eat with our eyes," says John Weatherson, co-owner and co-chef, along with wife Nyna, of Restaurant Trokay. In his experience, the brain is conditioned to pre-determine the quality of a dish's taste by the way it looks, and how a dish is plated ultimately helps to maximize the diner's gastronomic experience.
Located in the historic district of downtown Truckee, the couple's culinary creations at Restaurant Trokay take center stage, but the presentation is no afterthought. Their food plating has been heralded as fastidious by a number of critics and well-known media outlets, including Sunset Magazine and The New York Times. "In the guest's mind, they have an expectation of what they will get," Weatherson says. "We like to build on that and surprise them."
Like fashion trends, food presentation styles come and go, running the gamut from artful to absurd, and everything in between. But the philosophies chefs employ in their approach to food presentation demonstrate just how critical it is to the customer's overall dining experience.
Following successful stints in some of New York's finest restaurants, the pair were ready to strike out on their own. They drafted a short list of places they might go; well-known locales in Spain, Norway, Denmark and London rose to the top. They also considered California. Having married in Tahoe at a destination wedding years earlier, the couple found themselves drawn back to the area. After initially taking over an existing 1,000-square-foot café, they moved to their own 4,000-square-foot location in downtown Truckee to focus on their original intent: to create a destination, fine-dining restaurant.
The duo is known for serving complex, sustainable and extremely beautiful food, so presentation plays a significant role in their constant pursuit of perfection. "There is no question that food presentation has an impact on the customer," says Weatherson. "How the food is presented will determine how it will be eaten and how it will look in the guest's eyes."
To create an impact, the chefs use texture, color and negative space. Weatherson also employs symmetry and asymmetry along with height to create visual interest on the plate. The pair uses white plates as a blank canvas to best highlight the food, but they aren't afraid to plate on natural stone, slate or plant life indigenous to the region. For one of their starters, charred manzanita limbs are filled with black rice chips dusted with green phytoplankton, then placed in the crooks of the branches. "They almost appear mossy," Weatherson says. "I like to look for the element of surprise in the dining experience. That's very important."
"There is no question that food presentation has an impact on the customer. How the food is presented will determine how it will be eaten and how it will look in the guest's eyes." John Weatherson,owner, chef, Restaurant Trokay
To create beautiful presentations with focused flavors, he centers each dish around three to four flavors. Then, with each flavor, Weatherson employs a multitude of techniques to create dishes that are both dynamic and unique, like using shaved baby fennel that stands up like an appendage or dotting the plate with diamonds made with the skins of confit meyer lemons. "We want to give our customers that extra treat, that extra bite —– one more experience that they are seeking — through amazing visual interest, depth and complexity," he says.
Michael Warring, a graduate of the Culinary Institute of America in New York, hails from the same East Coast restaurant scene as the Weathersons, where he honed his skills at a number of high-end establishments before heading to California. His first venture is Michael Warring, a restaurant he launched with partner Ali Gulczynski, located on the edge of Vallejo in the golf course community of Hiddenbrooke. The restaurant has just 18 chairs that once filled, don't turn over. When guests come for dinner, it's for an evening-long culinary experience which includes a prix fixe, multi-course, 2-hour-plus affair. Everyone in the dining room is treated to a ringside view as Warring cooks 5-course dinners from his stage-like kitchen. "Food presentation is important, but never at the expense of the product," says Warring.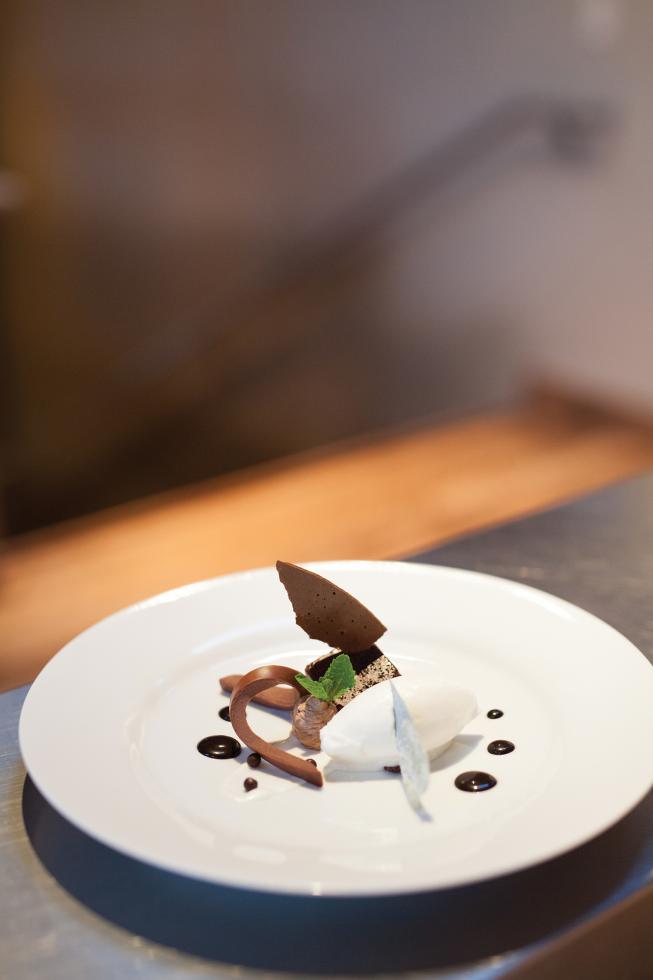 When preparing the menu, Warring and Gulczynski start with a selection of ingredients and work backwards to create their line-up of dishes. "The ingredients we are cooking with dictate how [a dish] will be presented on the plate," Warring says. "Things have a natural shape. Certain parts need to be trimmed and discarded to get at the best part of the food items. The way an ingredient is processed, handled or cooked might alter the shape or color."
Warring follows his own unique process when designing and developing dishes — one he's worked hard to hone over the years. He starts with awareness, pulling apart and identifying ingredients. The next step is inspiration, where Warring will query individual ingredients to create an idea chart and gather information, such as checking to see if he already has something like it or if somebody else has already used them in the way he imagines. The next two steps, interpretation and analysis, allow the chef to keep what he likes and discard the rest. The last step is what Warring calls evolution, where he refines the dish and improves upon it.
At the restaurant, Warring does most of the cooking while Gulczynski handles the plating, seating and explanation of dishes. For Warring, plating is the very last step. "Every little thing we are doing at this point is going to be seen, so it needs to create an exceptional first impression," he says. "This is where we set the stage for the remainder of the evening."
For Kelly McCown, executive chef at The Kitchen in Sacramento, every restaurant will have a slightly different take on food presentation. A veteran of the culinary scene for 27 years, McCown received his training at the California Culinary Academy and perfected his craft in some of San Francisco's finest kitchens before moving to Seattle. There he worked with culinary mastermind Scott Carsberg, preparing modern but simple cuisine. Turns at an Asian-fusion restaurant, a wine bar and his own Michelin-starred restaurant taught him the art of intuitive food presentation when plating for an audience.
"Food presentation is not solely an artistic endeavor," says McCown, "but rather takes into consideration a number of factors, like the genus of the restaurant, what someone is eating and the influences of the region and dishes."
For McCown, the flavor sets the memory. When approaching presentation, he considers what the patron is eating and how they are going to eat it. While working at Wine Spectator's Greystone Restaurant at the Culinary Institute of America in Napa Valley, he used a minimal, no frills approach to reflect the establishment's causal wine country vibe. At The Kitchen, the atmosphere is very celebratory and marries dinner-theater with fine dining. The demographic is varied and might include a young couple and a multi-generational family, so it's important to stay flexible and relevant with the food and dining experience.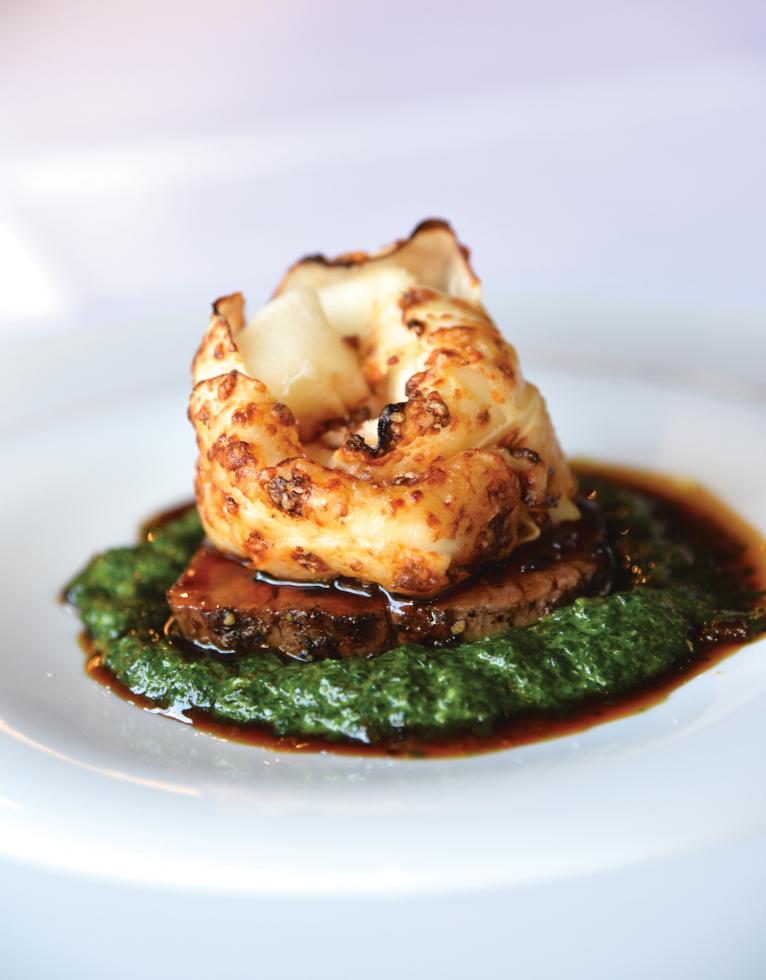 In one evening, McCown and staff may be serving as many as 50 people the same course all at once, so the flow is more akin to a dinner party, which influences the presentation. Many of the dinner-theater "acts" require audience participation, so the process is fluid. "For the construct of The Kitchen, I generally like to have no more than four to five touches on the plate," says McCown. "So I try to keep it beautiful but simple."
Sometimes McCown chooses to serve a dish tableside, or individually plate carved roast beef on smoked and charred maple cutting boards. Guests also come to The Kitchen to be entertained, so McCown and his staff ultimately play host as well, adjusting the plating and presentation based on the menu.
"But a lot of it is intuitive," he says. "Ultimately, the dish has to tell a story; otherwise it's just food on a plate."