Immigration attorney Tiffani Sharp's life shifted after her 5-year-old daughter, Willow, asked her a question. Her ex-husband, Willow's father, was getting remarried in 2014, and Sharp was genuinely excited for him. They were still friends, peacefully co-parenting.
Willow asked her mother when she was going to remarry, and Sharp said she didn't want to — she was happy. But her daughter didn't buy it.
"She was like, 'No mommy, you have me, but you need your own life,'" Sharp remembers. "I hadn't traveled in five years. I was like, 'Fine, I'm going to go to Kenya.'"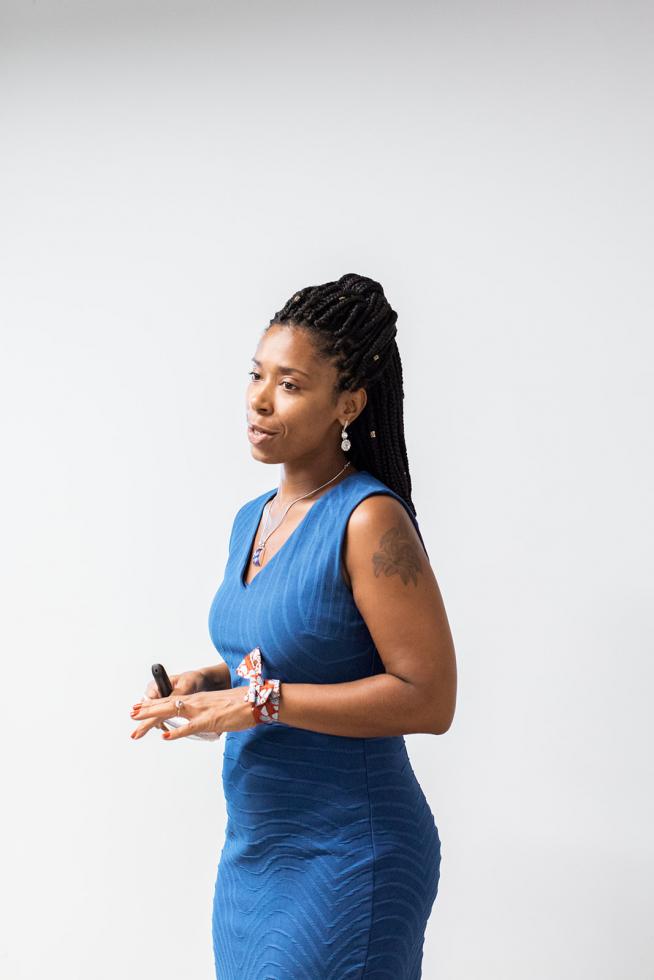 Ultimately, what Sharp learned from working with women in Kenya would prompt her to found the Power of SHE earlier this year to bring opportunities for entrepreneurship to women of color in Sacramento. The 10-week program teaches a tight cohort of businesswomen how to launch their startups, get a loan, market themselves and form a business plan.
The first cohort of 18 participants graduated July 27, when they pitched their ideas at the Urban Hive for the chance to win a $1,000 grant. Ebony Chambers ended up winning with her pitch to launch a subscription service for Healing Grace Studios, her business which uses indigenous practices to promote wellness. The monthly service will send boxes of products from local artisans and makers, along with self-care instructions and wellness tips, to patrons who want to become members.
"Although I founded Healing Grace Studios prior to starting the program, there were still many aspects of business I had not yet learned," Chambers says. "As a woman of color, I found my resources limited, and the Power of SHE created a platform to understand what resources were available and how to best leverage them."
Always an Entrepreneur
Sharp, who grew up in Sacramento, became an entrepreneur at the age of 10, when her mother taught her how to sew. She made Cabbage Patch doll clothes to sell to other kids, netting a revenue of $110.
"That was my first glimpse of what being in control of my own business provided me," she says. "The freedom. I could do whatever I wanted with that money and it was mine and I bought two Cabbage Patch dolls."
Fashion and textiles became her first passion, and she was determined to attend Pratt Design School in New York. "My father is business savvy, he was like, 'You need to get a business degree before you follow all these passions because as a black woman you need to have a backup plan. You need to be hirable, and you're going to have to work twice as hard as a woman and five times as hard if you're black.'"
After graduating from Sacramento State with a degree in business marketing, Sharp worked in sales and was "bored and miserable." On a lark, she applied and got accepted to McGeorge School of Law. Sharp began working in an immigration law firm, but was let go in 2005 when finances ran thin. She continued working with a few of her former clients and has been self-employed ever since.
Then during that trip to Kenya in 2014, Sharp taught a class on health care body products to HIV positive women, an opportunity she found through a friend working in the community. She was floored by the questions students asked. They had been ostracized from their communities after their diagnoses, told they'd never be successful, Sharp says, but they were asking her whip-smart questions about how to start a business.
"It really unsettled me in my mind because it's not what I expected," Sharp says. "They were asking brilliant business questions. If they had the resources and education, they could be savvy business women. Having worked in corporate businesses, I was like: These are some of the smartest women I've met."
So that same year, Sharp started Willow Tree Roots, a nonprofit organization that teaches women in Kenya — and now Peru and Nepal — how to launch their own businesses, with a focus on textile and garment-related businesses. Sharp split her time between those countries and Sacramento, eventually signing up for a membership at the coworking space the Urban Hive.
"I started looking at the local entrepreneurs, I lifted my head out of this international cloud and became more focused on my home," Sharp says. "And I was like: Where are the entrepreneurs who look like me? Where am I in this? I don't see myself."
After incubating the idea for over a year, Sharp launched the Power of SHE this past January. "Women of color entrepreneurs, we get lumped in with women and with people of color, but women of color are a specific subset that gets missed out," she says. In other words, funding opportunities and grants for businesses exist specifically for women and for people of color — but not specifically for women of color. "We get the trickle down of resources everywhere."
Shoestring Incubator
Sharp poured her own money into launching the Power of SHE after getting turned down for community-based grants. Her next task was finding a space for the program. The Urban Hive offered to donate a room for the meetings to take place every Saturday for 10 weeks. "From there it fell into place," she says.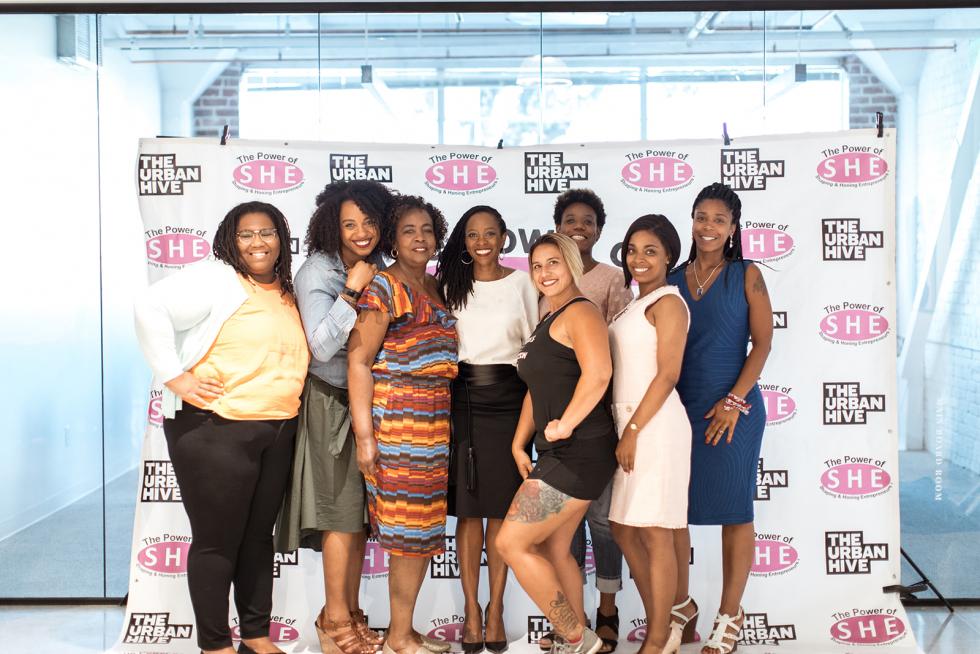 Software developer and class participant Nikema Prophet had tried other startup weekends and the Founder Academy in Sacramento, but says she found a new kind of support through Power of SHE.
"It's the experience of fitting in this room and not being the minority — it's something I hadn't experienced before, but afterwards I was like, 'Yeah, I need this, it's energizing and affirming,'" Prophet says. "It means so much to feel like you can bring your whole self to the process — not that you have to catch up or think about how someone might perceive you as a woman or a woman of color."
Prophet is launching PopSchools, an online education community that uses blockchain and bitcoins as funding. Prophet says she learned from Power of SHE that she deserves to get paid for her business and her work — even if it's for a good cause. She also learned from Sharp that a bombastic personality isn't required to launch a business.
To provide these kinds of insights, Sharp coordinated several guest speakers, including leadership consultant Jennifer Manuel, Sacramento Small Business Development Center adviser Kyle Kaneshiro and Northwestern Mutual financial rep Shayne Corriea-Fernandez. Laura Good, cofounder of StartupSac, helped her connect with the experts. Good says she was impressed with Sharp's gumption, adding that she opened Good's awareness to the need for a program specifically for women of color in the area.
"Once she gets something on her mind that's important, she executes," Good says. "Tiffani saw a need and decided to do something. That attitude is going to make this program successful."
To make the Power of SHE financially sustainable, Sharp had applied for area grants and was frustrated when they fell through. So, when the City of Sacramento's new Rapid Acceleration, Innovation, and Leadership in Sacramento Program started accepting grant applications, she decided to go for it.
This summer, the RAILS program awarded the Power of SHE $66,250. Sharp still needs to raise more money to realize her fullest visions, but she's hopeful. She's energized to see how women of color entrepreneurs can have even large impacts for the health and wellbeing of their communities.
"It's really beautiful to see all of these women of color and what they're doing business-wise — how amazing and resilient, how some of these women are operating from a place of deficiency and still keep going and going and have this optimistic attitude toward success," she says. "And their intentions behind that success — every single one of them wants to do something for their family and community."
After all, the program itself started because of one individual: Sharp's daughter. Willow's advice set her mother on a path to improve women's lives abroad and locally. Now, even more women will have the chance to expand that ripple effect through Sacramento and beyond.