One Saturday in August, a hungry crowd gathered in a South Oak Park auditorium to take part in one of Sacramento's favorite summer activities: waiting in line for food. There was a steady buzz around the station for plant-based Ono Pono, Hawaiian for "delicious righteousness," where chef Ana Mathis scooped tofu poke and poured Roots & Fruits juice that owed its marigold hue to sweet potatoes, carrots, melons and oranges.
At Culinary Mantra's station, proprietors Viji and Raj Gururajan doled out Dixie cups of dal beside a steel masala dabba displaying the color wheel of spices in the dish. The other 14 food businesses included a Roman-style pizzeria, two sourdough bread bakers, a Filipino caterer and a pickled-onion brand inspired by both Eastern Europe and Honduras. The auditorium, more often host to dance recitals and half-court basketball games, rarely smelled so enticing.
The event was neither part of Sacramento's endless calendar of food festivals nor a test run for its latest trendy market hall, but a different kind of testament to the city's interest in farm-to-fork innovation: the first graduation ceremony for the Alchemist Microenterprise Academy. Operated by the nonprofit Alchemist Community Development Corporation, AMA is a business training course geared toward food entrepreneurs from underserved communities. It's the first chapter in the organization's sweeping vision for Alchemy Kitchen, a startup program slated to launch its incubator by the end of 2019 and open a commercial kitchen space by 2022.
One of the most active players at the graduation ceremony was Alchemy Kitchen project manager Jacob Sacks, who flitted from station to station during the sampling session. Sacks doubles as the administrative manager of Alchemist Community Development Corporation, an organization that connects underserved communities to local food, land and related opportunities. He has spent most of his time with the organization working through the logistics involved in connecting CalFresh recipients with local farmers markets.
"It's a great program, and it's helping food access in the area," Sacks says of Alchemist's CalFresh initiative, "but something that it's not doing is helping people develop economically to get off food stamps. … As an organization, we're looking to do something that touches on economic development a little more directly."
The seeds for this direct economic development were planted in 2015, when Alchemist's board of directors began discussing the possibility of transposing the success of San Francisco's La Cocina incubator to the capital. La Cocina, which will celebrate its 15th anniversary next year, still makes headlines for its dedication to women entrepreneurs from low-income and immigrant backgrounds. The incubator has launched dozens of food businesses, and select La Cocina products are on the shelves of Whole Foods throughout Northern California. Its rigorous application process weeds out all but the most promising business plans; only 2-6 businesses are accepted each year.
In contrast, the first round of AMA "accepted almost everyone who applied," says Sacks, despite an informational session loaded with warnings about the tribulations of the food business. The 16 participants paid $200 for the course, with the exception of four who received scholarships through a Sacramento Building Healthy Communities grant. Over the 10 sessions, 20 guest instructors passed through the AMA classroom, including university professors, Sacramento County Health Department representatives and local food scene leaders such as SactoMoFo CEO Paul Somerhausen. Each had a little more than an hour to run through topics with ambitiously broad titles such as "Product, Price, Placement" and "Financing a Food Business."
"It was a bit challenging, because essentially I had a very limited amount of time and a lot of things I wanted to tell them," says Kristin Kiesel, a UC Davis professor who authored Alchemy Kitchen's feasibility study and who attempted to condense all the main points she might cover in a quarter-long college marketing course into her allotted hour. Still, she found the experience rewarding. Compared to her university classes, "You have to spend less time trying to convince the students that what you have to say is important and relevant to them," she says. "Everybody there already knows that it's relevant to what they are doing, so you have that instant connection and excitement."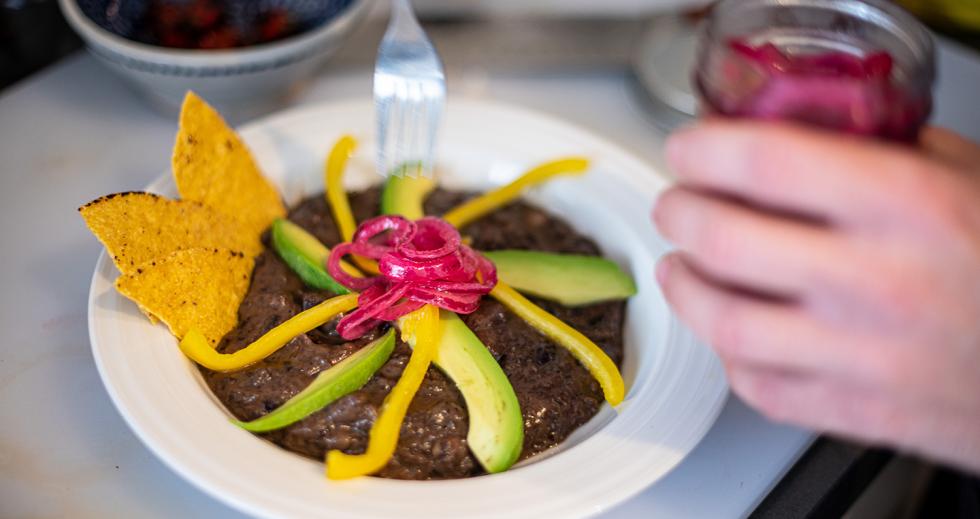 Several participants, including Ana Mathis of Ono Pono, count Kiesel's presentation among their favorites. Mathis is one of the most experienced members of the cohort — she ran Ono Pono as a cafe in Mendocino County for seven months — but she approached AMA like a neophyte. "A lot of people are popping up with great food ideas, myself included, without knowing the background and everything that goes into it," she says. "Through the class with (Kiesel), I realized how important marketing is."
Before the end of this year, Alchemy Kitchen will open applications for its incubator program. The application will only be open to AMA graduates, the majority of whom have told Sacks that they want to join. There won't be space for everyone, though. "We'll probably only take a couple," Sacks says, with the hint of an apology.
One crucial element will be missing when the incubator opens in December: the kitchen. Most of the AMA alumni are developing products that can't be sold legally if made at home. There are a few exceptions; Viji and Raj Gururajan can sell their home-packed spices under the Cottage Food Law, for example, but they won't be allowed to gross more than $50,000 a year. The rest must make their products in commercial kitchens inspected and approved by the Sacramento County Health Department.

Alchemist has long hoped to open a commercial kitchen space, but that goal is still years away. Kiesel's feasibility study predicts the kitchen will require a $2 million annual operating budget for the first 3-5 years, at least half of which should come from grant funding the organization has yet to acquire. Almost every week, Sacks gets an email from someone assuming that a program called Alchemy Kitchen has a kitchen. "There's just so much demand," he says. "I'm surprised that there's not someone out there with a few million dollars to spend that can just build a kitchen, because it seems like a really good opportunity."

Alchemy Kitchen is developing relationships with the city's existing commercial kitchens, including Lulu's Kitchen downtown and the Sierra 2 Center in Curtis Park, in the hopes of helping AMA graduates access one of their sought-after time slots. For now, though, the AMA graduates are using their own connections to find kitchen space.

Christopher Boone Argyros, founder of Boone's Red Onions, plans to perfect his recipe in a friend's Midtown Sacramento restaurant. He dreams of seeing his pickled onions, developed with help from the Honduran asylum seekers who live in his home, among the many pickled things for sale at the Sacramento Natural Foods Co-op. "Sacramento has an incredibly supportive food entrepreneur community, so people have been really helpful in offering suggestions to support me in getting started," he says.

Before long, Sacramento's food entrepreneur community may have a large faction of AMA alumni. Sacks envisions a city full of Alchemist Kitchen-incubated businesses "that we can point to as real success stories of people who didn't really know how to start a food business, came into our program and had their development catalyzed," he says. "It's an interesting program, because our success is going to be defined by other people's success."

—

Get this and other stories delivered to your inbox weekly: Sign up for our free email newsletters by tapping here.