STEADY EDDY'S
Owner:
Jamell and Carla Wroten
Where:
5 East Main St.
Winters, Yolo County
(530) 795-3588
Website:
steady-eddys.com/
Founded:
2013
Business:
Coffee café and roasting room
STEADY EDDY'S
Owner:
Jamell and Carla Wroten
Where:
5 East Main St.
Winters, Yolo County
(530) 795-3588
Website:
steady-eddys.com/
Founded:
2013
Business:
Coffee café and roasting room
Why a coffee shop?
Carla Wroten worked at coffee shops during high school and while at Humboldt State, and husband Jamell (Mel) Wroten worked for several national restaurant chains for nearly 20 years, but they never expected to own a coffee shop. While Mel was working as bar manager at Mary's Pizza Shack in Dixon, one frequent customer was Jack Schwab, who lamented about how difficult it had become to run his coffee shop in Winters. When asked if he would ever sell, Schwab said, "Only to you, Mel," according to Carla. "The next day, I went to the shop," Carla says, "and told him we wanted to make an offer. You see, coffee was always my thing, but the restaurant was always Mel's thing. It made perfect sense to jump on the opportunity." They took over Steady Eddy's on Dec. 3, 2013, and acquired their roasting room two blocks away on April 27, 2019.
How's the partnership?
Mel roasts all the coffee for the shop and their wholesale customers and handles repairs and maintenance for the café and roasting room. He also works several shifts at the shop and is the main opener (6 a.m. weekdays, 7 a.m. weekends). "The joke is that he has not slept in years," Carla says. In addition to handling branding, marketing and operations for the business, Carla is the safety and training director for her family's business, Cal Inc., a Vacaville construction company that specializes in asbestos, lead and mold abatement. "The condition of our loan (for Steady Eddy's) was that I maintain my career at my other family business," Carla says. "Since 2004, I have been working full time for my parents and my sisters. … One day, it will be passed down to us, so that understanding plays a role in my decisions for still being involved." In addition to running their businesses, Carla and Mel have two daughters (8 and 7) and a son (3).
Why Winters?
Mel, who grew up in Vallejo, and Carla, who was raised in Vacaville, moved to Winters in 2010 to a house around the corner from Steady Eddy's. "It's a charming town that attracts new families and people that enjoy the feeling of community," Carla says. "We love owning a business in this town. … Winters has evolved greatly (since we bought the shop). … It gets crazy busy during the weekends." On a Thursday morning in November, Mel greets every customer by name and chats with many of them. "It's kind of a meeting place for locals," Carla says. She and Mel are involved in nonprofits — Rotary Club, Winters Friends of the Library, Winters Education Foundation and others — because she says they want to give back to their adopted hometown. "It is a dream come true to connect and impact others in town to love Winters the way we do," Carla says. The area where Main Street intersects with Railroad Avenue features several other popular restaurants, including Buckhorn Steakhouse, Putah Creek Cafe and Preserve, that lure diners from across the Capital Region and contribute to the bustling weekends. And, Carla says, Hotel Winters, which opened in September on Abbey Street, has increased business and foot traffic downtown.
What about the future?
Steady Eddy's serves breakfast and lunch (waffles, wraps, panini, salads) — "It's going really well," Carla says — and also sells bagged coffee, coffee memberships and merchandise (shirts, mugs, pillows) in the shop, roasting room and online. Though they have considered expanding — "We also have talked about Vacaville one day, only because I grew up there and it would make me proud to own a business in the town that shaped me," Carla says — for now, the couple is focusing on expanding their wholesale business. They supply coffee to Pure Grain Bakery, Lester Farms Bakery, Buckhorn Catering and "offices that serve coffee to their employees." Carla says they also are considering serving coffee in the roasting room. "We are thinking it will be a pour-over or French press option," she says.
What about that name?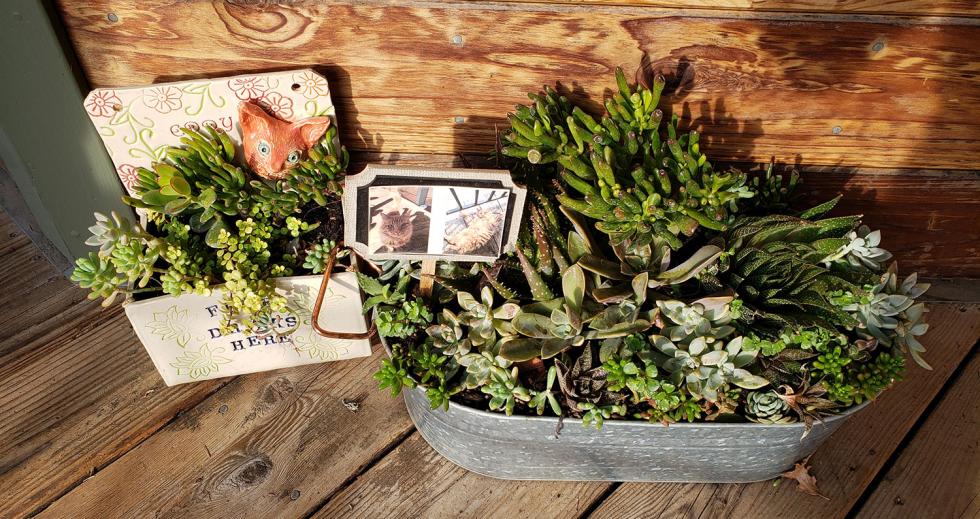 Edmund Lis, who opened Steady Eddy's about 15 years ago, named it after a stray cat who lived under the building and was a steady presence at the business. When Carla and Mel bought the business, Eddy was part of the deal, since he had become such a fixture, and he continued to hang out with regular customers on the porch. But, on May 1, 2018, after the shop closed for the day, a dog that got off his leash went onto the porch and attacked and killed the orange tabby. "The outpouring of love for Eddy after was pretty amazing," Carla says. Eddy won't be forgotten; he's featured in the company's logo and on its coffee mugs.
–
Main Street profiles businesses in our 10-county Capital Region. If you know of an interesting one, please email tcouzens@comstocksmag.com.