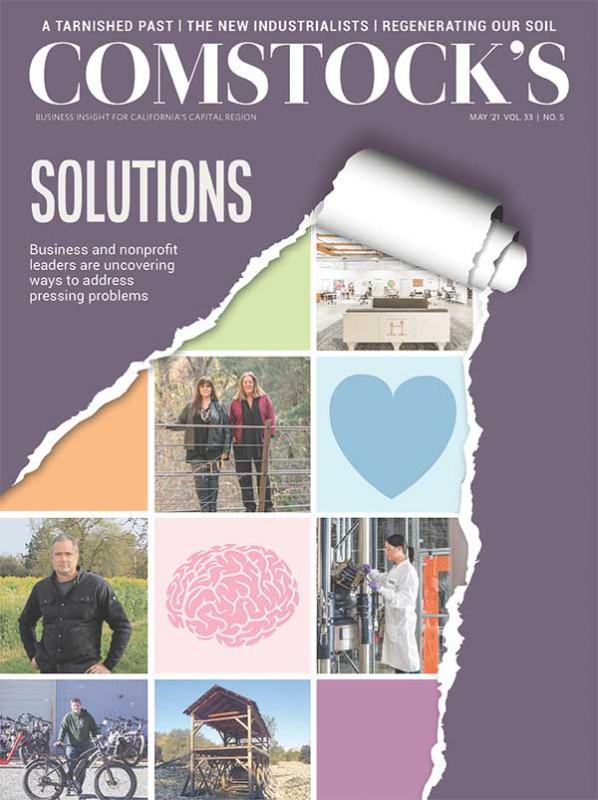 This story is part of our May 2021 issue. To subscribe, click here.
Two large boulders greet visitors entering Vacaville's Consolidated Rock & Mineral Shop — known informally as the Rock Shop — a hint of the goodies inside.
Yes, the shop has rocks, and visitors quickly realize what a wonderland of polished stones, gems, minerals and fossils from every corner of the world fill the 71-year-old, 15,000-square-foot showroom. "Every day I come in here is a good day," says longtime customer Pam Connelly of Antioch during a visit on a busy Saturday morning in February.
The shop, under new ownership since November 2020, is among the largest stores of its kind in the U.S., according to Dennis Danielson, the store's manager for 25 years. As a student at nearby Solano Community College, Danielson would visit almost every day because he was fascinated by the collection and was eventually offered a job in 1987. Danielson's experience in the minerals field was just a "few minor geology courses," he says, but he was a single parent, and working there allowed him to put in a family-friendly 10 a.m. to 4 p.m. shift.
"I was fascinated with everything there," Danielson says. "This was definitely not the field I thought I would go into, but I've enjoyed every bit of it."
In 1952, Bay Area entrepreneur Jerry Blair opened the location on Quinn Road as a military surplus store and a place to display, but not sell, his growing rock collection. Blair converted it to a rock business in the late 1970s, Danielson says, and when Blair died in 1987, Blair's nephew, Greg Johnson, took over until he sold the store last fall.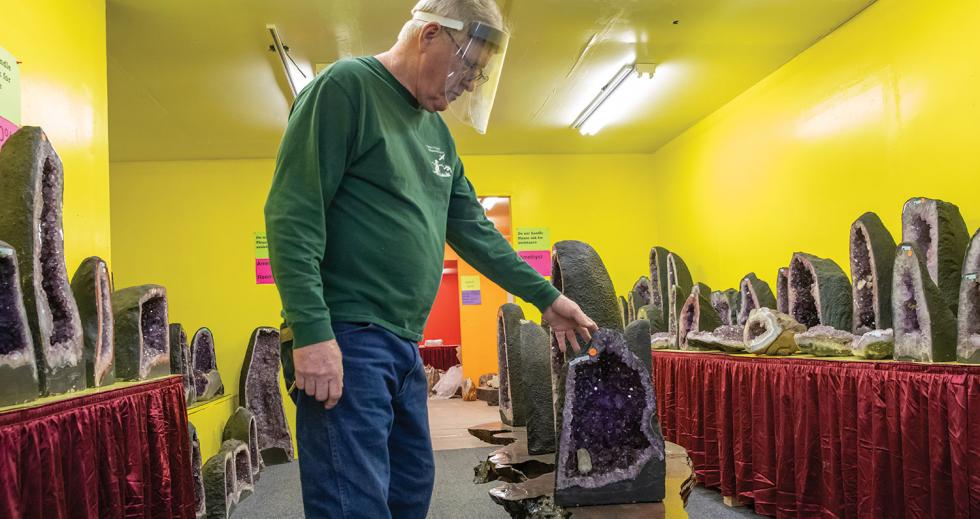 Aydin Sahm, a San Francisco retailer, became owner in November, and changes have come quickly, Danielson says, including adding more inventory displayed in renovated themed rooms featuring music that "sets more of a mood."
Besides an array of small rocks and fossils, including moldavites formed by a meteorite impact some 15 million years ago, Danielson says, the store features many museum-quality items, such as amethyst, the world's most popular purple gemstone, according to Geology.com. "We probably have 3 tons of amethyst out there right now, with well over a ton of (non-amethyst) quartz out," he says. "Our tumbled stones (small, brightly polished pieces of rock) collection is extremely large."
Items from the store are pursued by collectors, used for interior decorating and applied for healing or metaphysical purposes, Danielson says. "I like to say we have stones and minerals for everyone's wants, needs and income," Danielson says. "Each rock is unique, and there are millions here."
Danielson says business has boomed the past year, even though the shop closed in March for six weeks due to the pandemic. Danielson says he plans to add two more employees to the four already there. "We're at this point now where we're actually breaking sales records," he says, crediting the shop's size that allows for social distancing and the renovations since Sahm purchased the shop.
While the shop doesn't sell online, it reaches customers through a Facebook page and a robust mailing list, Danielson says. "We promote coming in, touching and comparing. It's all hands-on here."
–
Stay up to date on business in the Capital Region: Subscribe to the Comstock's newsletter today.