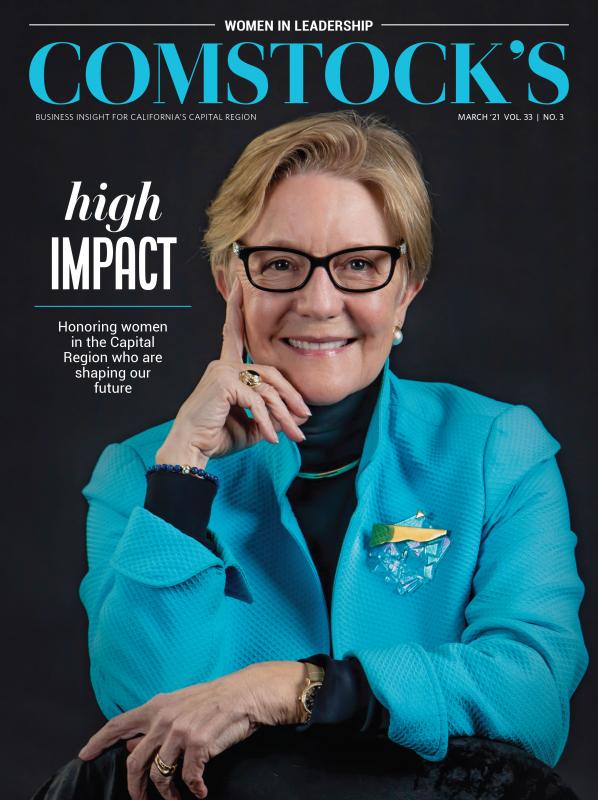 This story is part of our March 2021 Women in Leadership issue. To subscribe, click here.
The Tolenas Winery label produces a variety of wines, like a zinfandel and a red blend. But what sets it apart — and what earned the label international acclaim — is its unusual white pinot noir Eclipse that took a gold medal at the 2019 International Women's Wine Competition.
Tolenas Winery, based in Suisun Valley, is one of "only a handful" of producers in the U.S. to release a white pinot noir, says Lisa Howard, the award-winning winemaker who operates the winery with her husband, Cliff Howard, who talked her into entering the competition.
"Winning was the validation that every new winemaker really craves," she says. "It gave me inspiration to continue trying new things, to always experiment and then also to just have confidence in what we can do in our little winery." Tolenas also won silver for its sauvignon blanc in the 2019 competition.
Founded in 2015, Tolenas Winery hosts reservation-only events and has a picnic area and barn. But for Lisa, the land around the winery — located a few miles off Interstate 80 in Fairfield — is much more than a business. It is an area steeped in personal history.
The vineyard view from the farmhouse bedroom at Tolenas Winery is a familiar one to Lisa. She called that room, which overlooks the 5-acre orchard that supported her family's fruit and vegetable stand, her own for the first 18 years of her life. (Her family no longer lives in the farmhouse.)
"I fought him tooth and nail. I was like, 'You're crazy, you didn't grow up on a farm, and I know it looks glamorous and special and fun, but it's hard work, and there's no time off.'"

Lisa Howard, co-owner, Tolenas Winer
"I remember looking out that window and seeing my dad work on equipment, wishing we had neighbors and that we lived in town," Lisa says during a recent visit to the farmhouse. "Now I realize how lucky we were to have this place to grow up in. I look out that window now and see my kids playing in the same place I was playing."
Lisa's parents, Steve and Linda Tenbrink, moved to California in the early 1980s and, with no farming experience, started Tenbrink Farm and operated the Pioneer Fruit Stand (which is now home to the Pioneer Tap Room). Lisa and her three younger siblings grew up working the farm, but Lisa wasn't certain farming would be her career.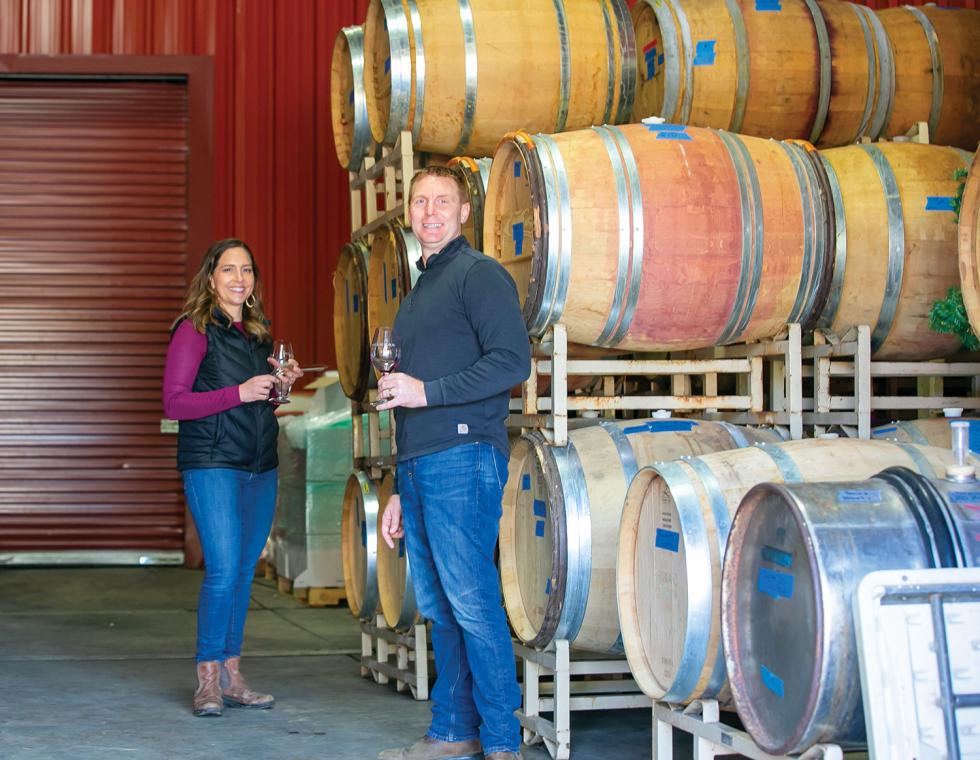 She went to Cal Poly San Luis Obispo to study engineering and landed a job in Arizona, building irrigation systems for farmers. She and Cliff, a police officer, had their first child there. It was a great life, Lisa says, but her husband urged the eventual return to her roots in California. "I fought him tooth and nail," Lisa says. "I was like, 'You're crazy, you didn't grow up on a farm, and I know it looks glamorous and special and fun, but it's hard work, and there's no time off.'"
They returned to the burgeoning Suisun Valley wine scene in 2013, purchasing a 55-acre farm sight unseen — now Howard Vineyards, which grows grapes mostly for nearby Caymus Winery — and built a house there, not far from where her parents had moved and grew grapes for the Tenbrink Vineyards label they launched in 2006.
The property where Lisa grew up has stayed in the family and houses the Tolenas label, named because their grapes are grown on the slopes of Rancho Tolenas, a 13,316-acre Mexican land grant from 1840. The Tolenas brand focuses on hosting family-friendly events, and the Howards now include Jake, 8, Katie, 6, and Amy, 4, who all help out on the property, as Lisa and her siblings did.
The Tolenas label, which produced 100 cases its first year, made 1,400 cases in 2020, Cliff says, selling exclusively direct-to-consumer. Last year was particularly challenging, Lisa says. In addition to the restrictions on gatherings due to COVID-19, August fires in Solano County led to a weeklong evacuation. Then the winery lost power during the production of the Tolenas Red Blend, forcing the use of lanterns and an RV generator. Dry ice purchased nearby kept the grapes from fermenting prematurely. But the winery stayed afloat, and Lisa is looking toward a successful 2021.
Meanwhile, the Howards are converting her childhood home into an Airbnb rental, she says. "It's funny to come back into that space and realize that things come full circle," she says. "All the hard work that my parents put in building a foundation of a business … and then to carry on that legacy. It's very special."
–
Get all the stories in our annual salute to women in leadership delivered to your inbox: Subscribe to the Comstock's newsletter today.