Hair rollers went the way of old-time beauty shops, but rollers of a different sort are in vogue at Bella Capelli Salone in downtown Yuba City, where owner Carol Milani sometimes styles hair in her skates.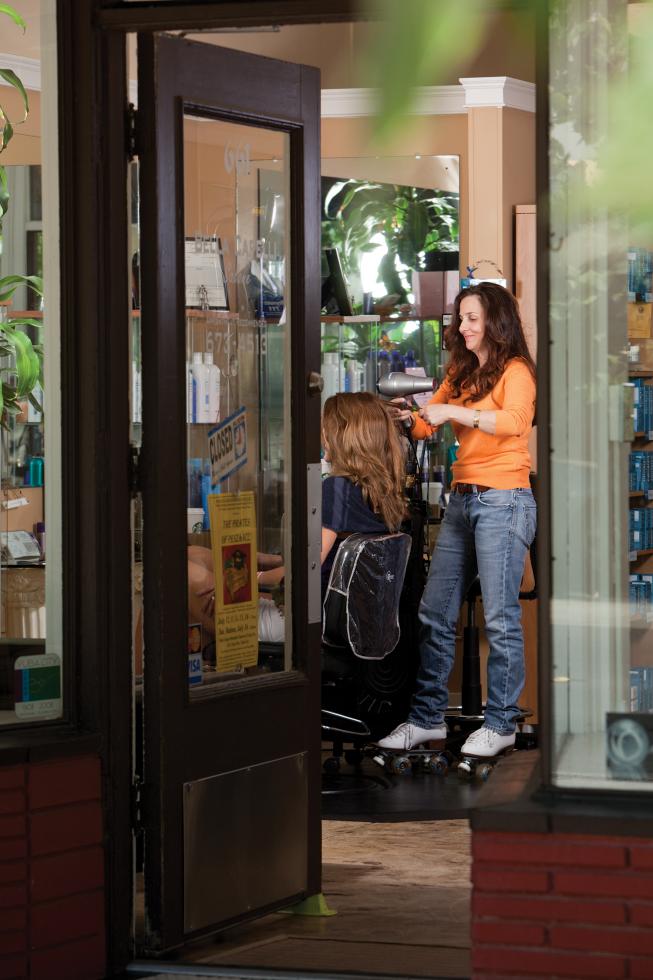 "I feel more agile on skates than I do walking," she says. "I just love to skate, and it's one of the advantages of being the boss. People come in and are like, 'Wow.'"
Milani, 44, is 5-foot-2. The white leather roller skates with rubber toe-stops add just enough height for her to comfortably work on her tallest clients. And, in a moment of whimsy, she might "shoot the duck," a speedskating maneuver that has her squatting with one foot crossed in front of the other and zooming the length of the salon's polished concrete floor.
She's a fast skater and thinks about joining a roller derby team.
"It's not my favorite thought," says her husband, Jeff Milani, 52, whose Milani Optical is across Plumas Street from the salon. "She has a bad knee, for one thing, and I wouldn't be able to go to the games because I'd be down there pushing the other girls off her."
Carol Milani grew up in Yuba City and took up roller-skating at age 5, frequenting indoor roller rinks in her hometown and nearby Marysville until they closed down a few years ago. Nowadays, when the weather is nice, she skates the two blocks from her home to the salon and might stay in roller skates all day.
"Sometimes my son Jerry has to take them apart and clean them," she says, "because I get hairballs in the wheels, and they slow me down."
Jerry Gurney, 19, is a professional skateboarder and worked on getting a new skate park built in Marysville. His mom — whom he declares is "awesome" — offered her support to the cause but prefers to skate on wide-open sidewalks or in city parks. She skates with her husband when he goes for runs.
"She skates circles around me," he says.
Milani fell in love with hairstyling at age 14, the day she got a perm at the local J.C. Penney salon. She started taking classes two years later and now specializes in razor cuts and hair extensions.
She operated a salon next to the couple's home until her husband convinced her to move to bustling Plumas Street three years ago. The couple turned a rundown building into a sparkling salon where friends and family often congregate, whether they need a haircut or not.
As a kid, Milani was friends with her now-husband's younger brother. "I had the biggest crush on Jeff," she says. "He's seven years older and was already out of school. He was in a band, played guitar."
"She came by the shop one day a few years ago and mentioned that she was divorced," says Jeff Milani. "I said, 'Oh, we should go out sometime.' I didn't get to date her back then because she was way too young, and I was too old."
They married in October 2008.
Two years ago for his birthday, Milani gave her husband an Asian leopard kitten they named Taz, as in the frenetically whirling Tasmanian devil. They had an agreement with the breeder to let Taz father one litter, so he isn't neutered and stays outside on a tether. Every tie-out product they tried ended up in a tangle, and they worried the cat might get injured, or worse.
"We thought that other people must have the same problem," Jeff Milani says.
So, inspired by his wife's beloved roller skates, the couple designed a cable tie-out device with a central roller ball that swivels with the animal as it moves. The base can be secured to the ground with stakes, to wood with lag bolts or even onto concrete and other hard surfaces with special fasteners. Tangles are not a problem, they say.
The couple has a patent pending for the Pet Space Base, made primarily from recycled materials. It will retail for $39.95 and could be in stores as early as this fall.
"There is nothing out there like it," says Cyndi Gibbs, president of Yuba City-based Greenfreak LLC, which turns local recyclable materials into new products. "Our business is to start and develop businesses for people who have ideas, and Carol has all sorts of ideas in her head."
Gibbs is one of Milani's clients at Bella Capelli Salone but has yet to experience the novelty of having her hair done by a stylist on roller skates.
"I've seen the skates sitting in the corner," Gibbs says, "and I'm like, 'Yeah, put 'em on.' I think it's great that she skates to work. She's doing her part for the environment."
The Trade is making a difference in the lives of impoverished and abused women, one haircut at a time.
It's been an extraordinary couple of years for Richard Hallmarq, the 41-year-old Sacramento native who last year made his fashion debut on national television and is now gearing up for New York Fashion Week from his design studio inside the Sacramento Art Complex on K Street.