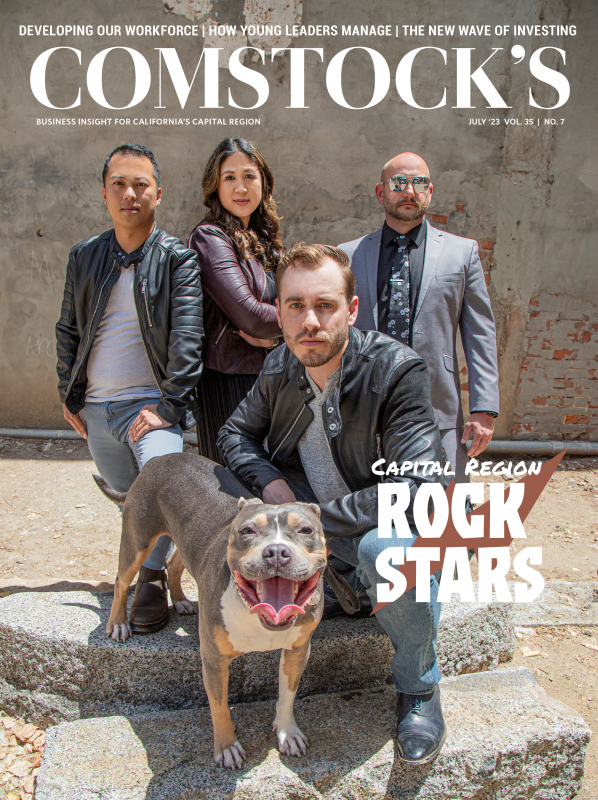 This story is part of our July 2023 Young Professionals print issue. To subscribe, click here.
Maybe Stockton should rebrand itself Upper Tinseltown. This port city, less than an hour's drive from the capital — and the setting for a number of Hollywood films over the years — is on a mission to make itself a presence in the next "Fantastic Four" movie, due to be released in 2025.
It's not that quixotic a quest. By official proclamation, the Stockton City Council anointed the town as the make-believe birthplace of the fictitious foursome back in the mid-1990s, with Marvel mogul Stan Lee, who died at 95 in 2018, on hand to give his ringing endorsement.
This past March, Visit Stockton, the city's destination marketing bureau, began circulating a petition it plans to deliver to Marvel Studios, requesting that some scenes in the anticipated new film take place here. The petition's already garnered "thousands of signatures," according to Amy Alpers, the bureau's director of marketing. Stockton Mayor Kevin Lincoln also recorded a fun video urging Marvel to film parts of the "Fantastic Four" movie in the city.
The most diverse city in the U.S., according to a 2020 study by the U.S. News and World Report, Stockton has arguably been featured in just as many movies, books and comic book galaxies as the River City (see sidebar). It may play the most notable role in the universe dreamt up by writer, publisher and producer Lee.
In the 1980s, Stockton joined the illustrious list of cities that serve as backdrops for Lee's characters. Despite the fact that many of the characters Lee created or co-created — including the X-Men, Spider-Man, Ant-Man, Hulk, Black Panther, Thor and Captain America — spend some time in outer space, most are actually grounded or at least make fleeting appearances in real U.S. cities. Captain Steve Rogers, who's also Captain America, was born in Brooklyn; Peter Parker, aka Spider-Man, in Queens; and even the Iron Man, Tony Stark, splits his time between Manhattan and Los Angeles.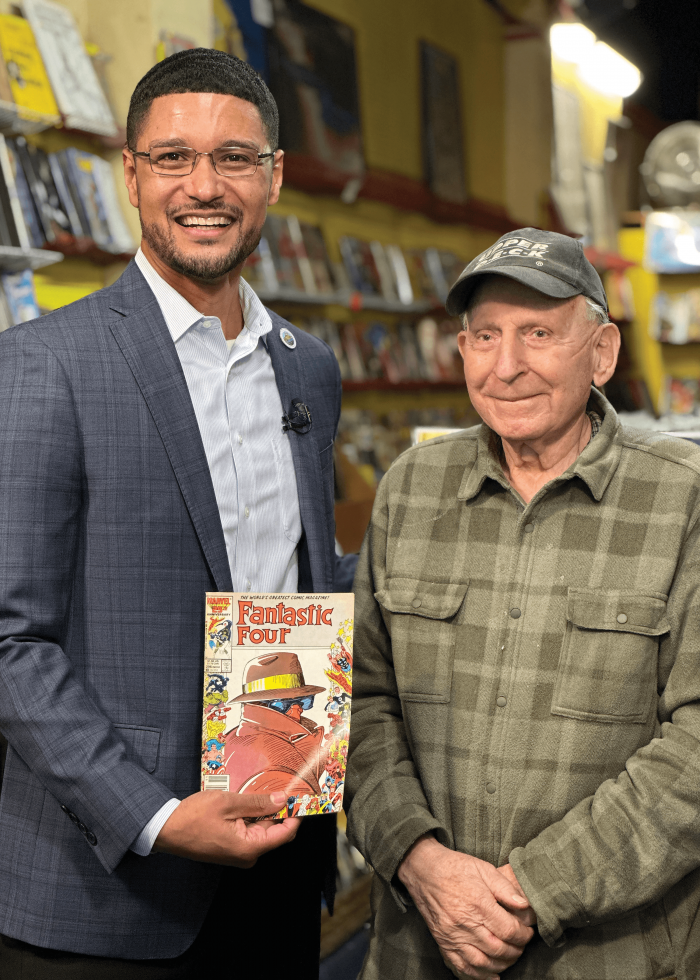 You can't say the same about the gang in the D.C. Comics pantheon, Marvel's longtime rival in the comic book, motion picture and television industries. For example, Clark Kent (Superman) lives in a fictional city called Metropolis and Bruce Wayne (Batman) in one called Gotham. It's believed that both are stand-ins for New York City — or as comic books legend and film director Frank Miller says, "Metropolis is New York in the daytime; Gotham City is New York at night."
In 1986, Joe Field, a lifelong fan of Marvel comics and a former radio guy for a former radio station (KJOI), dreamt up the idea of having Stockton officially designate itself as the birthplace of The Fantastic Four, the cadre of superheroes created in 1961, who gained their superpowers after being engulfed by cosmic rays on a trip to outer space. He began gathering signatures to petition the Stockton City Council to anoint itself the launchpad of the heroic quartet. The council did so, "especially after Stan Lee came to town and told the council and the media he really liked the idea," says Field, who's owned Flying Colors Comics and Other Cool Stuff, a popular specialty store in Concord, for 35 years. A few months after his visit, Marvel released the 25th anniversary issue of the Fantastic Four's debut, in which "it was revealed that they'd landed in Stockton, where they discovered their new powers."
"I'm a lover of all the comic universes," says Anthony Esteves, the content manager for Visit Stockton who's developed most of the content surrounding the bureau's campaign. "But one appeal I love about Marvel is that while D.C. tends to be stories about 'gods' adapting to being human, Marvel's tend to be about select humans attaining a godly standing — and how they adapt to that." He cites Steve Rogers "going from scrawny kid to pure strength" (as Captain America) and "mutants watching their abilities as they come of age."
"There's a psychological aspect there that is always appealing," Esteves continues. "You have these genius types like Tony Stark (Iron Man) and Stockton's own Reed Richards (Mr. Fantastic of the eponymous ensemble) attempting to use their minds for the greater good while also being flawed individuals. All of it has always been appealing to me."
"Stan Lee once said that Marvel is a home for all people," says Wes Rhea, executive officer of Visit Stockton for the past 17 years and a native of the city. When U.S. News and World Report named Stockton as the most diverse city in the country in 2020, "This pretty much coincided with Stan's philosophy — that the Marvel universe doesn't care about a person's race, gender, religion or skin color."
Rhea says the marketing bureau's petition, which "right now is somewhere still out in the ether," is more about awareness than immediate results. "If we found out a location scout for the studio was in town, that would tell us something," he says. "But in the meantime, we like that people — including our own residents, some of whom can be our worst detractors — are excited about the prospect of a major motion picture being shot here." He laughs, then adds, "Or at least part of it. Or at least we get mentioned in it."
STOCKTON ON THE SCREEN: STOCKTON HAS BEEN A FEATURED PLAYER IN MANY MOVIES, SUCH AS:
"All the King's Men" (1949): Based on the reign of Louisiana Governor Huey P. Long, this classic's shooting locales included the Hotel Stockton, the old country courthouse, the old city jail, Atherton Island, the Stockton waterfront and the north steps of Stockton City Hall, according to data compiled by Visit Stockton.
"Fat City" (1972): Based on a great boxing novel, this film follows an aging boxer who gets back in shape at a Stockton gym.
"Raiders of the Lost Ark" (1981): This Indiana Jones film used the Conservatory of Music building at the University of the Pacific for exterior shots of what's supposed to be Marshall College in Bedford, Connecticut — where the starring archaeologist-adventurer is a professor with an apparently very lenient days-off policy.
"Dreamscape" (1984): This dark science-fiction film, featuring psychics who can infiltrate dreams, also used the University of the Pacific as a backdrop.
"Flubber" (1997): The University of the Pacific again played a role in this family-friendly whimsy about sentient green goo, this time as the fictional Medfield College.
– Ed Goldman
–
Do you know of any unique history, events, people or places for us to share in The Back Story? Email us at editorial@comstocksmag.com.