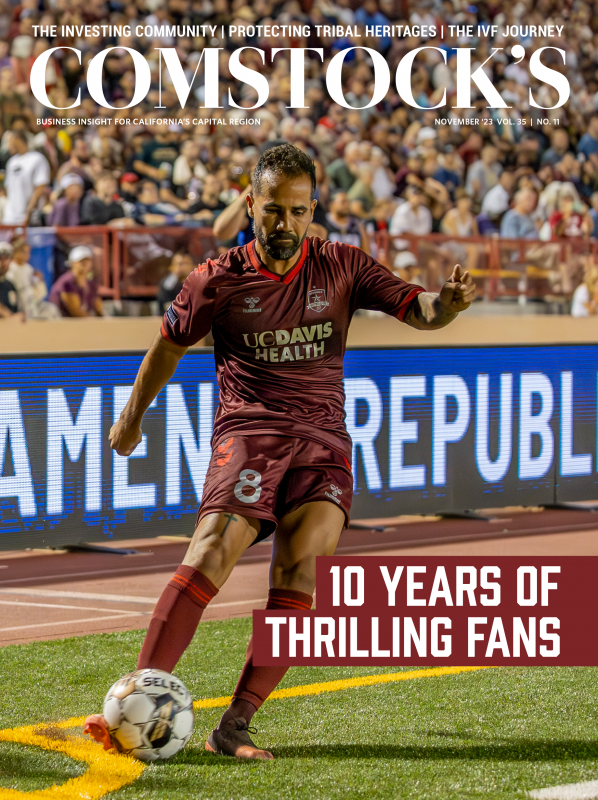 This story is part of our November 2023 print issue. To subscribe, click here.
After more than a three-year federal student loan payment pause, payments resumed on Oct. 1, 2023. I have spoken to hundreds of borrowers and understand their confusion and concerns about returning to repayment and the options available for them. For almost two years, the California Department of Financial Protection and Innovation has been developing a program that helps California borrowers navigate student loan changes and provides clear and reliable information to help them make the best financial decisions for their futures.
My position was created in 2020 under State Assembly Bill 376, the "Student Borrower Bill of Rights." In California there are 4 million student loan borrowers of all ages, income brackets and demographics. The bill was passed to protect them against predatory, unfair and deceptive practices by student loan servicing companies — in particular, women and people of color who are disproportionately impacted by student loan debt. I was new to the student loan sphere, and I knew this would be a challenging but wonderful endeavor.
When I started the role, two monumental events were taking place: the COVID-19 loan payment pause and the Public Service Loan Forgiveness Waiver. In March 2020, in response to the COVID-19 pandemic, the U.S. Department of Education announced relief for federal student loan borrowers by suspending student loan payments, halting collections on defaulted loans and implementing a zero percent interest rate for all federal student loans. This pause was a never-before-seen reprieve for student loan borrowers and would be extended a total of eight times through Aug. 31, 2023.
The PSLF waiver was created to help borrowers working in public service access forgiveness by giving them credit for previously disqualifying months and to allow them to reapply if they were previously denied. Under PSLF, a borrower with federal student loans who works for a qualifying employer and is paying under a qualifying repayment plan may receive forgiveness of their loan balance after 120 months.
Then, on Aug. 24, 2022, the U.S. Department of Education announced up to $20,000 in blanket loan cancellation to borrowers with federal loans who met certain loan and income requirements. This was another unprecedented action and the Education Department ultimately processed 26 million applications for the relief. In response to the announcement, legal challenges were immediately brought against the Biden Administration and on June 30, 2023, the U.S. Supreme Court struck down the debt relief plan. This meant that 26 million borrowers who were eagerly awaiting relief would no longer be receiving it.
Shortly after the halt of the relief plan, the Biden administration announced it would take an alternative route to provide debt relief for borrowers through the negotiated rulemaking process, also known as "neg-reg," to change higher education rules. The process began in July 2023 but will take at least a year to be completed and implemented. It is therefore imperative that borrowers prepare for repayment and understand forgiveness programs that may provide alternate relief.
First, it is important for borrowers to understand the repayment options for federal student loans. There are three traditional repayment plans: the standard repayment plan, the graduated repayment plan and the extended repayment plan. These plans give borrowers a set amount of time to pay their student loan with a fixed or graduated monthly payment. There are also several income-driven repayment plans, which set a borrower's monthly payments at an amount based on their income and family size. Most federal student loans are eligible for at least one IDR plan.
Every borrower's situation and goal is unique, and advising them on their options is not always straightforward. A borrower must first determine how much they can afford to pay monthly and if their priority is a low monthly payment (due to income or PSLF) or if it is paying down the debt as fast as possible. In either case, there is a repayment plan that is right for everyone. Borrowers should use Federal Student Aid's loan simulator to estimate their monthly payments, interest and the length of their loan under each plan.
Once a borrower sets up a repayment plan, they should determine if they are eligible for any of the current federal forgiveness programs. Aside from PSLF, there are other programs which forgive, cancel or discharge federal student loans.
Income-driven repayment forgiveness is for borrowers who have been enrolled in an IDR plan. IDR plans (there are four of them) base a borrower's monthly payment amount on their income and family size. After a borrower has been in repayment for 20 or 25 years, the remaining balance is forgiven. In April 2022, the Education Department announced it would be conducting a one-time adjustment of IDR-qualifying payments to borrowers' accounts. Similar to the PSLF waiver, the Department would give borrowers credit for previously disqualified months to bring borrowers closer to IDR forgiveness.
Teacher loan forgiveness is for teachers who work five complete and consecutive academic years in a low-income school or educational service agency.
The Borrower Defense to Repayment Discharge is for those who were misled by predatory institutions making false or misleading promises about graduation rates, career opportunities or transferability. Most notably, Sweet v. Cardona (formerly Sweet v. DeVos) was a class action lawsuit brought against the Education Department and filed by borrowers who claimed their borrower defense applications were unlawfully denied or their applications were unlawfully refused. The case was settled in June 2022, and millions of dollars in discharges are ongoing.
The one consistent message I give to borrowers is to know your loan, including loan type, balance and servicer. Know your rights and know your options. Borrowers should be aware that there are currently hundreds of people at the state and federal levels working to make impactful and long-lasting changes to the federal student loan system. You are still a priority. I've had the privilege of seeing it all come together, and even with the challenges, we have seen great progress.
Stay up to date on business in the Capital Region: Subscribe to the Comstock's newsletter today.