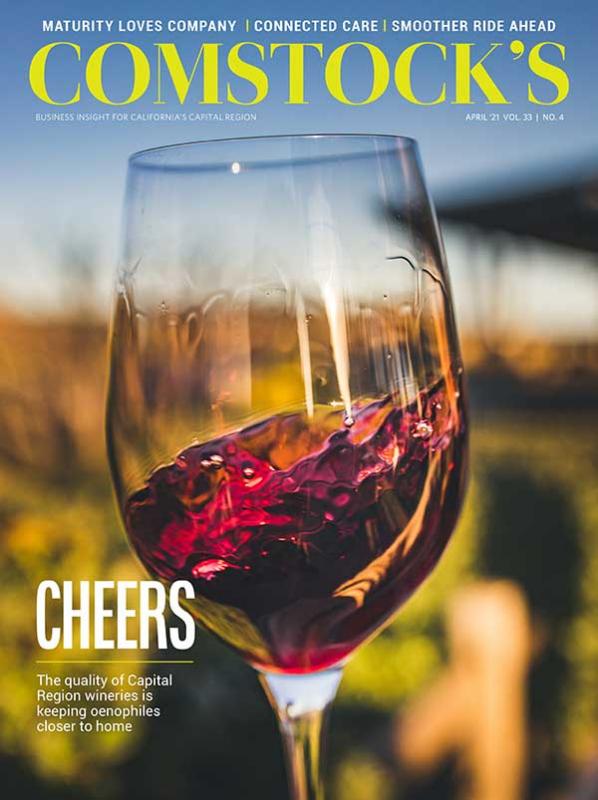 This story is part of our April 2021 issue. To subscribe, click here.
It's the kind of Friday afternoon in February in downtown Sacramento that could make a person forget, if only for a moment, the hellacious year of the COVID-19 pandemic.
The balmy blue skies and temperature slightly above 60 degrees are enough to attract smatterings of people to restaurant patios on K Street Mall. The decent weather on this weekday is perhaps a lifeline for restaurants that have been struggling to maintain.
"The people are not in their offices, so that's what's affected us," Jami Goldstene, co-owner of Solomon's Delicatessen on K Street, says as she sits on the patio of her restaurant that opened in 2019. "It's affected everyone up and down the block."
On this day, the Sacramento Kings will play the Orlando Magic in a game without fans — a safety measure because of the ongoing pandemic — in the Golden 1 Center, a $558 million arena that opened in 2016 with promises of how it could bring economic development to the neighborhood. In its first three years of operation, through September 2019, the arena averaged more than 350 events a year: a mix of NBA games, concerts and other gatherings, which brought more than 1.65 million people to the area annually.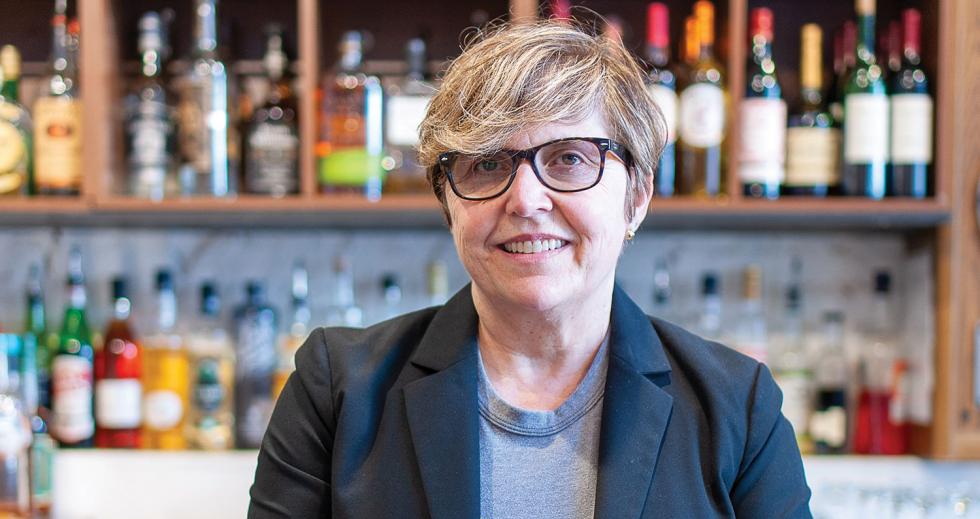 But all throughout downtown Sacramento, restaurants have had to adjust to a dramatic shift over the past year, with legions of employees who used to commute into the area now working remotely. That coupled with a shortened 2019-20 NBA season and now a season without fans has led to a far quieter Downtown Commons and downtown in general. In the new normal, more than a few downtown eateries have already become casualties. Those that remain are embracing long-term survival strategies.
"They're definitely hurting," says Sacramento City Councilwoman Katie Valenzuela, whose district includes much of downtown. "The restaurant industry is unavoidably impacted by the pandemic and lack of meaningful federal assistance to date."
Many downtown restaurants are getting by with skeleton crews, reduced hours of operation and loans. At least five — Punch Bowl Social, Empress Tavern, Esquire Grill, Ambrosia Cafe and Carolina's Mexican Food — have closed their doors either temporarily or permanently. And while Valenzuela hears from other restaurateurs worried about going under, there isn't that much city government can do. "We just don't have enough general fund resources to go out and do emergency aid to these businesses and these workers," Valenzuela says.
Goldstene won't say how much money Solomon's is losing, only confirming that her business, a tribute to late Tower Records founder Russ Solomon, isn't turning a profit. The strategy for the business is to see this point in history through. "We're banking on everyone staying safe and getting their vaccine as soon as possible so that we can open up again at full capacity," Goldstene says.
From a planning perspective, there's something karmic about the situation downtown restaurants are facing. Sixty years ago, around 200 primarily residential city blocks in the old West End were demolished to make way for waves of brutalist office towers. In normal times, it could mean a robust lunch crowd of workers. But now there simply isn't a neighborhood client base.
A few doors down from Solomon's on this Friday afternoon, Jess Milbourn is marking the second week since a new location for his Devil May Care Ice Cream & Frozen Treats opened on K Street. The Feb. 3 launch for the shop, which also has a location in West Sacramento's Washington District, was months in the making and, at times, seemed like no sure thing.
Late in 2020, Milbourn even ran a Kickstarter-esque promotion, selling a package that included two-for-one gift cards and hooded sweatshirts to 250 customers, with the first customer paying $1 and the last paying $250. After expenses, he estimates it netted the new location around $20,000. It's money that can go to good use, with Milbourn saying, "Right now, we're just running the business really lean. … There's the part of you that just goes forward and does it."
Milbourn is optimistic about the road ahead too. "I think long term, we're going to be OK," he says. "Long term, the pandemic isn't going to last. … If you're talking long term in business, you're not looking at one or two years. You're looking at five, seven, 10."
But he also has a mantra he's been telling customers in the meantime: "Right now's the time to really just support more than you think you need to."
Blocks away from K Street Mall and DOCO, Capitol Garage co-owner Jerry Mitchell is finishing up on a Friday where he now closes at 3 p.m. — there just isn't enough business to justify keeping his American cuisine restaurant and bar open later.
Mitchell has seen other challenging periods in the near 30 years his business has operated. "The worst one was 9/11," Mitchell says. "That was pretty dramatic, because it was like an instant 30 percent drop in business, just people being in shock, and it probably took six months to come back. But it doesn't compare to this."
"If you feel like you can survive, then you got to plan for the future. Because the demand will be high once everybody's allowed to open back."

Jerry Mitchell, co-owner, Capitol Garage
Asked if he's seen a 50-70 percent business decrease with COVID-19, Mitchell answers affirmatively and then adds, "If not more."
A loan through the U.S. Small Business Administration's Paycheck Protection Program has helped stem the tide for Capitol Garage. "Without the PPP loan, we probably would not have survived," Mitchell says. "That was the lifesaver there."
But Mitchell's keeping busy during the pandemic. On this day, he's in the middle of a major indoor renovation project that will take a few weeks and cost nearly $200,000. "If you feel like you can survive, then you got to plan for the future," Mitchell says. "Because the demand will be high once everybody's allowed to open back."
What emerges post-pandemic remains to be seen. Valenzuela wonders how many people will return to work downtown and if creative reuse might be undertaken on some of the office buildings to create more housing.
"We have to look at that future that might not look exactly as it did before," Valenzuela says. "I think there's some folks who think we'll bounce back to exactly the same situation that it was pre-pandemic. I really don't think that's likely. And I think there's an exciting opportunity for us to reimagine what it looks like downtown."
A few weeks later, on a cloudy Monday in March, John Biller, the service manager at Sauced BBQ & Spirits in DOCO, scrambles to find the resume of a job applicant who has just returned his phone call. With COVID-19 case numbers falling, his restaurant is busier and needs more staff.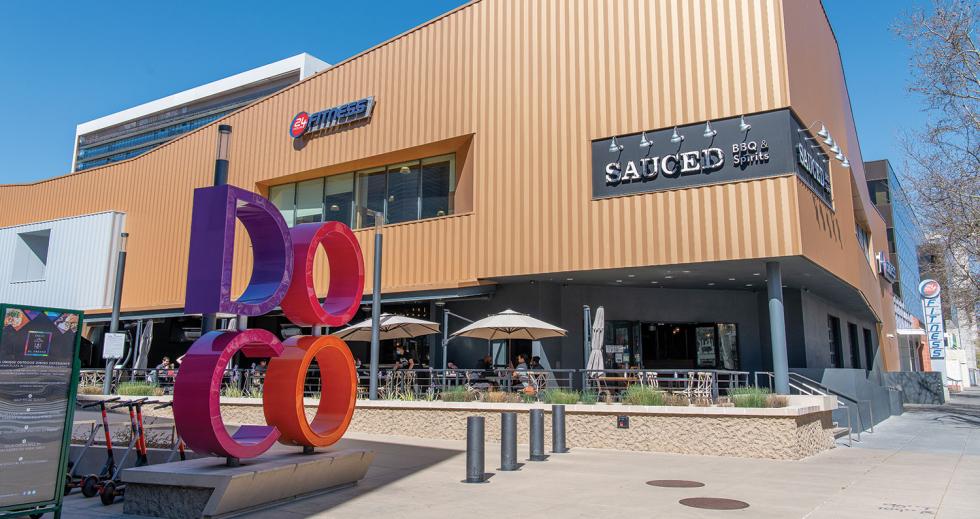 Like so many restaurants over the past year, Sauced has struggled, with Biller estimating that 90 percent of the staff was furloughed when the restaurant initially began to offer takeout only. It's a far cry from the packed crowds who used to grab a quick bite before heading to a game at nearby Golden 1 Center. But the restaurant has persevered, making building up its to-go business part of its long-term survival strategy.
"Sometimes when things make you change, you're better for it, because of the fact that you're learning to adapt," Biller says. "But you're also learning to think outside the box."
–
Stay up to date on business in the Capital Region: Subscribe to the Comstock's newsletter today.