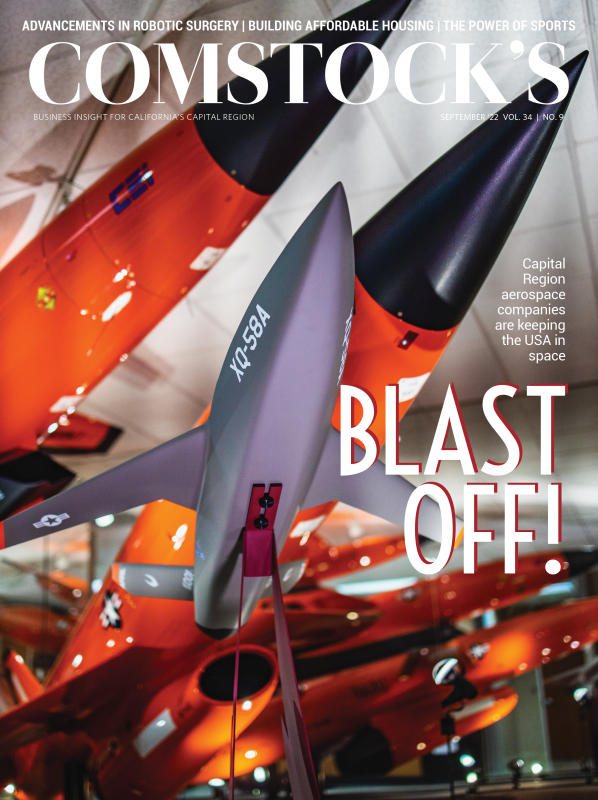 This story is part of our September 2022 print issue. To subscribe, click here.
In the high-end Lake Tahoe real estate market, where almost a dozen residential homes in 2021 sold for more than $20 million each, according to Chase International's Luxury Report, John Crus' two Tahoe City-based nursery and landscaping construction companies help shape the region's image.
"There's lots of high profile people here; it's a demographic of high value real estate," says Crus, who grew up in the San Jose-Santa Cruz area. "People aren't spending $30 million on a home every day, but multimillion dollar homes in the Truckee and Tahoe area are endless."
Crus serves that high-end customer base through his two uniquely positioned companies — Green Envy, a landscape construction and maintenance business he started in 2005, and an affiliated wholesale and retail nursery, the Tahoe Tree Company. Crus became involved with the Tahoe Tree Company, originally started in 1954 by Dave McBride, when its owners wanted out of the business's landscape construction component, Crus says. In April 2021, Crus closed escrow on the Tahoe Tree Company and purchased it outright from the original owner's family.
"When we started (in 2005), we were going to purchase property at that time to store all of our equipment and house the business, but we were able to utilize a component of the 10-acre nursery space that the Tahoe Tree Company has in Tahoe City," says Crus.
"People aren't spending $30 million on a home every day, but multimillion dollar homes in the Truckee and Tahoe area are endless."

John Crus, owner, Tahoe Tree Company and Tahoe City's Green Envy
Located on West Lake Boulevard about a half mile south of the main traffic light in Placer County's Tahoe City, Crus calls the nursery "an iconic property." The nursery features several greenhouses and shade structures, with open overhead irrigated agricultural fields. It's the largest nursery in the Tahoe-Truckee region, Crus says, and it produced 200,000 plants for sale the past year, grown to withstand the rough high-elevation climate of the area. Those plants also supply other construction projects and nurseries throughout the Northern Nevada-Truckee Meadows region. Crus maintains another non-retail nursery in Loomis.
"It is literally 10 acres of green space that has a zoned agricultural designation," Crus says of the Tahoe City nursery. "It's pretty uncommon to find that in our area outside of (U.S.) Forest Service land." He says that some of the plants can stay at the location year-round because they are endemic to Tahoe and can overwinter well under snow, while "A lot of our native plants — our locally adapted plants and flowering perennials and annuals — we develop almost exclusively in Loomis."
The two companies have around 80 full-time and seasonal employees, with the greater Truckee-North Tahoe area as their main service area, Crus says.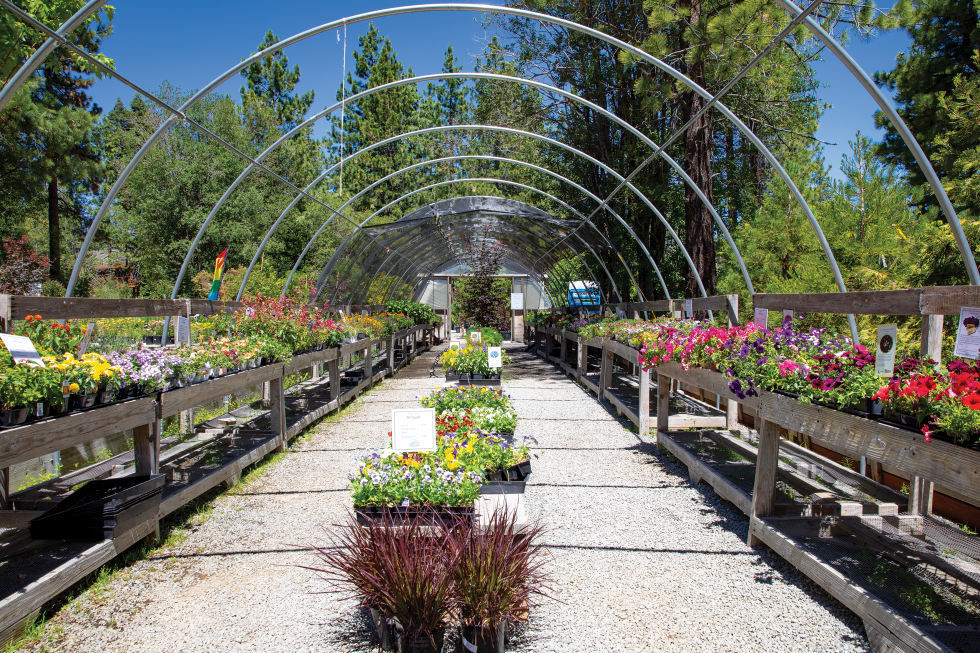 Green Envy specializes in custom landscape development and restorations, Crus says, mainly for homes or commercial development. A recent example of a longtime project is a lakefront residence on the West Shore, almost completely landscaped by Green Envy, that held a wedding for 300 people in late July. "It's a beautiful property," Crus says. "Our team's put in a lot of effort there over the years."
Along with most residential and some commercial properties, Crus says they've also landscaped several golf courses in the Truckee community, including Gray's Crossing and Martis Camp.
Crus studied restoration ecology and wildlife biology at San Jose State then moved to the Tahoe area, working seasonally at several locations including Yosemite National Park, the Inyo National Forest and with the California Department of Fish and Game (now Fish and Wildlife) in Bishop before starting Green Envy.
"It started out a small business; myself and a couple of guys," says Crus, a longtime surfer, skier and trail runner. "It was a seasonal thing to keep pace with skiing a lot in the winter and getting time at the ocean. The business continued to build word of mouth. We've never really advertised."
Green Envy participates in a wide range of philanthropic endeavors with the Tahoe City Downtown Association, also donating plants to North Tahoe High School for its graduation ceremony, hanging flower baskets on light standards in Tahoe City, and providing volunteer work for several local schools to help clean up grounds.
"Giving back to the community," he says, "is a pretty important part of both businesses."
–
Stay up to date on business in the Capital Region: Subscribe to the Comstock's newsletter today.